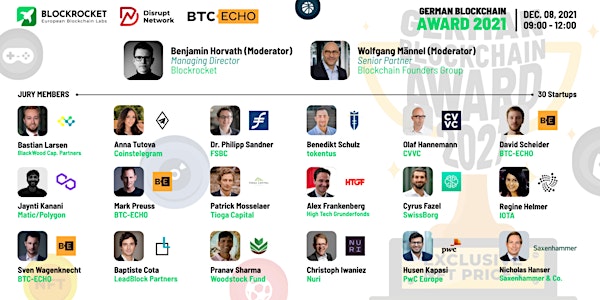 BLOCKROCKET's German Blockchain Award 2021
The German Blockchain Award 2021 was designed by BLOCKROCKET to honour the best early-stage blockchain startups in Germany.
About this event
The German Blockchain Award 2021 was designed by BLOCKROCKET to honor the best early-stage blockchain startups in Germany. The competition will feature 30 outstanding blockchain startups for 3 stages: pre-seed, seed, and Series A. To make this competition highly interactive, we will let the audience vote for the top 3 startups in each round, before our jury members evaluate and choose the winner of each stage. Our jury panel consisting of 15 well-respected and highly experienced VCs and angel investors in the blockchain space will challenge startups and provide valuable insights, making this the most competitive and entertaining event of the year.
BLOCKROCKET is an early-stage investor and digital accelerator program for blockchain startups in Germany that helps startups, corporates, and investors leverage the potential of blockchain technology. Since our launch in 2019, we have acquired numerous well-known partners and mentors and handpicked some of the best blockchain startups among 150 applications for our program.
DATE & TIME
Date: Wednesday, December 08, 2021
Time: 9h00-12h00 (CET)
Mode: online talk via Zoom; Zoom dial-in URL will be sent prior to the online talk
ABOUT DISRUPT NETWORK
Blockchain and community building. This is our mission. The Coronavirus did not make things easier for us, but we will now move our events online to help education and dissemination in the blockchain area.
Do you want to become our speaker? We aim at 500+ video conference participants per talk. Write to: team@disrupt-network.io
HOW TO STAY UPDATED
We do online talks and online panel discussions 2x per week. We frequently post our next events on Twitter and on LinkedIn. Follow us to stay up to date:
LANGUAGE
This talk will be held in English.
CONTACT
Mail: team@disrupt-network.io
LinkedIn: https://www.linkedin.com/company/disrupt-network/
DATA PROTECTION
Through participating in this event (that is, through ordering a free ticket with Eventbrite), the participant gives his consent that Disrupt Network UG (haftungsbeschränkt) (1) saves name and contact data (e.g. email) (2) can forward the data to its partners, (3) is later on allowed to send emails to the participant, and (4) is allowed to take photos and videos during the event that might be published (e.g. online, offline) and that might include the participant. The emails in (3) represent newsletters and announcements of events (e.g. online talks, information about location in the case of physical events, information about changes in schedule). If the participant does not agree to points (1), (2) (3) (4), he or she shall not participate in the event. Then, he or she should not order a ticket for this event.