Description
The Blockchain Startups Summit is a jointly organized event by the Frankfurt School Blockchain Center and EU-Startups.com. The aim is to bring together around 300 entrepreneurs, investors, and blockchain technology service providers from across Europe and to foster relationships on November 15, 2018, on the campus of Frankfurt School of Finance and Management.
The event will showcase a pitch battle for a selection of the hottest European blockchain-based startups with a prize package. It will also count on the participation of high-profile entrepreneurs and investors among our speakers. The one-day event is a fantastic opportunity to network, and a is an ideal meeting point for aspiring entrepreneurs and investors who want to build blockchain companies.
Vanessa Grellet, Executive Director of ConsenSys

Marjan Delatinne, Global Head of Banking at Ripple

Thomas Hessler, Blockchain Investor

Nikola Stojanov, Chief Business Development Officer of æternity

Prof. Dr. Philipp Sandner, Head of Frankfurt School Blockchain Center

Marc Taverner, Blockchain Global Ambassador at Bitfury

Sven Laepple, Founder of ASTRATUM

Patrick Lowry, CEO and a Managing Partner of Iconiq Holding

Sergio Pereira, co-founder and CTO of Tech HQ

Klaudius Heda, international counsel at Debevoise & Plimpton LLP


Timo Dreger, strategy and investor relations at MyBucks



Prize for pitches
A selection of the hottest European blockchain-based startups will have the opportunity to showcase a pitch battle and compete for a prize package worth €12,000 which includes:
€8,500 in Credits for video creation services from mysimpleshow
€2,564 in value provided by the Email marketing platform Sendgrid
€936 in Credits for the EU-Startups Job Board

Location and Date
Location: Frankfurt School of Finance & Management
Date: Thursday, 15th November 2018
Language: English

Registration

Registration via Eventbrite is required; Participants who might not want to pay via credit card on Eventbrite can contact us; this way we will provide an invoice which would then be paid e.g. via bank transfer. *Credentials will be required.


Agenda
The Blockchain Startups Summit will take place at the Frankfurt School of Finance & Management on November 15th from 16.00h to 20.00h.
The event will include panel discussions, talks by top-notch speakers and presentations by startups that are active in the field of blockchain. The aim is to further develop the European blockchain startup ecosystem. There will also be space for networking among the participants to complete a very intense and vibrant event.
16:00 Coffee and networking

16:30 Welcome Speech

16:40 Keynote by Vanessa Grellet (Consensys)

17:00 First 5 startup pitches

17:40 Panel discussion. How blockchain technology might transform the funding landscape for startups. ICO vs VC

18:15 Keynote by Marjan Delatinne (Ripple). Leveraging Blockchain to Transform Global Payments

18:35 Second 5 startup pitches

19:15 Panel discussion. Reality check. In which industries does the Blockchain technology actually make sense?

19:50 Announcement Pitch Competition winner

20:00 Networking
Speakers

Vanessa Grellet is a Global Executive with over 17 years of expertise in the Financial Services and Tech industry. At ConsenSys she focuses on Enterprise and Strategic initiatives including the Enterprise Ethereum Alliance (EEA), the Accounting Blockchain coalition (ABC) and leads the Blockchain for Social Impact Coalition (BSIC).




Marjan Delatinne, Ripple's Global Head of Banking is an entrepreneurial business developer with a strong track record of leading large-scale commercialization and a proven innovative ability to generate new revenues in competitive and challenging environments. Strong ability to develop effective strategies and directing major initiatives from conceptual to implementation. Part of Women in Fintech Power list 2017.




Nikola Stojanow, the Chief Business Development Officer of æternity, has extensive experience working in business development roles in Germany, Eastern Europe, MENA, Asia, and the Pacific. He has developed and consulted on numerous international projects for almost a decade. A passionate believer in the unlimited possibilities of blockchain technologies, Nikola joined aeternity nearly two years ago when the company was in its early development stage.




Sven Laepple is the founder of ASTRATUM and founding member of the German Blockchain Association. Previously, he co-founded with Outlier ventures Blockchain Angels Germany and BLUE C AG ( IPO in 2000). Sven has an MBA from the University of Mannheim, studied cryptocurrency at the University of Nicosia and at the Massachusetts Institute of Technology (MIT) blockchain and smart contracts as well as fintech and future commerce.




Patrick Lowry is the CEO and a Managing Partner of Iconiq Holding. He was a member of the Deutsche Börse Venture Capital team, DB1 Ventures, where he developed a strong passion for blockchain technology and alternative financing methods. He has a decade of financial industry experience, including as an associate at Graham Partners, a private equity fund, and PwC as an auditor of private equity, hedge, and mutual funds. Patrick currently advises multiple ICO projects and is an avid crypto-investor.




Thomas Hessler is a serial entrepreneur and angel investor focussing on blockchain businesses. He is the co-founder of zanox (global market leader for performance-based online marketing with 400 employees and USD 300 million turnovers), Globumbus (foundation to support Entrepreneurship) and UFOstart having invested in about 200 startups.




Marc Taverner is the Global Ambassador for Blockchain at Bitfury where he put in practice his 18 years of experience working with market-leading, global technology companies. He is also the founder of a successful modem distribution company. Marc has held sales leadership roles with many leading technology companies, including the world's largest provider of unified communications services and market leaders in educational technology solutions.


Sergio Pereira is the co-founder and CTO of Tech HQ. He has several years of experience as a CTO and Consultant for both startups and global corporations. Together with his clients, he crafts and architects Blockchain systems, and brings such innovative solutions either in Public or Consortium ecosystems. Sergio believes Blockchain based systems can bring more accountability and transparency and transform our perception of Trust, which can make our world a better place. The disruptive use cases are endless and Sergio works with his motley crew of engineers to architect and roll them out across industries.

Timo Dreger is leading the strategy and investor relations at MyBucks, the leading FinTech player in Africa. He has a passion for innovative business models and due to his diverse experience, he is able to understand and bring together corporations, founders and investors alike. Timo worked as a Head of Digital at Helvetia Insurance, as an MD & early-stage investor at Christian Angermayer's family office Apeiron Investment Group and as a VP Insurance at Commerzbank backed FinTech startup.

Klaudius Heda is an international counsel in the Finance Department of Debevoise & Plimpton LLP, based in the Frankfurt office. He focuses on financings and restructurings, capital markets transactions and corporate law. Mr. Heda represents corporate entities, private equity sponsors and financial institutions in a wide range of cross-border transactions. He has extensive experience in corporate financing, intra-group financial transactions, structured finance transactions, and real estate financings.

Prof. Dr. Philipp Sandner is head of the Frankfurt School Blockchain Center at the Frankfurt School of Finance & Management. The expertise of Prof. Sandner, in particular, includes blockchain technology, crypto assets, initial coin offerings (ICOs), digital transformation and entrepreneurship. The center advises companies concerning their blockchain activities, e.g. the first European crypto fund or startups in Consensys' Token Foundry program. Prof. Sandner is a member of the FinTechRat of the Federal Ministry of Finance and also engaged in the Blockchain Observatory established by the European Union and, additionally, founding member of the German Blockchain Association e.V. and the Multichain Asset Managers Association.



Who should participate?
This conference is ideal for anyone looking to establish and foster relationships with high-profile entrepreneurs, and speakers, as well as investors who are actively looking for investment opportunities in some of Europe's hottest startups:
Startup founders and startup enthusiasts interested in blockchain technology

Investors in innovative technology, venture capitalists, and blockchain investors

Corporates interested in innovation and blockchain

Companies providing services to startups in the blockchain field
Contact
Frankfurt School Blockchain Center
E-Mail: info@fs-blockchain.de
Phone: +49 69 154 008-790
Internet: www.fs-blockchain.de
Event Sponsors

KPMG member firms operate in 154 countries, collectively employing more than 200,000 people, serving the needs of business, governments, public-sector agencies, not-for-profits and through member firms' audit and assurance practices, the capital markets. KPMG is committed to quality and service excellence in all that we do, bringing our best to clients and earning the public's trust through our actions and behaviors both professionally and personally.
Deutsche Börse is a diversified exchange, Deutsche Börse Group's products and services cover the entire value chain in the financial services sector. Its business areas range from the admission of securities to listing, through trading, clearing, and settlement to custody services for securities and other financial instruments along with collateral and liquidity management. Additionally, the Group provides IT services, indices, and market data worldwide. We have divided our products and services into nine groups.
Debevoise & Plimpton LLP is a premier law firm with market-leading practices, a global perspective, and strong New York roots. Areas of concentration include white collar crime, investigations, general commercial litigation, international dispute resolution, crisis management, intellectual property and media, cybersecurity and data privacy, bankruptcy, insurance industry disputes, antitrust, securities litigation, and product liability.
FrankfurtRheinMain GmbH International Marketing of the Region is the inward investment agency of the FrankfurtRheinMain region. The agency's business is to inform foreign companies about the regional benefits and to attract them to the region. FrankfurtRheinMain GmbH promotes the region's competitiveness at an international level and strengthens the image of the region abroad. They supply comprehensive information on the region and detailed figures on the various industrial sectors to potential investors, coordinates the site selection processes together with local partners and helps companies to get in touch with the right contacts.




Collaborators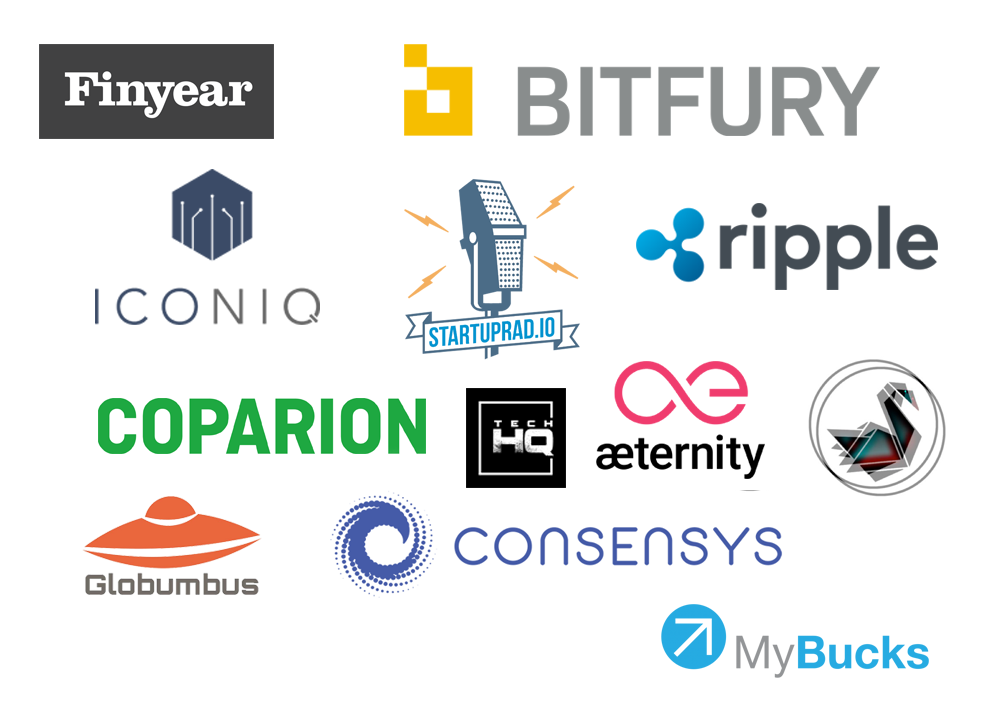 About the Frankfurt School Blockchain Center
The Frankfurt School Blockchain Center is a think tank and research center which investigates the implications of blockchain technology for companies and their business models. Apart from the development of prototypes, it serves as a platform for managers, startups, technology and industry experts to share knowledge and best practices. The Blockchain Center also provides new research impulses and develops training for students and executives. It focuses on banking, mobility, "Industrie 4.0" and the energy sector.
Further information can be found on the Website, onFacebook, or via Twitter.
About EU-Startups.com
EU-Startups.com is the leading online publication focused on startups in Europe. It reaches over 90,000 startup-interested visitors (200.000+ page views) per month attracting startups founders and investors from all around Europe. EU-Startups also provides other services to its community like the organization of the EU-Startups Summit that in 2019 will gather over 1.200 attendees in Barcelona.
Further information can be found on the Website, on Facebook, or via Twitter.