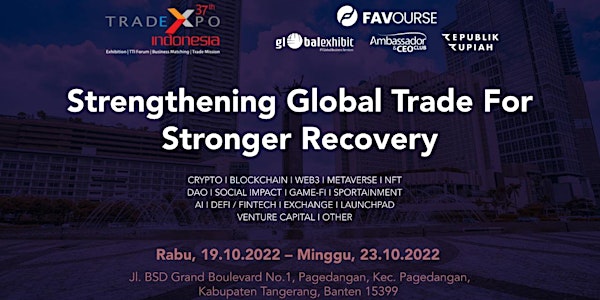 Blockchain Ecosystem Conference -Trade Expo Indonesia 2022
Blockchain Ecosystem Conference - Trade Expo Indonesia 2022 "Strengthening Global Trade For Stronger Recovery"
When and where
Location
Indonesia Convention Exhibition (ICE) BSD City 1 Jalan BSD Grand Boulevard Kec. Pagedangan, Banten 15339 Indonesia
About this event
Welcome to the Biggest
Trade Exhibition in Indonesia
Special Topic:
Blockchain Ecosystem Conference
CRYPTO | BLOCKCHAIN | WEB3 | METAVERSE | NFT | DAO | SOCIAL IMPACT | GAME-FI | SPORTAINTMENT | AI | DEFi / FINTECH | EXCHANGE | LAUNCHPAD | VENTURE CAPITAL | OTHER
General Overview:
The dynamic development of the global market caused a demand for more goods and services worldwide. To meet this growing needs, producers aim to create products with competitive advantages to full-fill market demands and promoted through effective promotional and marketing strategies.
In the year 2021, Indonesia's export performance has reached a record breaking number, outdoing the highest export performance in 2011. This achievement is a momentum for export growth that needs to be preserved and boosted in the coming years. The effective handling of the COVID-19 pandemic, supported by the national vaccination program, have worked well to curb the number of new cases in Indonesia.
This condition has been an optimistic factor, and the Indonesian Ministry of Trade has brought back Trade Expo Indonesia 2022 in a hybrid format. This hybrid format will widen opportunities exposures for Indonesian exporters to interact and transact with buyers both directly and through the digital medium.
As an annual promotional agenda, Trade Expo Indonesia 2022 will feature exhibitions, business forum, business counselling, and business matching with focus on selected industries such as Manufactured, Fashion and Accessories, Healthcare and Beauty, Medical Equipment, Furniture and Home Decorations, Digital and Services, as well as Food and Beverages. In conjunction with the Indonesian G20 Presidency, this year's Trade Expo Indonesia's theme is "Strengthening Global Trade for Stronger