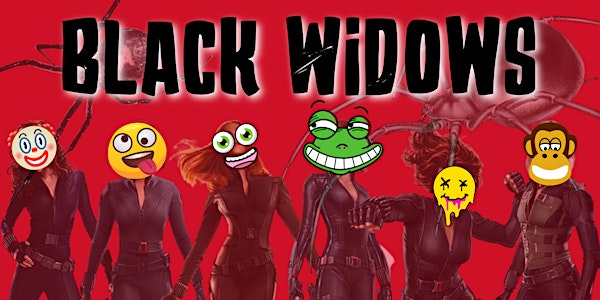 Black Widows: Wicked Womxn with Lethal Humor | English Comedy OPEN MIC
Laughs that'll bite you back.
Date and time
April 7 · 11pm - April 8 · 12:30am CEST
Location
The Wall Comedy Grünberger Straße 84 10245 Berlin Germany
About this event
The night is dark and full of laughs with Black Widows – the open mic that's not afraid to get its hands dirty! Our comics are not afraid to push boundaries and tackle the toughest topics with a humorous spin.
Join us for a night of dark, twisted, and downright hilarious comedy from the funniest womxn around. From taboo topics to twisted tales, our comics will have you in tears (of joy, hopefully) 😂😭. Just be prepared to leave with a slightly twisted perspective on life! 🤪
🎤 Host by Moni Zhang 🇨🇳 (IG: @moni.zhang.comedy)
Winner of Berlin New Standup Award 2019 & Founder of Berlin Mental Health Festival. Moni is featured by BBC, Euronews, Scottish Field, and The Scotsman. Now touring with her Edinburgh Fringe 2022 Sell-out show "Child from Wuhan".
Check more info at www.monizhang.com
🕷🕷🕷 Lineup 🕷🕷🕷
Lineup coming 2 weeks before the event.
Ticket:
👉 It's time to break the myth that laughter is free. Comics have rent to pay, Falafels to eat, and probably a few therapy bills to cover up their emotional scars from telling jokes for a living. We can't pay the bills with compliments or rainbows, we need cold hard cash.
🤑 This ain't no free gig. It's a Pay What You Want situation. How does it work? You get to decide how much to donate AFTER you've laughed your butt off. If you're planning on soaking up the jokes without leaving a tip, better skip this show!
💰 We suggest a donation of 12€ - 20€.
💰 Students & unemployed 5€ - 7€.
💰 We accept cards & cash.
❓ Is Smoking allowed at the show?
👉 No! It's a non-smoking venue!
❓ This is such an interesting show. But I can't make it this time. When is the next one?
👉 It's a monthly show! Follow Moni's Eventbrite Profile to get notified when the next one is scheduled!
❓ I want to perform. How may I sign up?
👉 As it is a dark comedy open mic, it can be difficult for absolute beginners to perform. Therefore, we only book comedians with a minimum of 100 gigs of experience & whom I saw perform.
If you want to sign up for TURE OPEN MICS, go to the following link & write "spot" and a one-sentence introduction to sign up. Please DO NOT pm me, it's very hard to keep track of direct messages!
https://www.facebook.com/moni.zhang.comedy/events/
When & where:
1st Friday of the month
Doors open: 11pm
Show time: 11.30 - 12.30pm
📍The Wall Comedy: Grünberger Str. 84, 10245 Berlin. At the corner of Boxhagener Platz.