Meet the next generation's game-changing web3 businesses at our Demo Day!
About this event
The BFG Superstars Program works with promising entrepreneurs and startups to build high-potential blockchain ideas into the next generation's game-changing web3 businesses.
Over the past 3 months, our team of technical, legal and business experts have conducted workshops, masterclasses and pitching sessions to accelerate the growth of our startup teams working on topics related to metaverse, tokenization, CO2 compensation, sustainability, and the dataverse.
The BFG Superstars Demo Day held online on 28 June at 2 PM (CEST) will showcase 8 blockchain startups, including some from the first cohort of the BFG Superstars program! The teams will be pitching to a network of Europe's top early-stage investors.
Register to join us, and receive the link to the livestream!
If you would like to attend the event and be connected with the startups , please contact melissa.lim@blockchain-founders.io.
Presenting startups include:
Tickets and registration
Registration is required via Eventbrite; and you will receive the URL after registration.
Who should participate?
Entrepreneurs with a next-generation idea related to web3, crypto, DeFi, NFT, IoT, or CO2 compensation!
Early-stage venture capital firms and angel investors on the lookout for the next big idea
Anyone interested in applying blockchain technology to drive change in the modern token economy
About BFG Superstars Program
The BFG Superstars Program is a crypto incubation program for pre-seed ideas, and a place for blockchain talents and co-founders to meet and launch crypto startups in 2 to 3 months.
Each cohort will launch 5+ crypto startups with different blockchain-based solutions. At the end of the program, selected startups will receive funding amounting to $60,000.
Find more information about the program and apply for the next cohort here.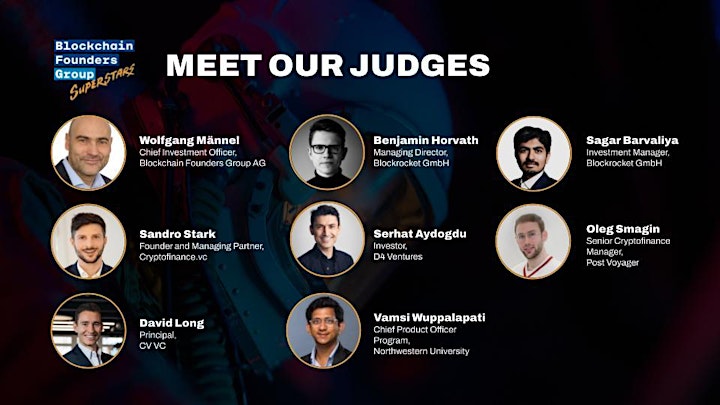 Meet our judges for Demo Day!