Dieses Event ist beendet.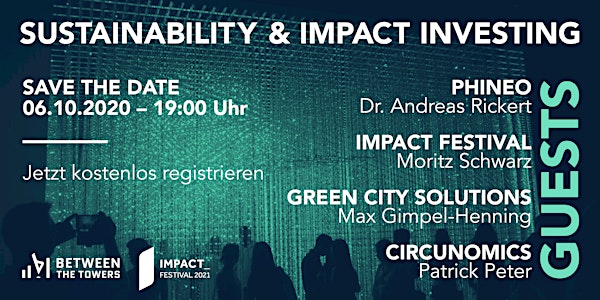 Between the Towers online - Sustainability & Impact Investing
Between the Towers goes sustainable! Alles rund um Impact Investing und sustainability im FinTech!
Zu diesem Event
Liebe BtT-Community,
In unserer Oktober-Ausgabe dreht es sich um das Thema Sustainability und Impact Investing!
Das Impact Investing wird bei Investoren beliebter. Firmen müssen dafür nachweisen, dass sie positive ökologische oder soziale Effekte auslösen. Die größte Herausforderung ist es, wirtschaftliche Interessen an der Nachhaltigkeit auszurichten. Doch es gibt zunehmend viele Akteure, die genau das versuchen und auch erfolgreich damit sind.
Deswegen freuen wir uns auf unseren Keynote-Speaker Andreas Rickert, Vorstandsvorsitzender von phineo. Sie helfen dabei, Ideen und Kapital zu verbinden, um die drängendsten Herausforderungen unserer Zeit zu adressieren – und damit einen Beitrag zur Finanzierung der Globalen Nachhaltigkeitsziele der UN (Sustainable Development Goals, SGDs) zu leisten.
Als Sidenote-Speaker begrüßen wir Moritz Schwarz, Initiator & Sustainability Expert vom Impact Festival 2021. Das 2-tägige Festival im April 2021 bringt Vorreiter/Vordenker/Start-ups, Unternehmen, Investoren und Thought-Leader zusammen, um nachhaltige Business-Modelle zu diskutieren und zu entwickeln.
Neben unserer Keynote & Sidenote haben wir natürlich auch wieder Pitches für euch. Freut euch auf die Start-ups green city solutions und circunomics.
Wir freuen uns jetzt schon, Euch am 06. Oktober bei BtT online wiederzusehen!
Euer BtT-Team