About this Event
The Best Economy forum is the sustainable alternative to the World Economy forum. The forum shows what successesful entrepreneurship means today - talking into account the Sustainable Development Goals. The event is organized by business associations of the sustainable economy movement - with the aim of breaking new ground together and taking other entrepreneurs with them. In Bolzanoyou will meet pioneers of sustainability from industry, start ups, students and relevant stakeholders.
By participating in this forum you will make these demands very concrete and you are an important part of the entrepreneurs who take responsibility for the future.
Facts about the Best Economy forum:
Conference for Decision makers
figures 2019
250 Decision makers by economics, politics and associations
70 Students/Start ups
Participant Origin:
worldwide
Duration of Event:
2 Days
Top Speaker, sustainability tour, Innovative catering system, great acts
Organizer:
3 Entrepreneurial associations of a sustainable economy representing more than 4000 companies from all sectors across Europe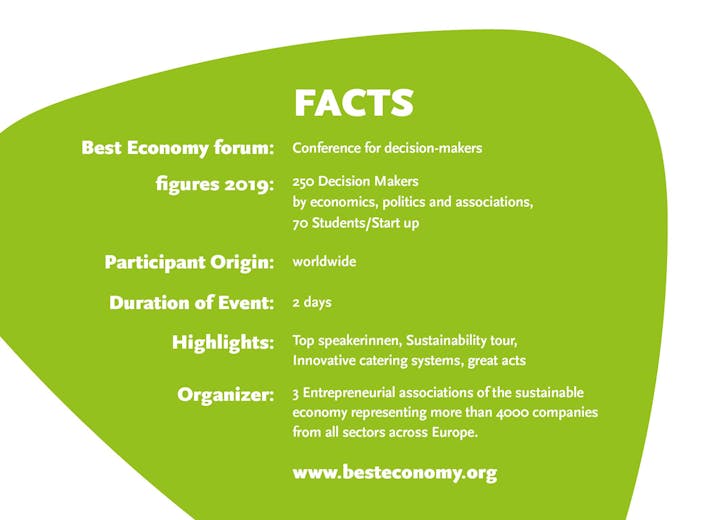 The event has the following aims:
•To move towards a new world economy which assumes responsibility for future generations, secures our long-term livelihood, and seeks to bring our environment, society, economy and culture into harmony.
•To exchange and transfer experience and knowledge between companies who are multipliers and role-models for best practice in sustainable business.
•To raise awareness among society, government and media through the invitation of prominent figures who are active in working for sustainability and are ready to share their knowledge.
•To involve young companies and show them possible sustainable solutions for their businesses.
•To develop and refine a shared vision of a sustainable economy, achievable by 2030. This vision will be reviewed and developed every two years, the targets set will be presented to the European Union.
Topics & Exchange Groups
The event aims to create a vision for fair worldwide trade and a sustainable global economy by 2030. What kind of future are we hoping for?
The main topics will be discussed in focussedexchange groups: Talking with the experts is the motto of these parallel workinggroups. They are moderated thematically by sector experts or associations. The associations or initiatives that support the BEST ECONOMY forumprovide the moderators for the groupsdealing with the area of expertise. The moderators invite further speakers to their focus groups.
more about the programme
Information about the forum
The goal of the BEST ECONOMY forum is to create a manifesto aimed at policy makers from economy and politics on a national, European and world-wide level. The manifesto will explicitly state which measures need to be implemented in the short (2 years), medium (5 years) and long term (15 years) in order to fulfil the United Nations' 17 Sustainable Development Goals (SDG).
By participating in this forum you are contributing to giving substance to these demands, and as one of the entrepreneurs who are willing to take on responsibility for our future you make our voice matter.
Terms and conditions
The following focus groups are open to attendees
Ethical economy (Eng.)
Imagining the circular economy (Eng.)
Justice of the global South (Ger.)
Real prices for fair markets (Eng.)
New forms of organisation for new forms of economy (Ger.)
Money with meaning (Ger.)
More than hotel (Ger.)
For further information on our focus groups please see our programme.
You can participate in 2 focus groups.
The conference will be held in English unless certain events should be labelled otherwise.
Rooms have been blocked in the following hotels for participants of the congress (ask for "BEST ECONOMY forum").
Bio-Hotel Steineggerhof
Bühlweg 14, 39053 Steinegg
Tel: +39 (0) 471 376 573
E-Mail: info@steineggerhof.com
Hotel Residenz Pazeider
Nörderstraße 32, 39020 Marling
Tel: +39 (0) 473 448 740
E-Mail: info@pazeider.com
Bio-Hotel & Residence Kaufmann
Fleimstalstraße 16, 39040 Auer
Tel: +39 (0) 471 810 004
E-Mail: info@hotelkaufmann.it
Theiner´s Garten
Andreas-Hofer-Straße 1, 39010 Gargazon
Tel: +39 (0) 473 490 880
E-Mail: info@theinersgarten.it
Parkhotel Luna Mondschein
Piavestraße 15, 39100 Bozen
Tel: +39 (0) 471 975 642
E-Mail: info@hotel-luna.it
Four Points by Sheraton
Bruno-Buozzi-Straße 35, 39100 Bozen
Tel: +39 (0) 471 195 0000
E-Mail: reservations@fourpointsbolzano.it
Hotel Regina A.
Rittner Straße 1, 39100 Bozen
Tel: +39 (0) 471 972 195
E-Mail: info@hotelreginabz.it
Stadt Hotel Citta
Walther Platz 21, 39100 Bozen
Tel: +39 (0) 471 975 221
E-Mail: info@hotelcitta.info
Hotel Eberle
Obermagdalena 39, 39100 Bozen
Tel: +39 (0) 471 976 125
E-Mail: info@hotel-eberle.com
The Lodge – Golfclub Eppan
Unterrainer Straße 74 B, 39057 Unterrain
Tel: +39 (0) 471 166 0056
E-Mail: hotel@golfandcountry.it
A shuttle service to these hotels is available.