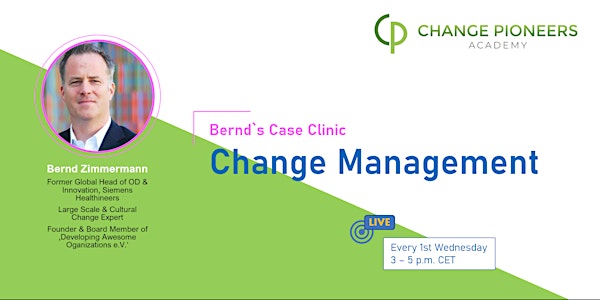 Bernd's Case Clinic: Change Management
Benefit from 20 years of experience: Gain new perspectives on your concrete change project & develop approaches to impactful transformations
Refund Policy
Contact the organizer to request a refund.
About this event
Are you working at the pulse of an organizational change or cultural transformation?
This case clinic is a powerful host-led experience embraced with advice, coaching, exchange, inspiration and reflection that lead to concrete actions.
Whether you are a senior leader, HR Business Partner, internal consultant, Org Designer, change manager or change agent: dive into this space internal change practitioneers seldom find.
Fueled with years of experience and a mindful host this is an opportunity to:
Revisit your mandate or the role you play in the change project.
Find the right scope, breath and depth for the change initiative you are tasked with.
Enrich the change approach and change design you sketched out.
Reflect on how much change the organization can take and whether "you have become yourself your best client".
Enhance the design of concrete change interventions, enablement and other measures.
Analyze your change support system and sufficient change "on" the system.
The trustful and supportive case clinic enables you achieving your goals:
It fosters fresh thinking that creates new perspectives and makes you aware of own topics, traps and systemic connectedness.
It provides not the usual tools but practical tips and tricks as your case is analyzed within a very short time and approaches to solutions are developed.
It draws from the diversity and backgrounds of the other participants (inside or outside your company) and the vast experience of your host.
The enriching exchange with peers that have similar challenges makes you feel less "lonely" and fosters your network beyond the case clinic itself.
About Bernd:
Bernd Zimmermann, was 'Global Head of Organization Development and Innovation' at Siemens Healthineers AG with global responsibility for organizational development, leadership model, DI&E, employee engagement and innovation culture.
Prior to that he was "Head of Strategic Development" at Siemens Leadership Excellence, freelance consultant and teaching trainer with the 11drei-Institute for Contemporary Leadership and Organizational Development with focus on large scale change initiatives, team development and systemic training.
After studying law in Münster, Germany, over 20 years of professional and leadership experience in various industries. Bernd is visiting professor at the TUM School of Business and board member of "Developing Awesome Organizations e.V.". He lives in Munich with his family and loves long-distance hiking (Jacobus Trail).
How this Case Clinic works - Here are three important things to know:
You start from where you are.
Your schedule is tied, why should this case clinic put more stress on you. During the registration process you should consider whether or not you want to be a case giver to allow some planning. The rest will be worked out in the session. And it is OK if a new case emerges during the course of the session.
Case Clinics are 100% confidential.
Trust is the most important element of a successful case clinic. cohort. It is important that participants can be open about their cases, ideas, their learning, and their struggles without fear of judgment or rejection. Therefor only internal change practitioneers are allowed and everything will be kept confidential and compliant.
There's a simple, structured process.
The case clinic is meant to be a guided advisory and peer coaching program. Structure and hosting is needed as the session is only two hours. With a good process this will be long enough for you to get new solutions for your cases and short enough to keep it focused and sustainable.
Get your seat
Small trustful group – two case givers and ~6 reflecting peers
Specific for internal change practitioneers (talk to us about inhouse case clinics or supervisions)
Language is English. If no foreign participant is present, German can also be spoken.