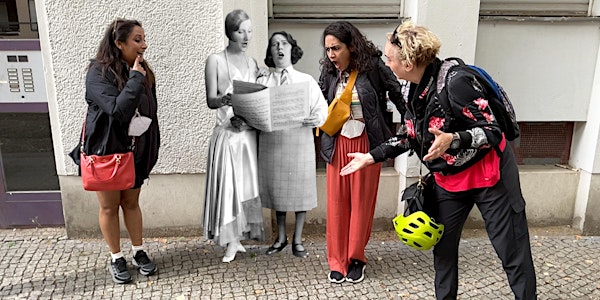 Multiple dates
Berlin's History of Sex – Augmented Reality Guided Tour
Discover the unbelievable history of sexuality in Berlin in this one-of-a-kind guided city tour with Augmented Reality elements!
By Jeff Mannes | BerlinGuide.de
Date and time
December 1, 2018 · 1:30pm - December 31 · 6pm CET
Location
In front of the palace "Schloss Bellevue" Spreeweg 1 10557 Berlin Germany
Refund Policy
Refunds up to 1 day before event
About this event
What will I get from the tour?
This is a one-of-a-kind guided city tour that you will not find anywhere else!
Explore Berlin's History As You've Never Experienced It Before
Are you tired of always the same historical tours? Berlin's History of Sex gives you a glimpse into the history of Berlin as you've never seen it before – while still being closely linked to the specific historical facts you know! Get to know the Roaring Twenties, the Nazi era, and the Berlin Wall from an entirely new perspective!
Experience Berlin's Most Sexual and Thrilling Era: The Roaring Twenties
From nudism to kinks and fetishes, from the sex museum to shocking nightclubs: The Roaring Twenties in Berlin will make you discover forms of sexuality you never thought possible! Shock and laughter are guaranteed!
Discover the Origins of Sexual Science
Discover the location of the world's first institute of sexual science and why it became an international hotspot for influential people from around the globe. Find out why the world would think completely differently about gender and sexuality today if the Nazis had not destroyed the institute.
Understand the Struggles of Marginalized Communities
Trace back the origins of the world's first LGBTQIA+ emancipation movement. Explore early forms of feminism, "the world's first gay man", early gender theories, the first trans identities and gender affirmation surgeries, or the vibrant lesbian life and drag culture in the 1920s.
Find Out What Happened in Nazi Germany
Understand Hitler's contradictory relationship to homosexuality, what the Nazis thought of Berlin and its sexual liberty, and what happened to LGBTQIA+ people in the Nazi concentration camps
Learn about Sexuality in Berlin Today
From Europe's biggest fetish festival to sexuality in Berlin's clubs: Get an overview of sexual life in Berlin today.
Join a Certified Social Scientist and Sex Educator Tour Guide
My name is Jeff, I studied sociology and gender studies and focused a lot on sexuality. I am also a certified sex educator and freelance journalist about sexuality in Berlin. During my tour, I'll share with you my knowledge accumulated from more than a decade's worth of research.
Enjoy a Fun Day with Augmented Reality
This guided tour is enhanced with selected Augmented Reality elements. Over your tour guide's iPad's camera, you'll see the world in front of you with Augmented Reality elements over it. For instance, you'll walk past sex workers from the 1920s. Or you can see the building in front of you how it looked like 100 years ago. You can also take pictures of yourself with the Augmented Reality elements as a souvenir from the tour. (Powered by ZAUBAR.)
Average rating on Google:
⭐⭐⭐⭐⭐
5.0 / 5 stars
Average rating on TripAdvisor:
⭐⭐⭐⭐⭐
5.0 / 5 stars
Average rating on Airbnb Experiences:
⭐⭐⭐⭐⭐
5.0 / 5 stars
Only a few tickets per tour are available, so get yours now!
"Really informative and special. Jeff knows a lot in this area and presents the content with passion."
⭐⭐⭐⭐⭐
– CHESTER (TAIWAN)
What do I need to bring?
A valid public transport ticket as we will travel by underground or bus.
An umbrella or sun protector and water depending on weather conditions. (Please be aware that the tour will be cancelled in extreme weather conditions, like heavy rain or storm, and you will be fully refunded.)
A curious mind and no reluctance to be entertained or shocked.
When and where does the tour happen, and how long does it take?
Berlin's History of Sex in Augmented Reality starts in front of Bellevue Palace (Schloss Bellevue, Spreeweg 1, 10557 Berlin). We meet under the trees on the right side when facing the palace, right by the street. For times, please check the schedule calendar when booking your tickets.
The guided Berlin tour lasts about 3.5 hours and ends at Nollendorfplatz. From there you get excellent public transport connections to anywhere in the city.
What else do I need to know?
Language
The guided Berlin tour is in English. However, on request, German tours can be offered as private tours for 250€-400€ (depending on the number of participants). For German tours, please send me an email to service@berlinguide.de.
Other info
This entire guided Berlin tour is accessible by wheelchair.
This is a unique guided tour in Berlin that also makes an excellent gift for loved ones!
You can also book a private tour for a fixed price of 250€-400€ (depending on the number of participants). To request, please send an email to service@berlinguide.de!
This guided Berlin tour is only suitable for people who are at least 18 years of age.
Please be aware of the trigger/content warnings, which include: animal cruelty, antisemitism, BDSM/kinks/fetishes, HIV/AIDS, homophobia, human trafficking, (mass) murder, Nazi Germany, poverty, racism, sex, sexism, sexual abuse, (sexualized) violence against and abuse of children, sex work/prostitution, transphobia, and violence (physical, psychological, sexualized).
What are the exact stops of this guided Berlin tour?
Meeting at Palace Bellevue
Introduction
Nudism from the mid-19th century to the present day (focus on 1920s)
Magnus-Hirschfeld-Ufer
Brief overview of Karl Heinrich Ulrichs, "the world's first gay man"
Brief overview of Magnus Hirschfeld, §175 and the world's first organization for LGBTQIA+ rights
Feminism, Johanna Elberskirchen and Helene Stöcker
Hirschfeld's theory of sexual intermediaries: Intersexuality; Early trans identities; Dora Richter, Lili Elbe, Karl M. Baer and the world's first gender affirmation surgeries
The Institute for Sexual Science
The Sex Museum
Precursors to Viagra
The destruction of the Institute by the Nazis
Hirschfeld's death, his legacy and post-colonial critique
Memorial to the Persecuted Queers under National Socialism
Ernst Röhm and Hitler's attitude to homosexuality
The Night of the Long Knives
LGBTQIA+ people in the concentration camps
Kurfürstenstraße
Sex work, kinks and fetishes in the Roaring Twenties
Schwerinstraße
Lesbian life in Berlin in the 1920s
the lesbian club Toppkeller
the Lavender Song
Claire Waldoff
Josephine Baker, bisexuality and racism
Nollendorfstraße
Christopher Isherwood in gay Berlin
From Isherwood's novels to the cabaret musical
Speisekammer im Eldorado
The Eldorado as the Berghain of the 1920s, Drag and the so-called "Transvestites"
Ernst Röhm at the Eldorado
Vogue magazine's search for "Berlin's most beautiful woman"
International Stele Always Remember
LGBTQIA+ Emancipation Movements in West and East Berlin
The sexual revolution and sexual satisfaction in West and East Germany
Nudism in the GDR
Rita Süssmuth and the AIDS crisis
Nollendorfplatz
Folsom Europe
Sexual Clubs: Kit Kat Club, Insomnia, Berghain
"AN ABSOLUTE MUST-DO in Berlin! I am a tour guide myself and I thought the tour was absolutely excellent."
⭐⭐⭐⭐⭐
– ELIOT (GERMANY)
"Jeff's tour was something I could not have experienced or known on my own."
⭐⭐⭐⭐⭐
– LAUREN (AUSTRALIA)
Berlin's History of Sex is being covered in International Media
Germany
Luxembourg
New Zealand
Spain
UK
About the organizer
Berlin Guide offers guided tours in Augmented Reality and online experiences about Berlin's History of Sex and The Story of Berlin's Clubs! Additionally, I offer blog posts, presentations, workshops, and articles about human sexualities, sexual sciences, Berlin, LGBTIQ, club culture, politics, history, human-animal relations, sociology, social psychology, society, and culture. Berlin Guide is run by Jeff Mannes.