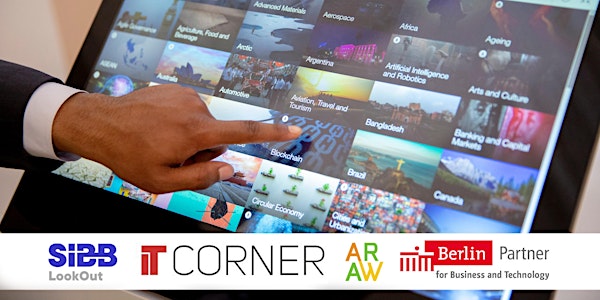 Berlin wITh Wroclaw: Shaping Digital Transformation Together
When and where
Location
PURO Hotel Wrocław Stare Miasto Pawła Włodkowica 6 50-072 Wrocław Poland
Description
Shaping Digital Transformation Together With Other Countries
Between the ability to innovate and the pressure to adapt. Opportunities and risks of Digital Transformation.

Digitalisation is a driver of globalisation. Half of the world's population has today access to the internet.
There is hardly any company which does not rely on digital solutions. Integrated value chains, industy 4.0, e-commerce, social networks and digital platforms mean that the world is coming ever closer together.
If we want to make full use of the opportunities provided by digital transformation for the benefit of all enterprises and societies, we will need a joint, international cooperation and a call for action!
Two cities – one business.
During this event – organised jointly by ITCorner (Wroclaw) and SIBB just digital (Berlin) & powered by ARAW | Invest in Wroclaw & Berlin Partner – we will be discussing how companies across Europe are attuned to the urgent need to transform their business and operating models, in light of evolving customer behaviors, disruptive technologies, regulatory policies, and globalization.

We will be taking digital transformation to the next level by showing you best practices and talking about implementations with business leaders in order to provide a global perspective on the capabilities and characteristics needed to succeed in a world where digital transformation is evolving fast.
Multinational corporations are present in Wroclaw across a broad spectrum of industries, including automotive, consumer goods, energy, financial services, industrials, life sciences, and retail – same as fast growing startups in Berlin.
Best practices from both Berlin and Wroclaw will show, that innovative digital transformations can be done in cooperation - we not only want to establish a dialogue between the IT companies themselves, but also with the companies that need these technologies to assert their business.
Join our event for excellent best cases, an involving panel discussion and business networking with drinks & snacks.


AGENDA:
19:00 Registration and Networking
19:30 Keynote SIBB & Berlin Partner,
19:40
Presentations from Berlin:
SAR BS, Tony Aendrich - Creating strategy in a VUCA world
AMB Software, Hartmut Lösch - How high-functional Polish-German teams build software!
Berlin-Wroclaw Success Story: Cloudical
Presentations from Wroclaw:
Fingo, Greg Motriuk - Competition vs. cooperation: how ITCorner companies learned to partner up to deliver better services (case study)
NeuroSys, Tomasz Kowalczyk: Belgium-Poland cooperation - from software development service to AI-based product currently used by companies from Top 5 in Pharma.
20:10 - Panel Discussion
20:30 - Networking with Drinks and Snacks




Project LookOut is supported by the European Regional Development Fund (EFRE) and Berlin Senate Department for Economy, Energy and Businesses: