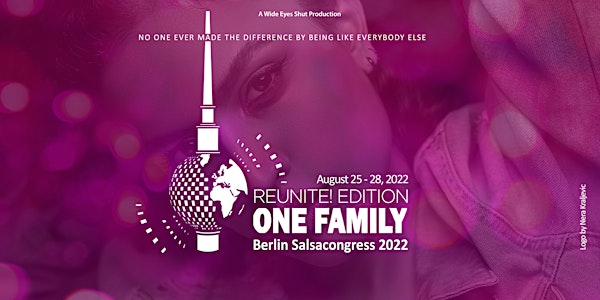 Berlin Salsacongress One Family - Reunite! Edition 2022
We believe it is time to reunite after dancing has been restricted for such a long time. Let's continue to make history.
Date and time
August 25, 2022 · 7pm - August 29, 2022 · 12am CEST
Location
Tempodrom Möckernstraße 10 10963 Berlin Germany
About this event
Line Up 2022:
Ernesto & Denisse (USA)
Jasmina & Antonio (Italy)
Brenda Liew (Singapore)
Terry & Cecile (France)
Supermario (UK)
Gaby & Estefy (Spain)
Jacopo & Linda (Italy)
Moe Flex (UK)
Julian Mr M (UK)
Sabiha Bastide (France)
Anna & John (UK)
Svetlana Ray (Russia)
Federico & Tullia (Italy)
Linda & Julio (Germany)
...more to be added soon!
The Reunite! Edition will strictly focus on Social Dancing in all its aspects. The workshops will feature and train those skills which are needed on the dance floor.
In 2022 we added three Social Trainings with skilled instructors to give you 3hour intense trainings on social skills.
There will be no shows except the Stargate Shows in the Afternoon to give you as much time for social dancing as possible.
The Social Dancing will start on midday and will finish some time after midnight.
At the Reunite! Edition we will feature only Salsa/Mambo and Dominican Bachata.
Our mission from the very beginning in the year 2001 has been to bring dancers together from all over the world in one spot. We believe it is amazing that we have this wonderful worldwide community of dancers and we celebrate, that we can go anywhere in the world and meet likeminded people!
In 2022 we will once again be able to dance outdoors and indoors! Check it out: