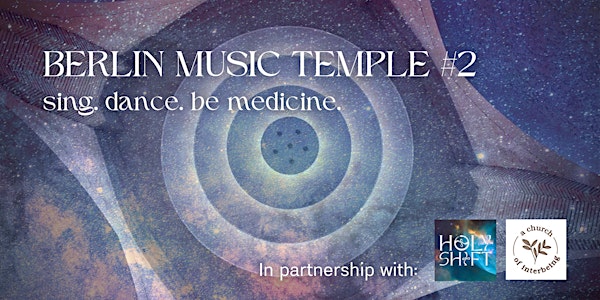 Berlin Music Temple #2 ** sing. dance. be medicine
Community gathering with Vocal Freedom Soul Singing Circle, Holy Shift Dance Prayer, Church of Interbeing opening ritual and Gong Bath.
When and where
Location
Genezareth Kirche - Startbahn Herrfurthplatz 14 12049 Berlin Germany
Refund Policy
Contact the organizer to request a refund.
About this event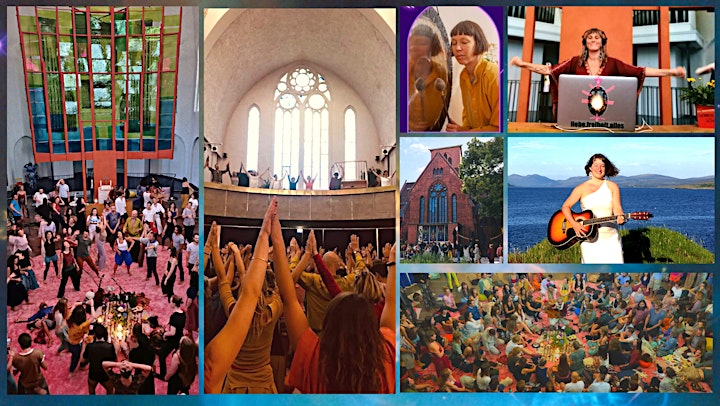 After the 🌱seed planting edition🌱 hosted by Uria Tsur and the Vocal Freedom Workshop Community in July, the Berlin Music Temple opens its doors for the second edition.
🌱In the plant world, the first phase for the seed to germinate and grow is the imbibition, the intake of water. 🚿🌱
✨Our seeds will be watered with a big bucket of nurturing freshness and authenticity by our hosts of this edition: Alma ∞ Omega and the workshop participants of the Holy Shift dance-prayer -weekender. For the last three days they have recharged our, soon to be absorbing waters, with their movements and prayers. 💃
Maegan Gorbett (Alma ∞ Omega) - founder of Holy Shift:
"Holy Shift is to dance with/through all the (inner/outer) transformations, to harness the Medicine of you/me/we, to embrace our humanity as well as our inherent divinity: in order to bring us closer to our unique offering of service to Life upon this Earth."
✨Along with Holy Shift we will be welcomed with an opening ritual by the Sunday Service ritual gathering group "Church of Interbeing" - the Genezareth church pioneers that meet weekly in this beautiful venue that we are about to fill with our presence. 🕺💦
🌱Since we gather not only to breathe and dance together, but also to sing and connect through our voices, we have Amanda Encantada from Uria Tsur´s Vocal Freedom workshop community with us. 🎶Amanda Encantada is a free-spirited soul voice singer and vocal coach. Her soul voice singing circles are deep vocal journeys in high vibrations. In her gentle way she will guide us with Heart Songs and Intuitive free flow to open our divine channel and let our soul sing through us..🎶✨
💧✨ The final part of our water germination edition of Music Temple is a gong sound bath. 🌱 Lay down, relax and let the gong frequencies flow through you. Dana Muinãra describes the way she plays gong, that she downloads the cosmic field through the gong frequencies into our cells. Gongs have the ability to heal and raise our frequency. 💧✨
💧⛲The beautiful waters that these humans offer, we are invited to take in as authentic beings together in community. The invitation is to open our hearts to connect with ourselves, with each other and with what is in between. ✨ Music is the water that hydrates us. What grows from this flowing, open heart, we can express through our pure presence, our honest movements and our divine authentic soul voices. Music flows through us and we flow through music. All of you is welcome here.⛲💧 🌱
💦 ⛲✨ 💧💎 ✨💧💎 ✨ 🌱💧💎 ✨💧💎 ✨ 💧💎 ✨ 💧💎 ✨ 💧💎 ✨ 💧✨ ⛲💦
Evening flow:
💫 💧18:00h - Doors open, arrival 💧💫
💫 💧 18:30h - Opening Ritual by Church of Interbeing 💧💫
💫 💧18:50h - Holy Shift Embodied Dance Prayer with Alma ∞ Omega 💧💫
💫💧20:30h - Soul Singing with Amanda Encantada 💧💫
💫💧21:50h - Gong Bath with Dana Muinãra 💧💫
💫💧22:22 - end 💧💫
໑ *: ・゚✧ *: `- ´.໑ *・ 。゚・ ໑.*・。゚໑*:・゚*:*:・゚´໑*:・゚*:*:・゚゚ ´✧*:・゚゚*:*:・゚✧ * : ໑
❂ What to bring ❂
໑ An open heart
໑ Something cosy and warm to sit on.
໑ Warm dancing socks, since the church is a shoe free space.
໑ A non glas bottle of water
໑ Kids and dogs are welcome in the church. Please take good care of them.
໑ €24 - €44 entrance fee as energy exchange for location, artists and production.
໑ *: ・゚✧ *: `- ´.໑ *・ 。゚・ ໑.*・。゚໑*:・゚*:*:・゚´໑*:・゚*:*:・゚゚ ´✧*:・゚゚*:*:・゚✧ * : ໑
💎🌎Part of the proceeds for this gathering will go to support the protection of the Mata Atlântica & the Cacao-Coast-line of Bahia, Brazil & to raise awareness of the building of the devastating Porto Sul project in Ilhéus, Brazil. (more information about this emerging project coming soon) 🌎 💎
໑ *: ・゚✧ *: `- ´.໑ *・ 。゚☆゚・ ໑.*・。゚໑*:・゚*:*:・゚´໑*:・゚*:*:・゚゚ ´✧*:・゚゚*:*:・゚✧ * : ໑
❂ Date and Location ❂
Sunday, October 23rd 2022, 18:00-23:00h
Genezareth Kirche, Herrfurthplatz 14, 12049 Berlin Neukölln - Schillerkiez
💦 ⛲✨ 💧💎 ✨💧💎 ✨ 💧💎 ✨💧💎 ✨ 💧💎 ✨ 💧💎 ✨ 🌱💧💎 ✨ 💧✨ ⛲💦
❂ Connect with our artists and partners ❂
Opening Ritual:
Church of Interbeing
Find out about their next Sunday rituals here: https://interbeing.life/
….and join their Telegram group here: https://t.me/+zs3VBo5YFRpiZjU0
Movement Prayer:
Alma ∞ Omega (Maegan Gorbett)
https://www.facebook.com/almaomega4holyshift
To find out more about the Holy Shift dance-workshop, follow this link: http://www.alma-omega.world/holy-shift/ We still have free spots.
Soul Singing Circle:
Amanda Encantada
https://www.facebook.com/amanda.encantada.voice
Gong Bath:
Dana Muinãra
Visit her Linktree to listen and explore her next events: https://linktr.ee/danamuinara
Next date: Gong night, September 20th: https://danastechow.de/gongnacht-equinox-sep-2022/
Sound engineer Thea Hann. Thea is not just sound engineer but a magical medicine song singer and songwriter: www.theahann.de
Space Holders:
Vocal Freedom Berlin Workshop participants www.uriatsur.com
Holy Shift workshop participants http://www.alma-omega.world/holy-shift/
Berlin Music Temple is a creation based on the vision of musician and voice and space holding workshop facilitator Uria Tsur.
Meet Uria Tsur in his Inner Circle Community: https://www.uriatsur.com/makeart
… and next year in Berlin for the next edition of the Vocal Freedom Workshop.
Thank you 🙏
With love,
Juli
💦 ⛲✨ 💧💎 ✨💧💎 🌱✨ 💧💎 ✨💧💎 ✨ 💧💎 ✨ 🌱 💧💎 ✨ 💧✨ ⛲💦