Dieses Event ist beendet.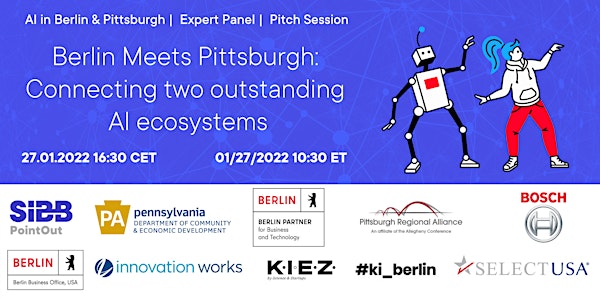 Berlin Meets Pittsburgh: Connecting two Outstanding AI Ecosystems
AI in Berlin & in Pittsburgh | Expert Panel | Pitch Session
Zu diesem Event
We would like to invite IT companies from two cities that lead the adoption of AI solutions in their regions: Berlin, Germany and Pittsburgh, PA, USA.
Learn more about both ecosystems with us!
Pittsburgh, PA, the birthplace of Artificial Intelligence. Founded at Carnegie Mellon University in Pittsburgh, today the robust AI ecosystem includes public and private partners that support and drive innovation from almost all industry verticals. Pittsburgh is also home to the world's first self-driving cars, and the growing focus on autonomous vehicles has six companies and counting deploying tech in real world environments.
Berlin – The breeding ground for AI innovation. The mature and diverse AI ecosystem in Berlin is built on outstanding AI research and driven by innovative start-ups. 40% of Germany's AI start-ups are based in Berlin attracting AI talent from all over the world. 80% of AI companies have a B2B focus and industry-wise 36% operate in Business Intelligence/Process Management, 10% in healthcare, 9% in mobility & city intelligence. More at www.ki-berlin.de.
Agenda:
16.30 - 16:40 Welcoming Remarks
Orientation by Project Manager International Business, SIBB e.V.
Welcome words by Brittany Banta, Commercial Attache, U.S. Department of Commerce
Welcome words by David Moock, Authorized Investment Representative, Commonwealth of Pennsylvania
16:40 – 17:05 AI Overview in Berlin and Pittsburgh
17:05 – 17:40 Expert Panel "Putting AI to Work"
Moderator : Christopher Martin, Director of Research + Development, Bosch, Pittsburgh, PA, USA
Dr. Tina Klüwer, Director of KIEZ AI by science and startups, Berlin
Jim Wrubel, AI Specialist, Innovation Works, Pittsburgh, PA
17:40 – 18:00 Meet & Pitch AI Startups
18:00 – 18:15 Networking Session in Zoom breakout rooms with Berlin and Pittsburgh representatives and companies
18:15 – 18.20 Closing remarks
Event partners:
Berlin Partner for Business and Technology, Pittsburgh Regional Alliance, Pennsylvania Economic Development, Bosch, Berlin Business Office USA, Innovation Works, KIEZ AI, #ki_Berlin, SelectUSA
Project PointOut is co-financed with:

Event partners and experts:
Berlin Partner for Business and Technology. A unique public-private partnership, Berlin Partner for Business and Technology collaborates with the Berlin State Senate and over 230 companies dedicated to promoting their city. Berlin Partner is responsible for marketing the German capital to the world.
The Pennsylvania Department of Community and Economic Development's (DCED) mission is to encourage the shared prosperity of all Pennsylvanians. The PA Office of International Business Development offers customized services to help international companies looking to locate or expand in Pennsylvania. https://dced.pa.gov/business-assistance/international/investment/Pittsburgh Regional Alliance
Innovation Works helps software, hardware, and life sciences startups throughout Southwestern Pennsylvania get to their next stage of growth.
Berlin Business Office, USA supports, connects and presents Berlin's economy in the U.S. Likewise, it is Berlin's first point in the U.S. Whether you plan to invest as a Berliner in the U.S. or aim to access Berlin's markets from there, BBO, USA helps you to connect. Its focus is set on supporting Berlin's Startups and SME's along with their economic clusters incl. Energy, Mobility, or ICT.
Bosch US - Operating across four business sectors – Mobility Solutions, Industrial Technology, Consumer Goods, and Energy and Building Technology – Bosch is uniquely positioned to offer customers a multitude of value-add, cross-sector solutions across a diversity of industry applications.
K.I.E.Z. AI is an initiative dedicated to facilitate entrepreneurs in AI with scientific expertise as well as access to capital, industry partners and hiring talent. From the first idea to the successful business, we provide science-based AI startups with everything they need to grow fast and sustainably.
SelectUSA is the U.S. government program led by the U.S. Department of Commerce that focuses on facilitating job-creating business investment into the United States and raising awareness of the critical role that economic development plays in the U.S. economy. SelectUSA works one-on-one with companies to demystify federal rules and regulations, provide data and other information, and link companies with partners and resources to help them succeed. SelectUSA hosts the annual Investment Summit, a global conference and networking event for companies that seek to expand their business in the United States. SelectUSA has local representations at embassies and consulates around the world, including at the U.S. Embassy in Berlin."
_
Pitching startups
Sermonis.AI is a conversational AI company revolutionizing the deployment of enterprise-grade intelligent virtual assistants.
Yoona.ai is a new worldwide leader of digitization in design processes. Yoona.ai provides automation that will reduce fixed costs and shorten product lead time without making shortcuts on sustainability with a scalable artificial intelligence-based B2B software solution.
BlastPoint Inc., is a B2B provider of customer intelligence and analytics solutions that companies across sectors rely on to optimize revenue growth. Serving the energy, financial, and automotive sectors, as well as numerous nonprofit community organizations, BlastPoint helps companies discover, target and engage the humans in their data.
LeanFM Technologies empowers facility managers in hospitals, universities, or anywhere that uses a centralized HVAC system with the most relevant, actionable, and quantified insights to make decision-making more accurate and productive.