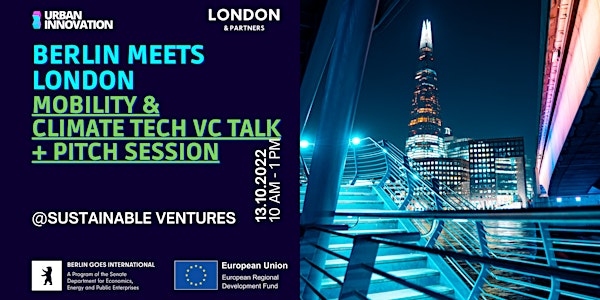 Berlin meets London: Mobility & Climate Tech VC Talk + Pitch Session
Join us for an exclusive Mobility & Climate Tech VC Talks + Pitch Session
Date and time
Thursday, October 13, 2022 · 10am - 1pm BST
Location
Sustainable Ventures County Hall 3rd Floor, Westminster Bridge Road London SE1 7PB United Kingdom
About this event
📣 📣On the 13th of October, Urban Innovation together with London&Partners are happy to invite you for our Mobility & Climate Tech VC Talks + Pitch Session at Sustainable Ventures in London!
With our high-profile panelists, we will cover how VCs can create added value for a company, what they can offer to startups and how they help in reducing risks.
Meet our panelists:
🌟InMotion Ventures, Alex Smout, Principal
🌟Sustainable Ventures, Shruti Iyengar, Senior Investment Associate
🌟tbc
🌟tbc
Afterwards, we give the stage to our Berlin Startups, with pitches by:
ClearCO2, Imperium Drive, ioki, reverse.supply, TechNovator, weeve 🚀
As part of our Clean Tech Mission to London, we are bringing our delegation of startups from Berlin to Sustainable Ventures to pitch their businesses in front of local #VCs, potential partners, key decision-makers and city officials.🔥
Our delegation consists of highly innovative and exciting startups and scaleups from Berlin! The exclusive cohort is made up of innovative minds from industries like mobility, clean tech and fashion retail.
Join us for a session, where you will get to meet some of the most successful startups from Berlin looking to expand into London. You will have the opportunity to share your knowledge about the London market while learning about industry trends and innovations from Berlin.
About the Mission
The Clean Tech Mission to London is organized by Urban Innovation, a program by Berlin-Brandenburg Energy Network, in collaboration with London & Partners.
It is aimed at organizations focused on the sustainable transformation of urban spaces, offering innovative solutions in areas such as clean tech, mobility and proptech.
We offer a high-caliber market exploration program where we connect the companies with key decision makers in London and help them get valuable feedback for their go-to-market strategy.
Organizers:
Urban Innovation is initiated by the Berlin Brandenburg Energy Network e.V. and funded by the Berlin Senate Department for Economics, Energy and Enterprises and the European Regional Development Fund (ERDF). Urban Innovation connects Berlin-based startups and scaleups with high-level ecosystem players in London, New York and Singapore.
London & Partners is the business growth and destination agency for London. L&P's mission is to create economic growth that is resilient, sustainable and inclusive.
Sustainable Ventures is the leading developer and most prolific investor in early-stage sustainable startups in the UK. Its mission is to develop 1000 sustainable start-ups by 2025.
About the organizer
We bring Berlin corporates and startups together with city officials, investors, and sales and business partners from New York, London, Singapore, and Beijing.
Together with city stakeholders and business networks, we identify the challenges faced by other urban regions and how Berlin companies can contribute their products and solutions locally.