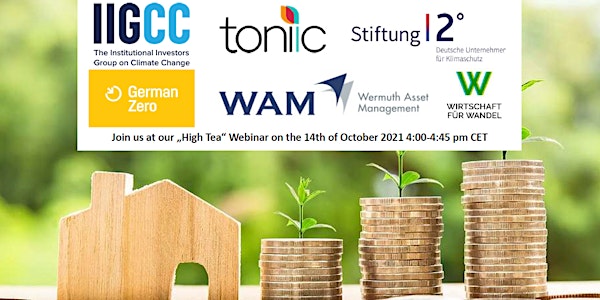 Berlin Green Investment Summit High Tea-Webinar Series
Berlin Green Investment Summit High Tea, starting 4-4:45 pm CET on 14 October 2021
About this event
Registration will close on the 14th of October, 13:00 CET.
The Berlin Green Investment Summit is a gathering of investors, entrepreneurs, scientists and policy makers focused on positive environmental impact, portfolio decarbonization and divest-invest strategies, to exchange their experiences, views, and strategies, hosted by the impact investor network "Toniic", the Institutional Investor Group on Climate Change (IIGCC), the corporate network supporting the Paris goal, "Stiftung 2 Grad", GermanZero, a non-partisan climate action initiative, fighting for a 1.5 C legislative package in Germany, as well as family office and climate impact investment adviser Wermuth Asset Management GmbH (WAM).
During COVID, instead of the annual physical meeting, the Berlin Green Investment Summit (BGIS) will be held as a series of short quarterly video calls around the topic "How to close the climate finance gap?"
Speakers will be announced shortly
The aim of this quarter's BGIS is thus to showcase important initiatives. Each can play a major role in reducing and closing the climate finance gap. We will then go into break-out sessions to discuss
A closing panel of speakers will then discuss the break-out session results.
Additional information on: https://wermutham.com/berlin-green-investment-summit-agenda/
Shortly after you accept this invitation you can register by ordering a free ticket via Eventbrite. We will then give you the log-in details. Participation without registration will not be possible as we are pre-arranging the virtual break-out sessions.
Save the date!