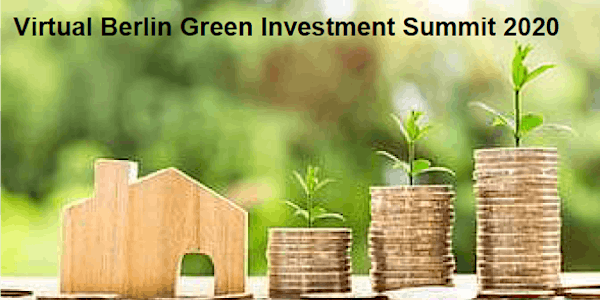 Berlin Green Investment Summit High Tea-Webinar Series
"How to close the climate finance gap" Berlin Green Investment Summit High Tea-Webinar Series, starting 16h-16h45 CET on 25 June 2020
About this event
Registration will close on the 25th of June, 13:00 CET.
The Berlin Green Investment Summit is an annual gathering of investors focussed on positive environmental impact, portfolio decarbonization and divest-invest strategies, to exchange their experiences, views, and strategies, hosted by the impact investor network "Toniic", the Institutional Investor Group on Climate Change (IIGCC), the corporate network supporting the Paris goal, "Stiftung 2 Grad", GermanZero, a non-partisan climate action initiative, fighting for a 1.5 C legislative package in Germany, as well as family office and climate impact investment adviser Wermuth Asset Management GmbH (WAM).
This year's virtual Berlin Green Investment Summit (BGIS) will be held as a series of short quarterly video calls on the topic: "How to close the climate finance gap"
16h-16h55 CET each last Thursday of a quarter, until we meet again in person
(25 June 2020, 24 September 2020, 31 December 2020, 25 March 2021, 24 June 2021…).
The first "high tea" webinar will take place via Zoom on 25 June 2020 - 16:00-16:55 CET.
We are proud to have Prof. Dr. Laurence Tubiana, the CEO of the European Climate Foundation and previously France's Special Ambassador for Climate Change at the COP21 in Paris, giving the impulse speech at our kick-off webinar and to be commented by Astrid Manroth, director of the finance program at ECF and former managing director Sustainable Investments at Deutsche Bank Asset Management.
This will be followed by a brief panel discussion with Mr. Peter Damgaard-Jensen, Chair of the Institutional Investor Group on Climate Change (IIGCC),Mr. Philippe Desfossés, Co-Founder of the Climate Endowment Fund, Dr. Gilbert Frizberg, Chair, Run-of-the-River-Hydropower Fund.
Next there will be virtual break-out sessions where you can propose concrete steps to close the climate finance gap at your institution or by government, and appoint a rapporteur who will report back to the full group. The panel will then respond and wrap up with a call to action.
In spite of lots of capital being mobilized by governments to stimulate economies in response to the Corona-crisis, and in spite of a global savings glut which leads to negative interest rates, there is a shortfall of spending on climate-friendly companies and projects. The IEA and IRENA estimate that the "climate finance gap" remains €1.5 trillion a year. This is how much more must be invested per year to limit global warming to 1.5 degrees, as agreed upon in Paris, to avoid a catastrophe. In spite of a large number of worthy new companies and plenty of projects which could become "bankable" one day, most capital still goes to finance old CO2-intensive industries with little future. The investments that are needed include risk-capital for venture companies, for project developments and for the roll-out of proven technologies and business models in new markets, including developing and emerging economies.
As investors are generally cautious about venture capital, cleantech, development risks and developing markets in particular, it appears that the perceived risk-return profile is still insufficient to attract capital. This is surprising, as renewable energy is increasingly competitive. Also, some electric cars, driven intensively with their batteries used as a storage-power plants, can already compete with fossil-fuel cars. Thanks to Fintech, a solar panel can be installed profitably on any hut in the world if the user has a mobile phone. Opportunities in agro-forestry abound: while the German Environmental Agency (Umweltbundesamt) estimates that a ton of CO2, emitted today, causes €640 in damages over 100 years, one can capture a ton of CO2 by reforestation for €6 per ton. Artificial intelligence, circular economy and efficiency offer further outstanding opportunities. This may be a case of market failure, where the opportunity is attractive, but is not seen by market participants. It may thus be required that governments step in and provide preferred returns to private investors, for instance in the form of taking first losses and/or giving up returns above a certain level.
Let us find ways to cooperate in order to move significant amounts of capital towards climate solutions, in particular into areas perceived as risky, such as project development and scaling-up "green" ventures. Once these are bankable, lots of capital can flow.
Shortly after you accept this invitation you can register by ordering a free ticket via Eventbrite. We will then give you with the log-in details. Participation without registration will not be possible as we are pre-arranging the virtual break-out sessions.
Save the date!