About this Event
Berlin Food Futures
The event, hosted by OpenIDEO Berlin Chapter, aspires to bring food innovators, experts, and enthusiasts together for an evening of meaningful dialogue on the future of food — specifically for urban lifestyles. It will be about exploring our evolving lifestyles and food system for generations to come.
If you are interested in food production, food waste, food business, and food consumption — this is an event for you. Spaces are limited and will be closed off once we have reached the limit.
Food System Vision Prize by the Rockefeller Foundation is a $2 million prize for organisations creating a regenerative and nourishing food system by 2050.
The winning submissions will participate in an Accelerator where they will have access to media and storytelling training and a global platform, in order to attract partners, connections, and other funder and philanthropic networks. For more information on the Food System Vision Prize by the Rockefeller Foundation, visit here.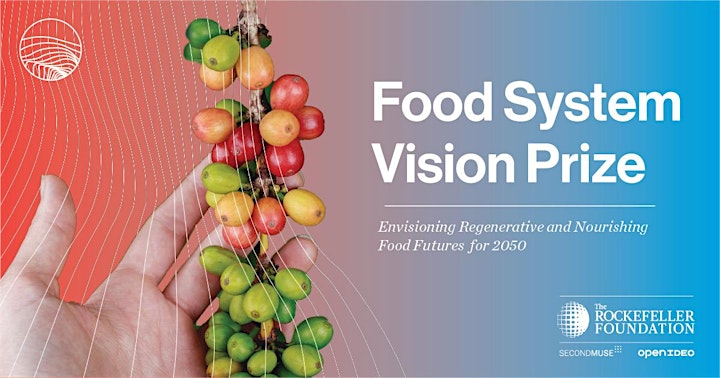 Location
APX — Markgrafenstraße 12-14, 10969 Berlin
Metro: U Kochstraße Checkpoint Charlie (U6)
Agenda
18:45 — Networking
19:00 — Opening Presentation by Kaye Han
19:30 — Conversation Catalysts with audience
19:45 — Lightning Talks by panelists
20:10 — Panel Discussion with panelists
21:10 — Q&A with audience
21:30 — Close
Speakers & Panelists
DÖRRWERK
Jonas Bieber, CEO & Co-founder
Ever wonder what happens to all the ugly produce that doesn't make it to the store shelves? They're thrown away, which leads to a huge waste of resources. Here's where DÖRRWERK & RETTERGUT come in — a rising star food startup in Berlin producing delicious snacks out of food-waste across a complex supply chain of farmers, middle-men, and retail stores. Website.
SuperCoop
Robin Angelé, General Coordination
Grocery shopping is something we've done countless times in our lives and will continue to do so for a long time to come. But are the traditional models serving us well? SuperCoop has a simple mission: high quality & sustainable food at accessible prices through a cooperative supermarket where members take an active role in shaping the store they shop in. Website.
MikroKosmos
Nicole Sartirani, Founder
As the world's appetite for food grows, the stress on our traditional agricultural system grows as well. But there's a whole world of food that has been unexplored by the masses — specifically the micro world of insects. MikroKosmos is a 'growtainer' that bridges the world of insects to those interested in exploring this alternative food source. Website.
Ellery Studio
Dodo Vögler & Sam Holleran
The future is not set, it's something we craft by the actions we take today. But how many of us are intentional in our approach in building the future? What internal and external narratives drive our actions each day? As an agency for creative strategy, Ellery Studio brings futures thinking to the forefront of their communications work. Website.
Moderator
Kaye Han, OpenIDEO Berlin Chapter
Venue Partner
APX
APX is a Berlin-based startup investor and accelerator program backed by Axel Springer and Porsche. Investing across sectors as early as possible, APX is looking for ambitious founding teams with scalable, digital ideas and global aspirations to support them in becoming successful venture companies. Since 2018, APX has invested in more than 50 companies from 20 different countries together with more than 100 co-investors.