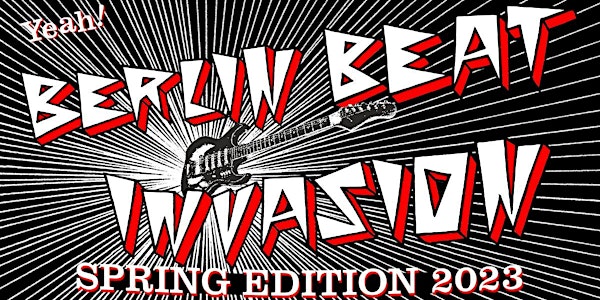 Berlin Beat Invasion Spring Edition
BERLINs sixties weekender presents 4 LIVE-BANDs, 7 DJs, 4 LOCATIONS, WYLD GoGoMOvEs, PSYCHEDELIC VISUALS! Get your dose of rock'n'roll!
Date and time
Fri, 3 Mar 2023 19:00 - Sun, 5 Mar 2023 14:00 CET
Location
Wild At Heart Wiener Straße 20 10999 Berlin Germany
Refund Policy
Contact the organiser to request a refund.
About this event
BERLIN BEAT INVASION PROUDLY PRESENTS 4 BANDs, 7 DJs, 4 LOCATIONS, WYLD GoGoMOvEs, PSYCHEDELIC VISUALS
FRIDAY MARCH 3
Wiener Blut 9 pm
LIVE – THE WAVE CHARGERS (FR) plus wild SURF Go-Go moves
SURF from Paris! Tense jaguars and a deluge of reverb coefficient 100 on the Leo Fender scale.Badass attitude to the power of 1000 on the Dick Dale scale!
AFTERSHOW PARTY WITH WEEKEND-DJs
SATURDAY MARCH 4
WILD AT HEART 9 PM (open from 7 pm)
LIVE: THE PHANTOM KEYS (ES) – THE SHADRACKS (UK) – THE NO-COUNTS (GER)
THE PHANTOM KEYS (ES)
Their debut album 'The Real Sounds Of' is dedicated to all you kiddies out there, who still dig that crazy cavemen beat of the swingin' sixties. After that the PHANTOM KEYS decided to go for a more rhythm'n'blues oriented sound in the tradition of bands like the PRETTY THINGS, DOWNLINERS SECT, TELL TALE HEARTS and WYLDE MAMMOTHS, but still keeping up the good ole garage-punk spirit they got famous for and recorded their second 45, 'Shut up Johnny / I want to be free'! NOW they're back with a brand new 7". Killer garage-r&b self-penned song on A- side plus a powerful cover of Euro-60's punk anthem "Stumble And Fall".
THE SHADRACKS (UK)
The Shadracks are a three-piece rock n' roll group hailing from Medway, Kent. The origins of the group date back to ancient cavecenturies with their cultural appropriation of Babylonian 'Rhythm and Punk'. Backed up by a certain Rhys 'Nebuchadnezzar' Webb on bass guitar The Shadracks provide razor sharp sounds, much like a musical lizard with a fancy neck frill and a dirty old tail dragging in the primordial swamp of yesteryear.
THE NO-COUNTS (GER)
Berlin's very own garage band is a three-piece band that creates their own brand of rudimentary rock'n'roll. 2019 saw the release of their second single on NO-FI Records, "Sleep Forever", a discordant minor key folk-punk anthem.
AFTERSHOW PARTY WITH WEEKEND-DJs
Special Guest: Rhys Webb (UK, The Horrors)Emilio Smartboy (ES)Lady Stardust (ES)Beat Becker (Garageville, Hamburg)Fräulein Freakbeat (GER)Stroko (Berlin)Suzy Creamcheese (Berlin Beat Invasion)
Wild Go-Go moves // Psychedelic Visuals
Plus Dinner Meeting on saturday (Max& Moritz) & brunch with DJs on sunday (Ankerklause)
More info on facebook and Instagram (birgit_berlinbeatinvasion)