6 MONATE BREXIT: Deutsch-Britisches Steuer-Update zu Mitarbeiterentsendungen und aktuelle ertragsteuerliche Entwicklungen
About this event
Die British Chamber of Commerce in Germany e.V. und die Großbritannien-Kompetenzzentren der IHK Pfalz und der IHK Rhein-Neckar laden ein zu einem Webinar ein zum Thema "6 MONATE BREXIT: Deutsch-Britisches Steuer-Update zu Mitarbeiterentsendungen und aktuelle ertragsteuerliche Entwicklungen".
In unserem Webinar gehen wir auf das gegenwärtig mitunter wichtigste Thema nach Brexit ein – die mit dem Wegfall der Arbeitnehmerfreizügigkeit verbundenen Einschränkungen bei Mitarbeiterentsendungen. Neben zivilrechtlichen Veränderungen bei der Immigration gehen unsere Experten u.a. schwerpunktmäßig auf sozialversicherungsrechtliche Aspekte und Lohnsteuern ein.
Zudem behandeln wir aus aktuellem Anlass ertragsteuerliche Themen: die Verschärfung der Regelungen hinsichtlich Dividenden- und Lizenzzahlungen von Deutschland nach UK sowie Änderungen in der Dokumentation von Verrechnungspreisen.
Programm:
- Begrüßung Ilka Hartmann (BCCG) und Bernhard Schuster (IHK Rhein-Neckar)
- Steuerliche und rechtliche Aspekte bei Mitarbeiterentsendungen (Alexander Altmann, Blick Rothenburg - Kerstin Kind und Swetlana Blaufuß-Kröncke, KPMG AG - Christian Jimenez-Metzler, KPMG Law)
Einreisebestimmungen (Brexit/Covid-19)
Arbeitsvisa und Aufenthaltstitel
Lohnsteuer und Sozialversicherung
Besonderheiten bei Betriebsstätten
- Ausgewählte ertragsteuerliche Entwicklungen in Deutschland (Dr. Markus Gsödl und Marc Oliver Birmans, KPMG AG)
Anti-Missbrauchsregelungen bei Dividenden aus Deutschland
Verrechnungspreise
Das Webinar findet via Microsoft TEAMS statt und wird aufgezeichnet.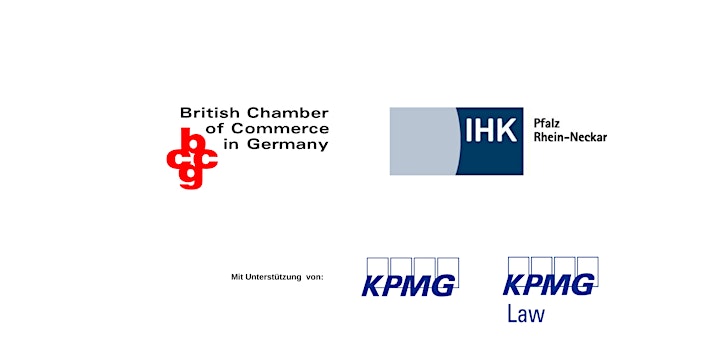 Organizer of BCCG Webinar: 6 Monate Brexit
About 100 BCCG events annually with interesting topics, speakers and companies are held in our regions. They are ideal for your business networking purposes. Members and interested guests are welcome to any of our events in all regions, subject to availability of seats/tickets and invitations.