Eventinformationen
Veranstaltungsort
Berlin
Grünberger Straße 84
10245 Berlin
Germany
Comedy showcase featuring guests from RTL TV, Quatsch Comedy Club, Edinburgh Fringe Festival
Zu diesem Event
The Wall Comedy Club official monthly show case!
Yes it's true, Berlin has a brand new English language comedy club dedicated to bringing fun & laughter to the heart of Friedrichshain at Boxhagener Platz, amongst the city's best restaurants, bars & nightclubs.
This monthly pro showcase be hosted by Shameless. The night features 100% heavy hitters of internationally touring comics.
FIERCE. FUNNY...FABULOUS
Our show stars:
Amelia Jane Hunter (AUS), Powerforce & fierce tongue funny lady
Liliana Velasquez (COL), ex-dominatrix turned comedian
Duckie L'Orange (AUS), bizarre puppeteer & cabarettist
Tera Kilbride (USA) , feminist comedy with a performance artist twist
Samuel Osinaike (USA) Texan sensation new in town
Our established & infamous guests have been seen at: Quatsch Comedy Club, Edinburgh Fringe Festival, Adelaide Fringe Festival and have appeared on German, Australian & US national TV. They have toured throughout the Americas, Australia, Asia & Europe.
Join us for drinks from 20:00, show begins at 20:30.
Presale tickets HIGHLY RECOMMENDED
10€ Early Bird
12€ Advance
15€ Cash Door sales
You can also buy tickets in person from our team at our other events like Sunday Slips, the Late Show with Liliana Velásquez & Oliver Sotra, Richard P Dick Van Show with Duckie L'Orange.
***special social distancing measures & limited seating will be in place. Booking in advance highly recommended.****
FOR YOUR SAFETY
- Wear a mask when visiting the bar or toilet
- Table seating only, 1.5 metres apart
- Register your contact details at the door with email confirmation
- Hand santiser available onsite
- Download the corona warn app before arrival
------
SPECIAL FEATURE: AMELIA JANE HUNTER (AUS)
A comedian, storyteller, television producer and passionate adventurer who lives, loves and lifestyles in Berlin.
Touring the expansive girth of both hemispheres; finding and funding perverted love, true crime and culinary frights, Amelia is an unstoppable adventurer.
Riveting, ribald and completely uncensored, Amelia's solo shows and writing have earned her top accolades and comedy awards worldwide.
Producer and Host of 'Stories with Spine'; Berlin Storytelling, Amelia returns to the stage to share her hearts findings once again.
'Deliciously cynical, lyrically explicit and very, very funny. She's Samantha from Sex and the City with the vocabulary of Stephen Fry'
Chortle
'A stunning performer with presence and panache, a vulnerable, revelatory performance at its centre'
Time Out
'Raw, outrageous, completely unapologetic and enthralling to watch'
UK Comedy Guide
www.ameliajanehunter.com
DUCKIE L'ORANGE
Performance artist with a twist - Her recent performance on German television program Das Supertalent went viral and plunged her into worldwide notoriety. She does weird and wacky interactive performances for kids, and equally wacky but significantly dirtier shows for adults. She's been all around town like a hipster on a vintage bicycle – from performing at the Sydney Opera House, barking in a steam punk carnival with Antigua i Barbuda at Sydney Festival, touring Germany with the Puppetry Slam Berlin & creating shows in the jungles of Kalimantan and Timor Leste.
"Horrified audience members could barely watch" The Daily Mail (UK)
"while one half of the audience laughs, the other sinks shamefully into their armchairs" Berliner Abendblatt (DE)
"Well-coiffed" Nova 96.9 Radio (AUS)
www.duckielorange.com
LILIANA VELASQUEZ
She has crossed borders all her life. Raised in Miami Medellin and New Jersey there is no role she cannot play and her comedy reflects this extravagant mix in her Latina-tude, Catholic guilt and American dreaming. As an adult, Liliana recklessly explored NYC, slipping in and out of different art forms, costumes, and jobs. She has so many outrageous stories to tell, it would horrify her proud parents, Only now do they admire her comedic outlook on so many mistakes. Always hungry for new challenges, Liliana soon found other platforms for the performance that is her life: Berlin Neukölln. She is proud to be queer and not perfect and enjoys waking up in the afternoons.
As if that isn't enough, she is also leading lady at Freudian Slip Club, producing hundreds of shows in Germany every year.
http://freudianslipclub.wordpress.com
TERA KILBRIDE (USA)
She's an American, but don't worry she's one of the good ones! She's originally from North Dakota – she could easily talk down a buffalo if the situation required. Also known as Pest from the Midwest, Tera lived in Minneapolis (RIP Prince) for many years, where she used to be a performance artist, contemporary dancer and therapist. As a result her work is feminist, zany and deceptively political, as it is personal.
Tera has performed at countless festivals, theatres and clubs across the USA, Amsterdam, Barcelona and Berlin. As a multidisciplinary artist she's had over 23 years experience on stage, with characters such as Mc What the Fuck and performing fantastical, unauthorised Ted talks. She's written & produced an hour long solo show and has performed with some of Europe's top mixed disciplinary improvisers.
"Intensely combustible, ebullient and riotously complex. Something for everyone." Minnesota Playlist
"Tera Kilbride, takes on late-stage capitalism, white privilege, and dystopia" City Pages, Minneapolis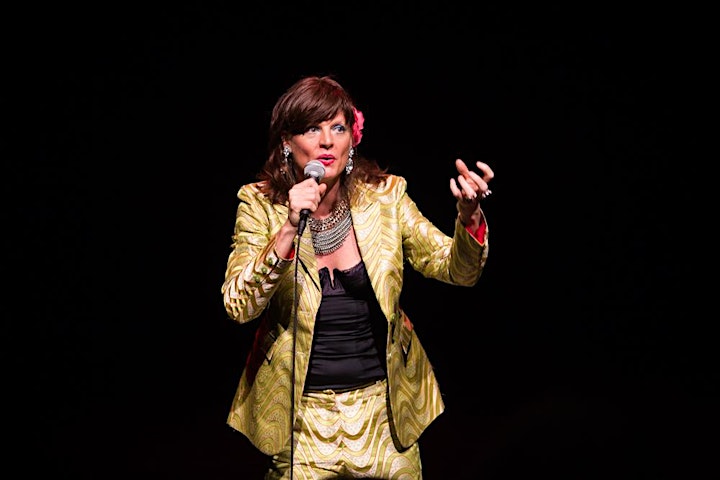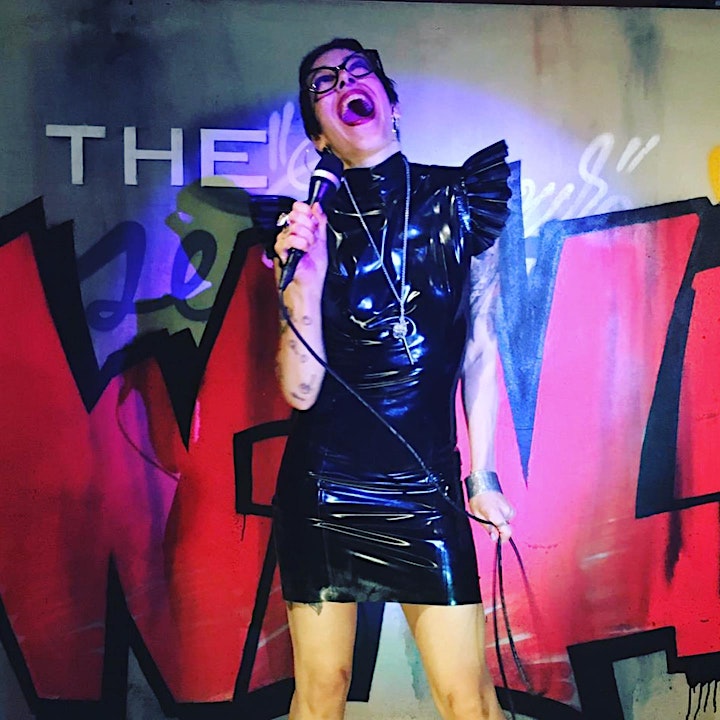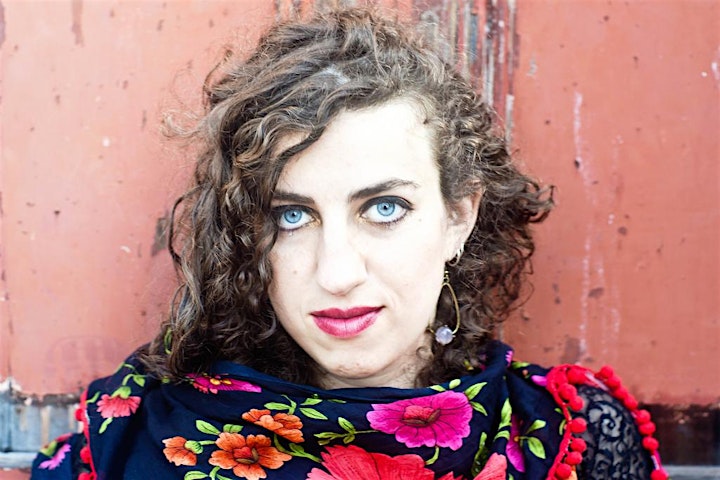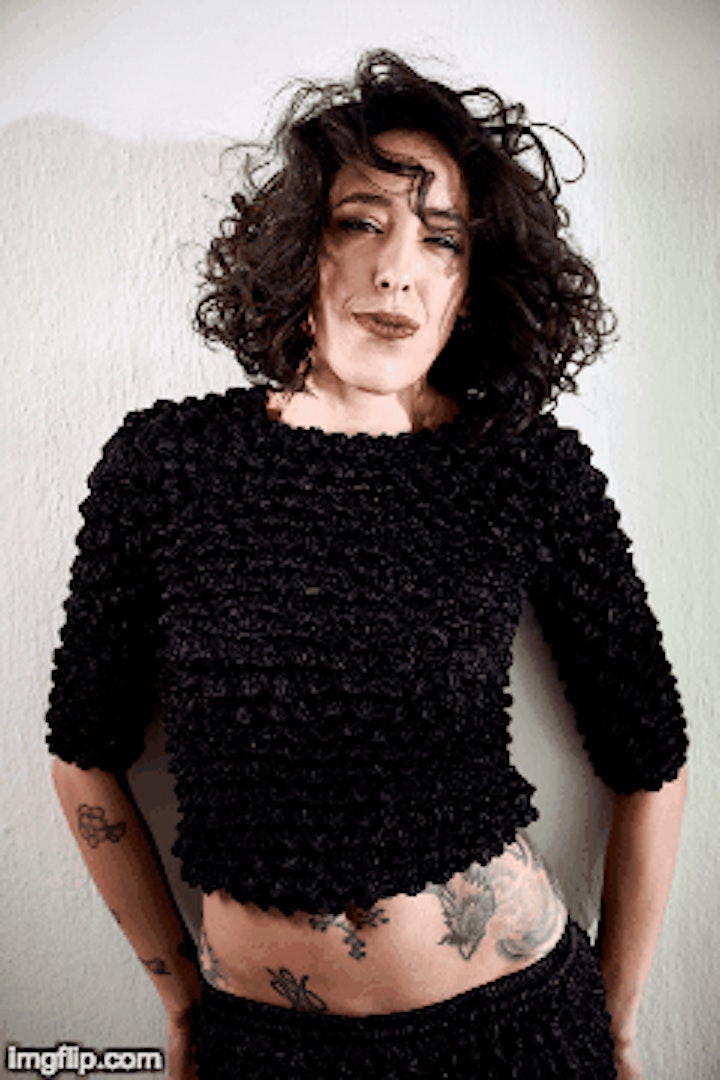 Datum und Uhrzeit
Veranstaltungsort
Berlin
Grünberger Straße 84
10245 Berlin
Germany