Dieses Event ist beendet.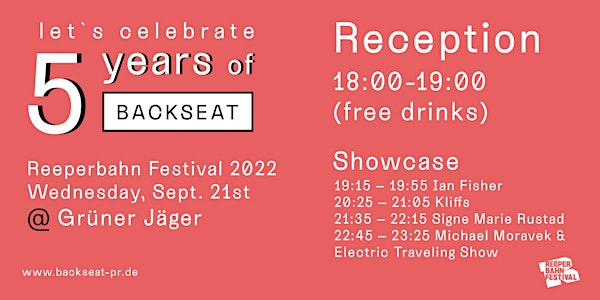 Backseat Reception - 5 years of Backseat @ Reeperbahn Festival 2022
Let's celebrate - 5 years of Backseat
Zeit und Ort
Veranstaltungsort
Grüner Jäger Neuer Pferdemarkt 36 20359 Hamburg Germany
Karte und Wegbeschreibung
Zu diesem Event
We celebrate 5 years of Backseat!
The Hamburg agency promotes (e.g. Bilderbuch and Black Sea Dahu), releases (e.g. BRTHR and Carnival Youth), curates the music program of the Norden Festival and has launched a new direct-to-fan platform: Fanklub. At the 5th anniversary celebration at Grüner Jäger, Backseat invites for drinks, before presenting four live acts from the label roster: the new group Noth, who will bring their praised debut album "Die Wahrheit über Arndt" to the stage as a sextet. The Canadian-Berlin duo Kliffs, which will present brand new songs just like the Norwegian singer Signe Marie Rustad. And the songwriter Michael Moravek, who will bring his Electric Traveling Show.
Reception
18:00-19:00
Showcase
19:15 – 19:55 Noth
20:35 – 21:15 Kliffs
21:45 – 22:25 Signe Marie Rustad
23:05– 23:45 Michael Moravek & Electric Traveling Show
www.backseat-pr.de