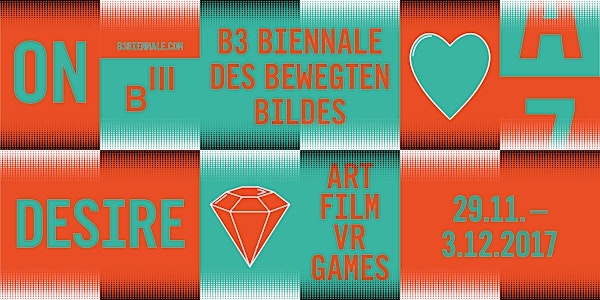 B3 Biennale des bewegten Bildes 2017
When and where
Location
B3 Festival Center Junghofstraße 5-9 60311 Frankfurt am Main Germany
Description
2017 bietet die B3 zum dritten Mal wieder rund 200 nationalen und internationalen Persönlichkeiten aus Film, TV, Games, Kunst und Virtual Reality und den angrenzenden Medien- und Technologiebereichen eine Plattform um sich, ihre Werke und Projekte einem professionellen wie allgemeinem Publikum zu präsentieren. Ein zielgerichtetes Konferenzprogramm, Ausstellungen, Film-Wettbewerbsreihen und ein B2B-Marktplatz für Professionals und Studierende erlauben Einblicke in die inhaltliche Vielfalt der Bewegtbildbranchen und beleuchten dabei ihre Synergien wie ihre Divergenzen.
Als internationale Plattform für das bewegte Bild vernetzen wir Themen, Fachleute und den Nachwuchs neu und ungewöhnlich und schauen dabei in die Zukunft des bewegten Bildes und wie jeder einzelne individuell oder ganze Industrien davon profitieren können.
2017 im Fokus: ON DESIRE. Über das Begehren
Jede Edition der B3 hat ein anderes thematisches Leitthema. In diesem Jahr ON DESIRE. Über das Begehren.
B3 Festivalzentrum 2017
B3 Festivalzentrum, Markt, Konferenz und die B3 Leitausstellung finden Sie im Areal von Four Frankfurt, d.h. in den ehemaligen Räumlichkeiten der Deutschen Bank in der Junghofstrasse in Frankfurt.
Wer steckt dahinter
Veranstalter der B3 Biennale des bewegten Bildes ist die Hochschule für Gestaltung Offenbach (HfG). Die Träger der B3 sind das Hessische Ministerium für Wissenschaft und Kunst (HMWK), die Hessische Landesanstalt für privaten Rundfunk und neue Medien (LPR Hessen) und die Stadt Frankfurt am Main. Gefördert wird der B3 Parcours vom Kulturfonds Frankfurt Rhein Main. Stifter des B3 BEN Awards für das künstlerische Lebenswerk sind Sylvia und Friedrich von Metzler.
Wir starten am 28.11. abends mit der Eröffnung. Am 3 Dezember werden dann abends die Preise im Schauspiel Frankfurt verliehen. Programm und weitere Informationen unter: www.B3Biennale.de
B3 Biennial of the Moving Image 2017
November 29 - December 3, 2017 in Frankfurt and the Rhine-Main Region.
For the third time, the B3 2017 is about to provide a platform to about 200 important national and international figures from film, TV, games, the arts, VR, and related fields in technology and the media. They are invited to present their works and projects to professional and general audiences. A tailored conference program, along with exhibitions, film screenings, competitions, and a B2B market place geared towards professionals and students, allow insights into the content diversity of the moving image sectors while addressing synergies and divergencies alike.
As an international platform for the moving image, we connect topics, experts, and newcomers in new and unusual ways, looking towards the future of the moving image with the question of how individuals as well as entire industries will be able to profit from it.
Our focus in 2017: ON DESIRE. Über das Begehren.
Every edition of B3 has its own key topic. This year, that topic is ON DESIRE. Über das Begehren.
B3 Festival Center 2017
You will find the B3 festival center, market place, conference rooms and main exhibition at FOUR Frankfurt, a building complex on Junghofstrasse, formerly owned by Deutsche Bank.
Who is behind all this?
The B3 Biennial of the Moving Image is organized by Offenbach University of Art and Design (HfG). It is supported by the Hessen Ministry of Higher Education, Research and the Arts (HMWK), the Hessische Landesanstalt für privaten Rundfunk and neue Medien (LPR Hessen) and the City of Frankfurt/Main. B3 Parcours is sponsored by Kulturfonds Frankfurt Rhine Main. Sylvia and Friedrich von Metzler donate the B3 BEN Lifetime Achievement Award.
November 28 is our opening night; the award ceremony takes place on the evening of December 3 at Schauspiel Frankfurt.
Allgemeine Nutzungsbedingungen
1. Geltungsbereich
Die Nutzungsbedingungen regeln die rechtlichen Beziehungen zwischen den Besuchern von Veranstaltungen und Ausstellungen der B3 Biennale des bewegten Bildes 2017.
Mit dem Erwerb eines Tickets bzw. mit dem Besuch einer Veranstaltung oder Ausstellung bei kostenfreiem Eintritt, erkennt der jeweilige Ticketinhaber oder Besucher die nachfolgenden Bedingungen verbindlich an.
2. Öffnungszeiten
Die Öffnungszeiten der Ausstellungen sind aus den offiziellen Veröffentlichungen, insbesondere auf der Webseite der B3 Biennale des bewegten Bildes ersichtlich. Änderungen der Öffnungszeiten bleiben vorbehalten.
3. Kartenverkauf
Die B3 Biennale des bewegten Bildes veröffentlicht die Eintrittspreise und gibt sie an den Kassen und im Online- Ticketshop bekannt.
Im Online-Ticketshop oder in der App wird durch die Betätigung des Buttons "Pay Now" ein verbindliches Angebot zum Abschluss des Kaufvertrages abgegeben. Danach erhält der Besteller per E-Mail eine Bestätigung des Kartenkaufs. Die Zahlung erfolgt über Kreditkarte, SOFORT Überweisung oder per Lastschrift. Online erworbene Tickets müssen ausgedruckt und an der Kasse vorgezeigt werden.
Ermäßigungen werden den berechtigten Personengruppen gegen Vorlage eines entsprechenden Nachweises an den Kassen der Veranstaltungs- und Ausstellungsstätten gewährt. Ermäßigte Karten sind nur in Verbindung mit diesem Nachweis gültig. Kann der Nachweis nicht erbracht werden, ist der Differenzbetrag zum vollen Eintrittspreis nachzuzahlen.
Die B3 Biennale des bewegten Bildes behält sich vor, in Einzelfällen die Kartenvergabe pro Käufer zu beschränken. Schwerbehinderte Menschen können bevorzugt behandelt werden.
Die Tickets sind ausschließlich für den persönlichen Gebrauch bestimmt. Beim Kauf der Karten erklärt der Kunde verbindlich, die Tickets ausschließlich für persönliche, insbesondere nicht für gewerbliche Zwecke oder sonst zur Gewinnerzielung zu nutzen. Dem Ticketkäufer ist es insbesondere untersagt.
die Tickets bei Auktionen (insbesondere im Internet) zum Kauf anzubieten,
die Tickets ohne ausdrückliche vorherige schriftliche Zustimmung der B3 Biennale des bewegten Bildes gewerblich und/oder kommerziell zu veräußern,
die Tickets im Rahmen einer privaten Weitergabe zu einem erhöhten Preis zu veräußern,
die Tickets ohne ausdrückliche vorherige schriftliche Zustimmung der B3 Biennale des bewegten Bildes zu Zwecken der Werbung oder als Gewinn weiterzugeben oder zu verwenden.
Bei jeder Weitergabe des Tickets muss der bisherige Ticketinhaber den neuen Ticketbesitzer auf die Geltung dieser Nutzungsbedingungen hinweisen. Wird ein Ticket in unzulässiger Weise angeboten, verwendet oder weitergegeben, so ist die B3 Biennale des bewegten Bildes berechtigt, das Ticket sowie sonstige vom Kunden erworbene Tickets zu sperren und dem Besitzer des Tickets entschädigungslos den Zutritt zur Veranstaltung bzw. Ausstellung zu verweigern. Für jeden Verstoß gegen das Verbot der kommerziellen Weitergabe kann die B3 Biennale des bewegten Bildes von dem Ticketverkäufer die Zahlung einer angemessenen Vertragsstrafe in Höhe von bis zu 2.500 Euro verlangen.
4. Kartenrückgabe
Die Rücknahme verkaufter Karten ist grundsätzlich ausgeschlossen. Beim Ausfall von Veranstaltungen oder Ausstellungen werden, sofern dies nicht auf höhere Gewalt zurückzuführen ist, die Karten innerhalb von 14 Tagen zurückgenommen, danach verfällt der Anspruch auf Rücknahme. Weitere Aufwendungen oder Schäden des Besuchers sowie die online Verkaufsgebühr werden nicht ersetzt, soweit die B3 Biennale des bewegten Bildes den Veranstaltungs- bzw. Ausstellungsausfall nicht vorsätzlich oder grob fahrlässig verursacht hat.
Bei Rücknahme oder Umtausch von Karten, die im Internet erstanden wurden, kann ebenfalls nur der Kartenpreis nicht jedoch die online Verkaufsgebühr ersetzt werden.
5. Widerrufsbelehrung
a. Ausschluss des Widerrufs
Ein Widerrufsrecht für Verbraucher besteht nicht bei Verträgen über termingebundene Tickets. Jeder Kartenkauf ist damit unmittelbar nach Bestätigung bei Kauf über den Webshop bindend und verpflichtet zur Abnahme und Bezahlung der Karten.
6. Kartenverlust
Bei Verlust der Eintrittskarte besteht kein Anspruch auf Ersatz.
7. Garderobe
Die Mitnahme von Garderobe in den Zuschauer- bzw. Ausstellungsraum ist nur dann gestattet, wenn dadurch andere Besucher nicht gestört werden und dies aus Sicherheitsgründen zu verantworten ist. Garderobe kann zur Aufbewahrung während des Vorstellungsbesuches abgegeben werden. Die KBB behält sich vor, eine Garderobengebühr zu erheben.
Die Haftung für Garderobenstücke erstreckt sich nur auf den Zeitwert. Die Garderobe steht dem Besucher für Wertsachen, insbesondere Schmuck, sonstige Gegenstände aus Edelmetall, Bargeld und andere Zahlungsmittel, Geschäftspapiere, Urkunden aller Art, Fahrausweise und Schlüssel nicht zur Verfügung. Die Aufbewahrung dieser Gegenstände geschieht auf Gefahr des Besuchers.
Bei Vorlage der Garderobenmarke werden die aufbewahrten Gegenstände ohne Prüfung der Berechtigung ausgehändigt. Ohne Marke dürfen Garderobengegenstände einem Besucher nur dann ausgehändigt werden, wenn er glaubhaft macht, dass er der berechtigte Empfänger ist.
Vertauschte, beschädigte oder abhanden gekommene Garderobengegenstände sowie der Verlust einer Garderobenmarke sind dem Garderobenpersonal unverzüglich vor Verlassen der Garderobenanlage zu melden. Bei Verlust einer Garderobenmarke ist der Besucher zum Ersatz der Wiederbeschaffungskosten verpflichtet.
8. Fundsachen
Gegenstände aller Art, die in den Ausstellungsstätten der B3 Biennale des bewegten Bildes gefunden werden, sind beim Haus- oder Garderobenpersonal abzugeben. Die weitere Behandlung der Fundsachen richtet sich nach den Vorschriften der §§ 978 ff. BGB.
9. Hausrecht
Besuchern kann der Zutritt zu Ausstellungsstätten verweigert werden, wenn Anlass zu der Annahme besteht, dass sie die Ausstellung stören oder andere Besucher belästigen.
Es ist nicht gestattet, in dem Kassenbereich oder sonst in den Ausstellungsstätten sowie auf den dazugehörigen Grundstücken Eintrittskarten zum Verkauf anzubieten.
Mobiltelefone und Uhren mit akustischem Zeitsignal sind innerhalb der Ausstellung auszuschalten.
Das Rauchen ist in den Ausstellungsstätten der B3 Biennale des bewegten Bildes strengstens untersagt.
Speisen und Getränke dürfen nicht mit in den Veranstaltungs- oder Ausstellungsraum genommen werden.
Den Anweisungen des Personals der Ausstellungsstätten ist Folge zu leisten.
10. Bild- und Tonaufnahmen
Bild- und/oder Tonaufnahmen jeglicher Art sind den Besuchern grundsätzlich untersagt. Bei Zuwiderhandlungen können diese zivil- und strafrechtlich verfolgt werden und die Besucher aus den Ausstellungen verwiesen werden.
Film-, Digital-, Video- oder Tonaufnahmen, auf denen Teile der Ausstellung aufgenommen sind, können eingezogen werden und die Rückgabe davon abhängig gemacht werden, dass der Besitzer einer vorherigen Löschung der Aufnahmen zustimmt.
Für den Fall, dass während einer Veranstaltung oder Ausstellung der B3 Biennale des bewegten Bildes Bild- und/oder Tonaufnahmen von dazu berechtigten Personen durchgeführt werden, erklären sich die Besucher durch ihre Teilnahme an der Veranstaltung damit einverstanden, dass sie ohne Anspruch auf eine Vergütung in Bild und Wort aufgenommen werden und diese Aufzeichnungen gesendet bzw. veröffentlicht werden dürfen.
11. Haftung
Für Schäden jeder Art, die ein Besucher in den Ausstellungsstätten der B3 Biennale des bewegten Bildes erleidet, haftet die B3 Biennales des Bewegten Bildes (bzw. Hochschule für Gestaltung Offenbach), ihre Vertreter und ihre Erfüllungsgehilfen nur im Falle von Vorsatz und grober Fahrlässigkeit. Die Haftung bei Verletzung von Leben, Körper und Gesundheit bleibt unberührt, soweit es sich um typischerweise vorhersehbare Schäden handelt.
12. Datenschutz
Die personenbezogenen Daten der Eintrittskartenkäufer werden unter Einhaltung des Datenschutzrechtes in dem für die Durchführung des Vertrages erforderlichen Umfang im automatisierten Verfahren erhoben, bearbeitet und genutzt. Im Anschluss hieran ist die B3 Biennale des bewegten Bildes berechtigt, die Kundendaten zum Zweck interner statistischer Erhebungen zu speichern. Die B3 Biennale des bewegten Bildes ist berechtigt, gegebenenfalls den Veranstaltungsbesuchern im Vorfeld weitere Informationen zur Veranstaltung per E-Mail zuzusenden. Die B3 Biennale des bewegten Bildes ist berechtigt, die Daten an natürliche oder juristische Personen weiterzugeben, die die B3 Biennale des bewegten Bildes mit dem Karten- und Produktvertrieb und -verkauf beauftragt hat. Die Daten werden streng vertraulich und nur im dargelegten Umfang genutzt.
General terms of use
1. Scope of application
The terms of use govern the legal relationships between the visitors of events and exhibitions of the B3 Biennial of the Moving Image 2017.
With the purchase of a ticket or by visiting an event or an exhibition with free admission, each ticketholder or visitor acknowledges the following binding conditions:
2. Opening times
The opening times of the exhibitions are shown in the official publications, and most specifically on the website of the B3 Biennial of the Moving Image. The organizers reserve the right to make changes to the opening times.

3. Ticket sales
The B3 Biennial of the Moving Image publishes the admission prices and displays them at the ticket desks and in the online ticket shop.
In the online ticket shop or in the app, clicking on the "Pay Now" button represents a binding offer to complete the agreed purchase. After this, the customer will get confirmation of the ticket purchase via e-mail. Payment takes place via credit card, SOFORT money transfer or via a debit card. Tickets purchased online must be printed and presented at the ticket counter.
Discounts will be granted to the eligible groups of people upon presentation of corresponding verification at the ticket counter of the event or exhibition venue. Discounted tickets are valid only in connection with this verification. If no verification can be produced, the difference between the discounted price and the full-price ticket must be paid.
The B3 Biennial of the Moving Image reserves the right to limit the number of tickets issued per buyer in individual cases. Severely disabled people may be given preferential treatment.
Tickets are intended for personal use only. When purchasing the tickets, the customer makes a binding declaration that the tickets are exclusively for personal use, and specifically not for commercial purposes or any other gainful objective. The buyer of the tickets is expressly forbidden from:
offering the tickets for purchase at auctions (particularly on the internet),
selling the tickets without the express advance written authorization of the B3 Biennial of the Moving Image and/or commercially,
selling the tickets as part of a private transaction at an increased price,
giving away or using the tickets for the purposes of publicity or as a prize without the express advance written authorization of the B3 Biennial of the Moving Image.
Wherever tickets are passed on to other persons, the previous owner of the tickets must inform the new ticketholder of the validity of these terms of use. If a ticket is offered, used or passed on in impermissible circumstances, the B3 Biennial of the Moving Image is entitled to block the ticket along with other tickets purchased by the customer and to refuse the ticketholder entry to the event or exhibition without compensation. For each violation of the prohibition of commercial sale, the B3 Biennial of the Moving Image may demand the ticket-seller pay an appropriate penalty of up to 2,500 euros.
4. Ticket returns
Sold tickets cannot be returned as a rule. If an event or exhibition does not take place, unless this is a result of force majeure, the tickets can be returned within 14 days, after which the claim to a refund will expire. Other expenses or damages to the visitor, including the online sales fee, will not be refunded where the B3 Biennial of the Moving Image has not caused the failure of an event or exhibition either deliberately or through gross negligence.
Likewise, for returns or exchanges of tickets purchased on the internet, only the ticket price can be refunded and not the online sales fee.

5. Cancellation policy
a. Exclusion of cancellation
There is no right of revocation for consumers in the case of agreements governing tickets for specific dates. Each ticket purchase therefore becomes binding immediately after confirmation upon purchase via the online shop and constitutes an obligation to accept and pay for the tickets.
6. Lost tickets
No replacement tickets are provided in the case of lost tickets.
7. Cloakroom
Visitors may only carry coats and bags into the exhibition space if this does not cause disturbance to other visitors; such items are the responsibility of visitors themselves for security reasons. Coats and bags can be left at the cloakroom for safekeeping during a visit to the show. The KBB reserves the right to charge a cloakroom fee.
Liability for items left at the cloakroom amounts to no more than their fair value. The cloakroom is not intended for valuables, particularly jewelry, other items made of precious metals, cash and other means of payment, business documents, certificates of all kinds, driving licenses or keys. Visitors leave such items at their own risk.
Items left with the cloakroom will be returned upon presentation of the cloakroom token and without verification of eligibility. Without a token, items left in the cloakroom can only be returned to a visitor when he or she can credibly prove him or herself to be the rightful recipient.
Mistaken, damaged or lost cloakroom items or the loss of a cloakroom token must be reported to the cloakroom staff immediately before the visitor leaves the cloakroom premises. If a visitor loses a cloakroom token, he or she is obliged to pay the replacement costs.
8. Lost property
Items of all kinds found in the exhibition venues of the B3 Biennial of the Moving Image should be handed in to the staff at the venue or the cloakroom. Such lost property will subsequently be handled in line with the provisions of section 978 et seqq. of the German Civil Code.
9. Venue rights
Visitors may be refused entry to the exhibition venues if there is reason to assume that they will disrupt the exhibition or disturb other visitors.
It is forbidden to offer admission tickets for sale in the area of the ticket counter or anywhere else within the exhibition venues or their premises.
Mobile telephones and watches that sound the time should be switched off within the exhibition.
Smoking is strictly forbidden within the exhibition premises of the B3 Biennial of the Moving Image.
Food and drink may not be taken into the event or exhibition areas.
Visitors must follow the instructions of staff at the exhibition venues.

10. Photographs and sound recordings
Visitors are not permitted to take photographs or sound recordings of any kind. Any violations of this may be subject to criminal or civil proceedings and may result in the visitors being expelled from the exhibitions.
Film, digital, video or sound recordings in which parts of the exhibition are captured may be confiscated and only returned on condition that the owner agrees to delete the recordings first.
Photographs or sound recordings may be taken during an event or exhibition at the B3 Biennial of the Moving Image by authorized persons, and by attending the event visitors automatically agree to themselves being recorded in both image and word and to these recordings being broadcast or published, for which there is no claim to any remuneration.

11. Liability
For damages of all kinds suffered by a visitor within an exhibition venue of the B3 Biennial of the Moving Image, the B3 Biennial of the Moving Image (and the Offenbach University of Art and Design), their representatives and their agents may only be considered liable in the case of intent and gross negligence. Liability in case of injury to life, body and health remains unaffected where the damages are typically foreseeable.

12. Data protection
The personal data of the person buying the admission ticket are recorded, processed and used in compliance with data protection law within the scope required for the execution of the contract in automated procedures. In connection with this, the B3 Biennial of the Moving Image has the right to store customer data for the purposes of internal statistical examination. The B3 Biennial of the Moving Image has the right to send event attendees further information on the event in advance via email where appropriate. The B3 Biennial of the Moving Image has the right to pass the data on to natural or legal persons whom the B3 Biennial of the Moving Image has commissioned with ticket and product marketing and sales. The data are handled confidentially and are only used to the extent outlined above.