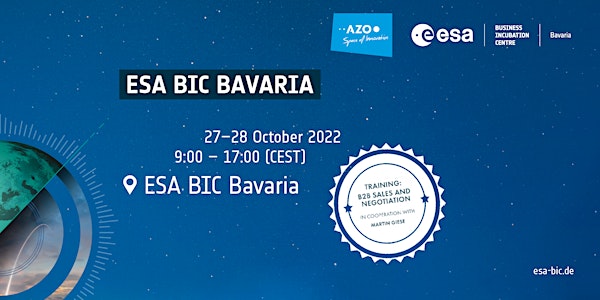 B2B Sales and Negotiation Workshop
B2B Sales and Negotation Workshop
When and where
Location
AZO - Anwendungszentrum GmbH Oberpfaffenhofen Claude-Dornier-Straße 1 Building 401 82234 Weßling Germany
About this event
Ready to sell your product in a B2B context?
The two-day workshop will be a hybrid of a classic negotiation workshop (teaching the concepts of Harvard - style Win-Win negotiation with a roleplay drawn from a B2B sales setting) and a sales workshop based on Martin's recent book "Fast Forward: Accelerating B2B sales for startups" with a focus on the Top 10 mistakes in B2B sales, Segmentation, Customer Pain, customer conversations, T&C and negotiation/closing advice and Sales KPIs/organization.
This training is planned to take place at the ESA BIC Bavaria premises in Claude-Dornier-Str. 1, Building 401, 82234 Weßling.
Please be aware that in case of a no-show without any prior notice, a fee of 100€ becomes due. Of course, we are aware that due to COVID-19, last minute cancellations may occur, but please let us know as soon as you can so that we may have the chance to offer your spot to somebody else.
About the Speaker:
Martin Giese was Managing Director of XPRENEURS and the author of the books "Startup-Finanzierung (2020)" and Fast Forward: Based on his MPA (Harvard) and MSc (MIT Sloan), Martin has 20 years of experience of teaching negotiation and slaes workshops at Harvard Law School (1998/99), CDTM (every semester since 2000), the MIT Delta V Accelerator (2016), the Frankfurt School of Management (since 2017) and TU Munich (since 2019) as well as to law firms, banks and corporate clients. Martin has extensive business experience as management consultant in the startup, VC and PE area (4 years) and corporate manager (13 years, up to Managing Director of 1.700 employees at Vodafone) and more than 10 years of experience as business angel. He finished in Top 5 of 2017,2018 and 2019 "Goldene Nase"-award for the Business Angel of the Year by BAND e.V. based on nominations by his investments.
*** This offer is limited to incubatees and alumni of ESA BIC Bavaria***