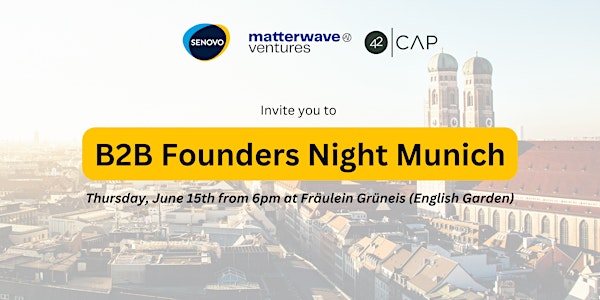 B2B Founders Night Munich
A casual meet-up for B2B entrepreneurial minds (founders and startup operators).
By Senovo, Matterwave, 42Cap
Date and time
Thu, 15 Jun 2023 18:00 - 23:00 CEST
Location
Fräulein Grüneis Lerchenfeldstraße 1a 80538 München Germany
About this event
Finally! It's time for another B2B Founders Night Munich.
We would be delighted to welcome you to our informal B2B get-together at Fräulein Grüneis in Munich. Chat with early and later-stage founders and operators from the Munich ecosystem! While the drinks are on us :)
As the event has a limited capacity, if you sign up but cannot join us, please let us know (you can make respective changes to your ticket) and allow someone from the waiting list to join instead.
Looking forward to seeing you at the event!
Please note that this an exclusive event for startups, i.e. not for advisors, service providers or investors.
About the organiser
Senovo is an early-stage venture capital firm based in Munich and Berlin that partners with exceptional founders building global B2B SaaS category-leaders from Europe.
As European first-mover, the fund invests since 2013 into a new generation of B2B software startups which enable the digitalization of medium and large enterprises. Their focus is primarily on supporting teams working in the areas of process optimization, industry 4.0 and data-enabled solutions.
Senovo joins the journey after a company has first revenues in a late Seed or Series A round. Their team of SaaS specialists seek meaningful eye-level relationships and regularly publish their learnings and thought leadership at www.medium.com/senovovc
Matterwave Ventures is an experienced early stage DeepTech investor with full focus on industrial use cases. "Backing the future of European industry" is our tagline, increasing resource efficiency and digitisation our mission. Examples of our investments across the industrial value chain are Codasip (RiscV EDA tools and core IP), Innatera (neuromorphic AI chip design), Synfioo (ETA prediction for global supply chains - recently merged with Project44), Threedy (PLM/CAD data handling & visualization as a service), Cybus (Industrial data aggregation via MQTT), Tvarit (scrap reduction in metal manufacturing) and many more.
42CAP is a Munich-based venture capital fund, investing in early-stage B2B software companies across Europe with global ambitions. The team behind 42CAP has built two of Europe's largest SaaS companies with eCircle and hybris adding up to $1.6b in cash exits to Teradata and SAP, respectively. Across four funds we have invested in companies including Katana, Packlink, Scoutbee, Shine and Adverity and remain focused on technology- and data-driven businesses.