Dieses Event ist beendet.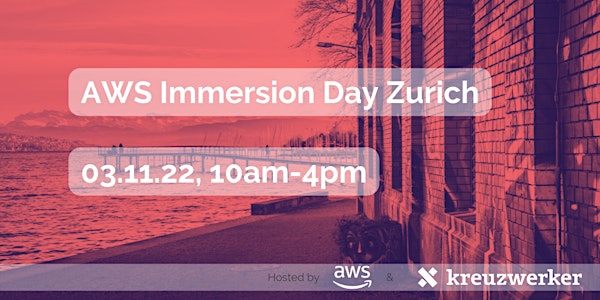 AWS Immersion Day with kreuzwerker: Experience the AWS Cloud Hands-On
Join our full-day immersion day covering hands-on enablement for Landing Zones, Security & Compliance and Migration & Transfer Services
Zeit und Ort
Veranstaltungsort
memox Space Zurich Reitergasse 9 memox Space 8004 Zürich Switzerland
Karte und Wegbeschreibung
Zu diesem Event
ABOUT THE EVENT
The event features three main sessions featuring hands-on examples, best practices, and a Q&A.
We will wrap up the event with break out sessions, finger food and end the day with an informal gathering. Following the event, we will follow up by providing more material and the possibility to schedule 1:1 calls with our experts.
AGENDA
1. Introduction to AWS Cloud
The first step into the cloud is understanding the basics. In this 1 hour session, you will not only learn how the cloud works in general, but we will also give you a first glimpse into the AWS console.
Speaker: Manuel Vogel
2. Security & Compliance
In a fast-paced digital environment, security is essential. It must be considered from day 1 and checked regularly in an automated way. We will cover security best practices in the AWS cloud and a demonstration of how it is handled by the AWS cloud.
Speaker: Manuel Vogel and Martin Wentzel
3. Migration and Modernization
The decision is made. You want to migrate into AWS! How to start is obviously the next question that you will ask yourself. In this session, you will learn how to use AWS services to speed up your cloud migration and experience through hands-on examples how this works.
Speaker: Timo Lechner
4. Cost optimization
Learn how our customers are able to cut the cost of their infrastructure up to 90% when migrating it to the AWS Cloud. Architecture modernization, moving from Windows to Linux, adopting ARM-based Graviton3 processors, and using a mix of On-Demand, Reserved, and Spot instances.
Speaker: Alessandra Pasini
5. Q&A and Networking
Do you have any open questions? Feel free to ask. We will wrap up the event with finger food and end the day with an informal gathering.
SPEAKER
Oliver Gehrmann - Chief Executive Officer kreuzwerker Frankfurt
Oliver is FinOps consultant and the GoTo expert in Germany when it comes to AWS cost optimization. As a former DevOps engineer and AWS team lead in a consulting firm, he know's how tech teams think and what executives want.
Manuel Vogel - Head of Solution Architecture kreuzwerker Frankfurt
As a former developer and cloud engineer, Manuel knows exactly how to develop efficient code and infrastructures. As Terraform Maintainer he contributes significantly to the further development of Infrastructure as Code.
Timo Lechner - Senior Solutions Architect
Timo is a software developer, software architect, DevOps engineer and certified scrum product owner. This makes it easy for him to cover the entire software lifecycle, including requirements, deployment and maintenance.
Martin Wentzel - Senior DevOps Engineer
Martin worked as a DevOps and Backend Engineer in various teams. He has many years of experience in software development and has strong knowledge architecting and implementing in AWS.
Alessandra Pasini - AWS Associate Solutions Architect
Alessandra provides support and advice to Swiss Small and Medium Businesses using AWS services. In Milan, she studied computer science and conducted research in the areas of machine learning, human-computer interaction and virtual reality.
LOCATION
memox Space
Reitergasse 9
CH-8004 Zurich