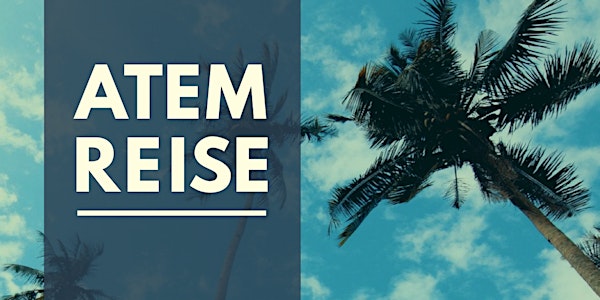 ATEMREISE・journey of breath
ATEMREISE - JOURNEY OF BREATH - enter an expanding state of consciousness
When and where
Location
HELDEN SEMINARE Scharnhorststraße 43 04275 Leipzig Germany
Refund Policy
Contact the organizer to request a refund.
About this event
BREATH JOURNEY・your journey inside
The breath journey offers you a unique access to get closer to yourself. There is space here to explore what there is to experience deep within yourself. Discover yourself further with feelings, images and impulses that have no place in everyday life. The breathing process can give you access to your own healing potential. Breathing can release energetic blockages and the blocked energies can be available to you again as strength.
What is the breathing journey good for? You can on your breath journey . . .
- explore your power sources and visions
- discover curiosity and joy
- experience more vitality and creativity
- get answers to your life questions
- develop understanding and self-love for yourself
- clear energetic blockages
- gain new strength
- resolve unresolved situations
- dissolve old thought patterns
- draw new inspiration for your relationships, your work and yourself
In a safe setting, you can experience an expanded state of consciousness with the help of a breathing process. The experiences you have made follow a natural logic, because what helps you best at your point in life appears. The diverse experiences are very often from the biographical, perinatal, transpersonal or spiritual area. The breathing journey activates healing resources and hidden potential and offers you effective support on your way.
Breath and breathing have always been given special importance in different cultures. The breath was used, among other things, as a tool for accessing life energy, healing powers, consciousness development and spirituality. Today, different breathing exercises for personal self-discovery are finding their way back into the clinical, therapeutic setting.
A very important pioneer in breathwork with expanded states of consciousness is the Holotropic Breathwork technique, developed by Stanislav Grof and his wife Christina Grof in 1970. This technique is based on years of clinical therapy experience with expanding states of consciousness and research in modern psychology.
We use simple deep abdominal breathing on the breath journey to enter the expanded state of consciousness. In addition, evocative music will accompany you on your journey. From our experience, the breath journey is a valuable enrichment for personal self-discovery and growth.
For whom is the workshop suitable? The workshop is open to anyone who wants to take time for themselves, experience new things and explore more deeply. NOTE: The BREATHING JOURNEY seminar is not a therapeutic offer and does not replace therapeutic or medical treatment. The breath journey is not suitable for pregnant women.
Who accompanies you ?
LIANE ADAM - JULIAN VON SCHÜTZ - MARCEL SEIDEL
As seminar leaders, we have been conducting the 7-day intensive seminar HEROES JOURNEY including breathing processes for several years. This background of experience and our therapeutic competence guarantee you a secure basis for your breath journey. Our work is very important to us and we are convinced that the breath journey is an effective path that can help you personally.
www.heldenseminare.de
TICKET: 125 €
SATURDAY: 10am - 7pm
LOCATION: HELDENSEMINARE ∙ Scharnhorststrasse 43 ∙ 04275 Leipzig