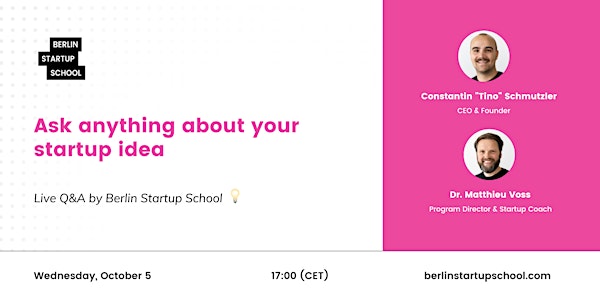 Ask anything about your startup idea: Live Q&A with Berlin Startup School
Join our live Q&A to chat with our CEO & Program Director to ask any questions you have about the startup Universe.
About this event
The Startup Universe can be a true maze to navigate. Our Founder Tino and the Accelerator Director Matthieu are hosting a live Q&A to help with that!
Whether you need direction, honest feedback or other guidance, we got you. And maybe you are in the process of applying for the Startup Accelerator... 😉
⭐️ Do you have an idea and would like to get guidance about the next steps?
📲 Are you stuck in developing your product?
📢Have you been struggling with marketing or want to start soon?
🤷 Internal complications within the team?
The session is suitable for Founders with ideas of any stage, from early stage to grown-up.
➜ Join us via LinkedIn Live here.
---
🏡 Berlin Startup School is dedicated to educating and connecting the next generation of entrepreneurs to form a diverse and mindful startup community. We offer a range of different Startup Programs, free events, individual Coaching, an Accelerator and more.
Questions? Send us an email: community@berlinstartupschool.com
📱 Get notified about free startups tools, events and more: www.bit.ly/events_and_tools