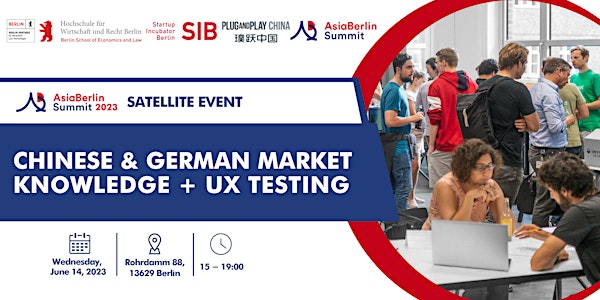 AsiaBerlin Summit Satellite Event: UX Testing & Chinese Market Knowledge
We are opening our gates for all visitors for testing new products. Enter our real-life marketplace and meet startups China & Germany!
Von Startup Incubator Berlin
Datum und Uhrzeit
Mi., 14. Juni 2023 15:00 - 19:30 CEST
Veranstaltungsort
Startup Incubator Berlin Rohrdamm 88 13629 Berlin Germany
Zu diesem Event
4 Stunden 30 Minuten

Mobile E-Tickets
Come and join us - the Startup Incubator Berlin - @Siemensstadt Square for our LIVE UX-Testing for Chinese and German Startups with Pizza and Drinks!
This is a special edition of our monthly UX-Testing in cooperation with the AsiaSummit Berlin and Plug and Play China as a Satellite Event of the Summit. A Chinese delegation including 5 startups will join the startups of the Startup Incubator Berlin to share market knowledge and jointly exhibit. You are eager to learn more about both markets? Than register now.
You will learn what products are to be launched soon and meet interesting people with innovative mindsets. The startups will show you their prototypes, and you get the chance to give them valuable feedback from a user or investors perspective. All along, you can network while enjoying free pizza and drinks.
Registration for all guests will be open until one day (16:00 h) before the event. And even if you haven't registered as a guest, please just show up @Rohrdamm 88.
Agenda:
Welcome
Introduction Plug and Play China
Introduction Berlin Partner
Expert: Market& Investment Knowledge China
Expert: Angel Investments in Germany with BACB
10 Startup Pitches (each 3 min)
Testing & Networking
Pizza & Drinks
Asia Summit Berlin 2023
The AsiaBerlin Summit is the annual summit addressing economic connections between Berlin and Asia, with the goal of connecting Berlin startups with valuable markets and ecosystems in Asia.
With an experience of over 20 years, diverse programs and participants, AsiaBerlin Summit offers an exciting platform to build relationships between investors, startups, and others.
AsiaBerlin Summit supports startups to overcome barriers within their ecosystem and enables companies and individuals in the industry to meet and connect with each other.
About Plug and Play China
Plug and Play was established in Sunnyvale in Silicon Valley in 2006 while its business could be traced back to 1998. The company contains business functions including tech investment, corporate innovation, and innovation space. Plug and Play now has regional offices in over 30 countries and regions worldwide.
With over 20 years of experience in early-stage tech investment, Plug and Play has successfully invested and incubated internet giants including PayPal, Google, Dropbox, LendingClub, Guardant Health, Rappi, N26, Honey, etc. It has invested in over 1,500 startups and has accelerated over 17,000 programs globally. Each year, Plug and Play provides open innovation services for over 500 world-leading corporations through over 1,000 matchmaking activities with cutting-edge technology companies.
Formally established in 2016, Plug and Play China currently has 3 regional innovation hubs in Beijing (China HQ), Shanghai (Plug and Play Innovation Hub - Yangtze River Delta Area), and Shenzhen (Shenzhen Innovation Center). Plug and Play China also provides open innovation services in Nanjing, Wuhan, Wuxi etc.
There are 4 main business functions across Plug and Play China's innovation platform including corporate innovation, city innovation, tech investment, and innovation space.
It has built China's leading international innovation ecosystem and created a multi-dimensional open innovation platform that includes corporations, startups, universities and research labs, government agencies, venture capitalist firms, and city innovation partners.
Since 2015, Plug and Play China has engaged with 100 industry-leading corporations, accelerated over 4000 startups, and has invested in over 140 startups including ApplyBoard, AutoX, Flexiv, ZiFiSense, ROBOTICPLUS.AI, INGEEK, Hexaflake, Authing, Yours, etc.
Please visit https://www.plugandplaytechcenter.com/ for more information.
Location
The Startup Incubator Berlin is located at the Berlin "Zukunftsort" Siemensstadt Square, just a few steps away from the U7 subway station Rohrdamm. A photo ID (passport, driver's license, etc.) is required for access to the Siemens factory premises.
Please note that photos or videos will be taken during our events. By attending the event, you agree to a possible publication of those.
Über den Veranstalter
Der Startup Incubator Berlin der Hochschule für Wirtschaft und Recht Berlin ist Werkstatt und Experimentierfläche für Gründungsinteressierte. Hier werden Ideen, Konzepte und Prototypen gefördert. Es ist ein Ort der Kreativität, der Begegnung und des Austausches. Hier zünden Ideen und springen Funken über. Der Incubator richtet sich an alle, die erst am Anfang ihrer Gründungsidee stehen, aber auch an jene, die sich schon in der aktiven Gründungsphase befinden.