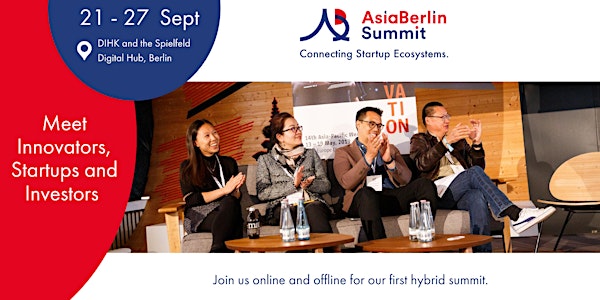 AsiaBerlin Summit 2020
AsiaBerlin Summit 2020 is the annual conference by the Berlin Senate aiming to connect startup ecosystems in Asia and Europe.
About this event
AsiaBerlin Summit 2020 (former Asia-Pacific Week)
Amidst the uncertainties across the world, we are happy to announce new beginnings and new ways of communication: a new name and a hybrid offline-online format for AsiaBerlin Summit 2020. The AsiaBerlin Summit offers a platform to establish an international startup ecosystem between Berlin and Asia. We focus on the internationalization of startups across sectors such as: UrbanTech, HealthTech, FinTech, Social Impact, Female Entrepreneurship & Diversity, industry 4.0, AI, and blockchain. Join us to talk about new trends and cross-border collaboration between Asia and Berlin.
We are using Brella for our event and will send you the login information before the event.
Please be aware that offline tickets are VERY limited. THE APPLICATION TIME FOR OFFLINE TICKETS IS OVER: THERE ARE NO MORE OFFLINE TICKETS AVAILABLE
Furthermore, we will make sure that the event will go safely for all our guests. We will take care of all hygiene policies & measures and make this event secure for our attendees and staff.
Find the current state of the program on our website
Please note: as capacity at the venues is strictly limited, we ask you to cancel your offline ticket before the event day if you cannot make it. We will charge a 50€ fine for ticket holders who do not attend the event.