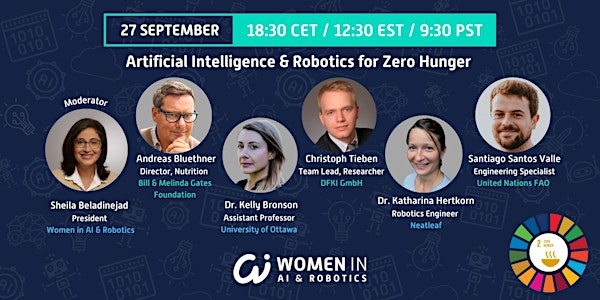 Artificial Intelligence & Robotics for Zero Hunger
How can Artificial Intelligence, Machine Learning & Robotics play a role in achieving Zero Hunger (SDG 2)?
About this event
How can Artificial Intelligence, Machine Learning & Robotics play a role in achieving Zero Hunger (SDG 2)? What are the opportunities and threats from technical, social, and regulatory perspectives?
🟢 Sustainable Development Goal 2, one of the 17 SDGs established by the United Nations in 2015, is defined as: End hunger, achieve food security and improved nutrition and promote sustainable agriculture.
🌱 Despite the progress, research shows that more than 800 million people worldwide still suffer from hunger. There has been much progress over the last few years; however, it is slow and unlikely that we will succeed in meeting the target goal by 2030.
🟢 Nutrition is highly related to agriculture and can be improved through sustainable approaches.
🌱 Many of the Sustainable Development Goals are interrelated. We need to understand the narrative around nutrition better, especially as it relates to gender equality, geographic inequality, and absolute poverty.
🌱 But what is #sustainable#agriculture?
🟢 While sustainable agriculture plays a critical role in achieving SDG 2, its definition and approaches are still up for debate amongst scientists and leaders. Should we adopt Ecocentric, technocentric or agroecology approaches?
🌱 How can Artificial Intelligence & Robotics help accelerate the progress toward zero hunger?
🟢 From forecasting food shortages to computer vision for crop monitoring and agricultural robots, we are currently using AI & Robotics to help solve many of the current challenges.
Nevertheless…
• Are scientists and innovators working on the most critical problems?
• Who are the main drivers of innovation in this sector?
• Are we looking at the data of countries where zero hunger is in dire need of the most immediate action?
• Are we cautious about the potential perpetuation of bias in the solutions?
• Are we closely examining the social impact of utilizing technology? How does all this relate to or impact Gender Equality?
Join Women in AI & Robotics on September 27th at 18:30 CET / 12:30 EST and 9:30 PST to gain insights from our fascinating panellists as they share their experiences and success stories while also helping us better understand the most critical issues hindering progress.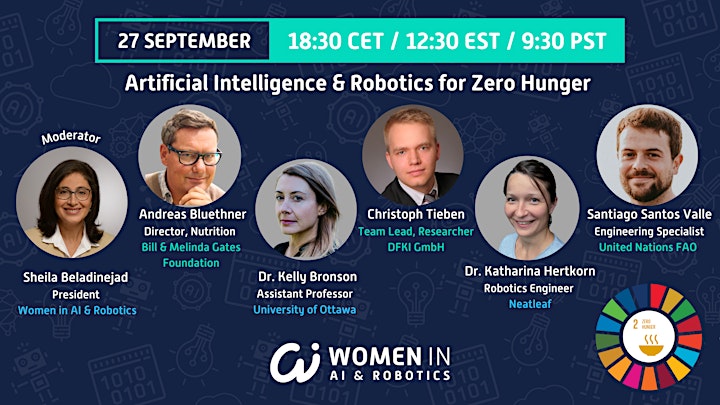 Andreas Bluethner - Director, Nutrition - Bill & Melinda Gates Foundation
Andreas Bluethner is the Bill & Melinda Gates Foundation's director of nutrition. The foundation's nutrition strategy, focuses on innovation, private sector engagement, and large-scale food fortification. Andreas also leads cross-foundation collaboration on nutrition, ensuring that all strategies that invest in nutrition are coordinated and aligned for maximum impact.
Prior to the foundation, Andreas served as Director of Food Fortification & Partnerships for BASF SE, a leading chemical company, manufacturer of micronutrients and active partner to global fortification programs and actors for decades. Before BASF, Andreas spent time working with the UN, the German government, and the Global Alliance for Improved Nutrition (GAIN)—one of the Gates Foundation's largest nutrition grantees.
Andreas holds a PhD in international economics and human rights law from the University of Mannheim and a business administration degree from Robert Bosch, Stuttgart. He also served as mentor for social entrepreneurs worldwide as an Ashoka Globalizer, as founding board member for WFP Innovation Accelerator, and as a board member of Listo, a social business based in Guatemala serving nutritious food to the undernourished. He worked in academia as a permanent lecturer on food and nutrition security, trade, and human rights for the University of Mannheim and European Business School in Wiesbaden for more than a decade.
Sheila Beladinejad- CEO O Canada Tech- President Women in AI & Robotics
As a software engineer with a degree in Computer Science & Industrial Engineering and over 20 years of experience in technology, she has worked on major initiatives in the telecommunication industry and is responsible for launching new products and services at a global level. Additionally, Sheila has expertise in conducting technical due diligence during the Merger and Acquisition process for investors. She helps Private Equity firms and Venture Capitalists evaluate the software side of the target companies of interest and provide risk mitigation assessments, often including a post-closure technical roadmap. She has worked on multi-million-dollar acquisitions in Europe, Canada, and the United States, evaluating and assessing the target companies' artificial intelligence, software architecture, infrastructure, and scalability.
As the President of the Women in AI & Robotics, Sheila has committed to reducing the gender gap in AI & Robotics at the UN Women's Generation Equality Forum on a personal level and on behalf of Women in AI & Robotics. Sheila is dedicated to increasing women's representation in AI & Robotics through building a strong network of support from experts in our communities, advocacy, education, mentorship, hackathons and startup accelerator programs.
Dr. Kelly Bronson - Canada Research Chair in Science & Society and Associate Professor, Sociology
Kelly Bronson is the Canada Research Chair in Science & Society at University of Ottawa in Canada. She is a social scientist studying and helping to mitigate science-society tensions that erupt around controversial technologies and their governance—from GMOs to big data. Her research aims to bring community values and non-technical knowledge into conversation with technical in the production of evidence-informed decision-making. She is the author of a newly published book on big data in agriculture titled, Immaculate Conception of Data: agribusiness, activists and their shared politics of the future (MQUP, 2022).
Santiago Santos Salle -Sustainable Agricultural Engineering Specialist, Food and Agriculture Organization of the United Nations - FAO
Agricultural engineering specialist interested in achieving a more sustainable agricultural production with the use of adequate technologies. Several years of experience in international agricultural development in agricultural mechanization
Currently supporting developing countries to improve their agricultural mechanization systems and studying which technologies fit better their agricultural demands in order to increase production in a sustainable way.
Increasing interest and research on agricultural robotics and their practical application for small-scale farming.
Dr. Katharina Hertkon- Robotics Engineer, Neatleaf
Dr. Katharina Hertkorn is a robotics engineer with a strong leadership mentality and is currently part of a young startup called Neatleaf in the field of agricultural robotics.
After finishing her degree in Technical Cybernetics, she worked at the Institute of Robotics and Mechatronics at the DLR, German Aerospace Center, where she spent most of her time with a 47DoF robot - and finished her Ph.D. about a shared grasp planning approach in 2015. She left research to bring robots into real life. First in a big company (BSH), then moving to the startup area in 2020, where she found her spot shaping company and product at the same time. Katharina is also a member of the Women in AI & Robotics community.
Christoph Tieben- Researcher / Team Leader / Project Leader - DFKI
As Christoph describes: "The main motivation for my studies was the will to know how to make processes and hardware smart and reactive. To go towards this goal, I started with a vocational training as IT technical assistant followed by a bachelor's degree in technical computer science. Starting with my master studies in computer science the focus went more into the direction of how to sense the environment and act smart based on this with robots. This was also mainly part of my work after my master's degree where I spend about 2,5 years at IAV, a daughter company of VW, as software development engineer for V2X and autonomous driving functions.
Now I'm researching at the DFKI for more than 3 years in different research projects with a focus in robotics and agriculture. Since 2021 I'm also team leader and leader of a research project at the plan-base robot control group of DFKI in Niedersachsen, Osnabrück."