Dieses Event ist beendet.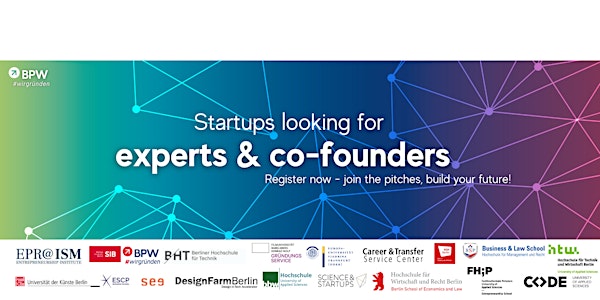 Are you looking for a Startup you can join? Come to our Co-Founder Matching
Are you looking for an idea or Startup, where you can invest your skills as a potential Co-Founder?
Zu diesem Event
Then join this online match making day to meet outstanding startup teams that are in founding programms of participating incubators or universities. The Business Plan Wettbewerb Berlin Brandenburg (BPW) invited several players to join forces in order to present you with a digital matching event that might kickstart your business journey.
The startups will present themselves first with a 60 seconds Elevator Pitch. Afterwards they split up on individual tables for you to join them and introduce yourself. You are welcome to move around and get to know all startups.
The event will take place in Wonder.me. The link will be provided via E-Mail a day before the event.
Please note that screenshots will be taken during our events. By visiting our event, you agree to a possible publication of those.
These are all the participating startups:
Brovid is looking for a CFO
BROVID is a breathalyzer that allows for rapid and non-invasive detection of pathogens ranging from coronaviruses to tuberculosis in exhaled droplets. Our device provides an instant readout, requires no medical expertise for its operation, and can be used in remote locations thus facilitating monitoring of new respiratory infection outbreaks. Our medical device is particularly well suited for massive screening and utilization in settings with limited resources. BROVID provides a platform to rapidly respond to future pandemics and improve global health architectures altogether. For more information please reach out to: Pedro Guzmán: guzppedro@gmail.com
Cinematherapy looking for Programmers/developers with an interest in interaction design or game design (if possible with experience in gaming or video production/video editing).
Becoming parents is an enormous test for most couples. According to surveys, three-quarters of all couples experience a relationship crisis during this period. Cinematherapy is a cloud-based video app that uses the potential of audiovisual storytelling to provide couples with an intuitive therapeutic tool in their stressful everyday family life. As a flexible, cost-effective and inspiring tool, it helps couples to foster their emotional connection in everyday life and prevent relationship crises. At the heart of the app are so-called "video exercises", which translate therapeutically proven methods into the interactive, virtual space and appeal to a young, internet-savvy target group. As a team, we bring more than 10 years of research and practical experience in the field of psychology/psychotherapy, film production and the development of interactive formats. Cinematherapy is developed in cooperation with the Film University Babelsberg KONRAD WOLF. Johanna Ickert and Susanne Richter: info@librafilm.de
CipherKunst is looking for a Business Administrator (Goal is to apply for Exist Grants)
CipherKunst is a technology start-up company to be in Potsdam. We focus on developing innovative technology-based products and services for private and enterprise customers. We still are in an early stage in our journey. User interaction and knowledge-based experiences are at the forefront of our products developing strategy. E-Mail: contact@cipherkunst.com
DEADLINER looking for: - Data Analysis / Datascientist / Software Development
DEADLINER - A new way of film financing and festival distribution. The DEADLINER is an intelligent tool for developing successful festival distribution and submission strategies. Through the use of data and algorithms DEADLINER always keeps track of the market and can automatically match suitable film projects with the most promising festivals or institutions. Yugen Yah: yugen@indiefilmtalk.de
Endless Industries is looking for software engineer or electrical engineer
Endless Industries provides a smart way to manufacture fiber composites fully automatic using a patented additive manufacturing technology. We are fully founded by EXIST Forschungstransfer and start in June 2022. We have a great product idea for the orthopedic industry that improves the working environment for othopedic technicians and gives them more time to take care of their patients. Currently, we are looking for a Co-Founder who is an expert in software engineering or electrical engineering. Stephan Körber: koerber@endless-industries.de
EOTH looking for business / finance / engeneering
Inspired by people's lives and living spaces, we design home appliances that focus on the home. Our shy technology objects make the explicit link between environment, form, atmosphere and sustainability. That's why we want to build the brand "EOTH – eyes n the horizon" that makes home appliances circular, through the product itself, our sales strategies and our service. We want to offer a unique product to a growing target group that currently has no choice but to buy unaesthetic and unsustainable products. We want to start this venture with our award-winning product concept "Trojan Vacuum" that combines the functionality of an industrial vacuum cleaner with the aesthetic and beneficial qualities of minimalistic furniture design. The application of biodegradable, recycled and organic materials integrates the "Trojan Vacuum" into the circular material flow, reducing its footprint lastingly. It's repairable and updatable design and the reduction of plastics to a minimum, together with it's aesthetic and the transformative qualities creates a long-lasting and sustainable product that considers the fact that the average usage of a vacuum is only 16 minutes per week. Our rental service closes the loop of e-waste and provides accessibility to culture and quality and sustainability. Contact Mail: service@superorganismus.studio
freispace is looking for a CTO
freispace is a B2B SaaS solution for film productions and film studios to manage spaces such as editing suites, sound booths and studios. With a customised, unique industry solution, intuitive operation and new possibilities for utilisation analysis, we want to establish ourselves as the industry standard for space management in the film sector. A first version based on Laravel is already online and functional. The official launch is scheduled for April. Contact: leonardo.re@freispace.com
FreeFrom Hero is looking for a CTO
FreeFrom Hero imagines a world where individual dietary requirements make no difference and everyone can eat at the same table with ease. We are working on a digital health assistance app that covers all aspects of living with food intolerances. With an edutainment concept, those affected (FreeFrom Heroes!) receive knowledge, inspiration & support for their everyday life. Focus areas are: diagnosis helper, e-learnings, coachings and community build up. We also involve nutritionists in the concept on a more individual basis. Currently, our main focus area is on the autoimmune disease "Coeliac disease" – which is the medical condition behind a strict glutenfree life. Our target is to expand on different food intolerances step by step. To realise our vision, we are looking for the next hero to steer the technical build-up of our concept. Contact: Christina Rückert – christina@freefromhero.de
IMPRINT is looking for a COO
IMPRINT is a collection of therapeutic acupressure-clothing. The patented textile has a grid through which small massage balls can be moved flexibly to the correct acupressure-point on the body. By combining medical compression knitting and fashion, the garment stimulates acu-points and thus alleviates a great number of symptoms. The second pillar is a platform with acu-yoga courses. The exercises are designed in a way to stimulate acupressure-points additionally, and thus heighten the efficiency of the garments. With IMPRINT we will be tackling the market of wellness, yoga, and alternative medicine. Laura Deschl: laura.deschl@googlemail.com
RückMal Technician for mechatronics (mechanical engineering/ electrical engineering)
At RückMal we strive for a world free of backpain. Our goal is to eliminate back pain from inflexible sitting with a unique solution: the RückMal shoes. Our hardware product is an extension to existing tables that subsequently makes them electronically height adjustable. With the now flexible sitting and standing adjustments backpain and tension can be eliminated without much effort, heigh cost or sustainability concerns.Contact Details: Christina Kunz: christina@rueckmal.com
RooWalk is looking for specialist in healthcare / strategic analysis skills
RooWalk wants to empower children with motor disabilities with an electrically powered walker. The walker simulates how parents support their children from behind following every intentional movement, thus enabling more independence and active participation in life. RooWalk is looking for a passionate co-founder who wants to see children shine. You (f/m/d) should have at least one of the following skills: deep experience or insights in healthcare, strong communication, collaboration, research and strategic analysis skills, or technical background. Start with us within the EXIST grant scheme. Benjamin Pardowitz: benjamin.pardowitz@roowalk.com
Sci Check is looking for a software engineer
Sci Check is a startup in Berlin with the vision to open academic publishing safely. Our goal is to build trust in science, support researchers in the publishing process and make knowledge accessible worldwide. We check the validity of research articles online and communicate their safety to the reader. With Sci Check, readers know exactly what research they can trust and researchers can provide evidence for the quality of their work. To complete our team, we are looking for a new member with a background in software engineering. This is a unique opportunity for an ambitious, multi-talented individual who wants to develop innovative products from scratch, using technologies like AI and Blockchain, and who wants to build and grow with the company and make an impact. Contact Viktoria Papp: viktoria.pap@sci-check.com
Solarponics is looking for a CEO
Solarponics has developed a customisable system to provide solar-powered, automated smart farms that fit into one bay of an outdoor car-park. The system uses a prioritisation algorithm to minimise energy-consumption and make growth in all seasons possible. Machines to be sold B2B to farmers, garden centres and supermarkets. Currently in prototype testing and business planning stages. Seeking a bi-lingual (German & English) partner to develop business model, marketing strategy and financial plan. Contact James: james.mudiemantz@gmail.com
Task Projects looking for a CTO
Task Projects offers a standardized application process for climate technologies providers to list their impact projects. Once accepted, the projects are visible to institutions that can seamlessly find & invest in the best-fitted project. Task Projects thereby offers institutions an easy-to-use, novel, continuous & profitable solution to offset their carbon footprint and provides climate technology providers with a standardized system to access financial capital effortlessly. We are looking for a CTO with Full-stack experience e.g. frontend, backend, infrastructure. If this sounds interesting to you, please reach out to: kareem.taba@edu.escp.eu.
Therapynow is looking for a programmer and possibly a web designer
Therapynow makes it easier for mentally ill people to find a free outpatient psychotherapy place, reduces the waiting time for the start of therapy and also increases the capacity of outpatient psychotherapy places by making the work of psychotherapists more time-efficient. We achieve this by digitalising and optimising the content of existing processes. Contact: rene.papenfuss2021@gmail.com
True Detection Systems (TDS) looking for a CTO
TDS combines chemistry and technology to develop a portable and easy-to-use hand-held device based on Lab-on-a-Chip sensors, which can detect the smallest traces of various explosives (e.g. TNT, C4, Semtex, ANFO, TATP). Our explosive trace detector intended to maintain a higher level of security in a variety of application scenarios and save human lives. The unique selling point of our device is the broad application area in security, environmental monitoring, food industry and medicine. Contact: Mustafa Biyikal: Mustafa.Biyikal@bam.de
Trueffles is looking for a Data scientist / Machine learning specialist
Trueffles is going to be a digital (re)search platform, that gives an overview of how things are related. Every search term will be displayed in a mind-map/network visualization. The purpose of the project is to connect it all, so everyone understands. By designing a playful tool and feeding it with diverse data, Trueffles will be the first visual research platform that fosters transparency, gives orientation and makes research more fun than ever before. We are looking for someone who is totally in love with organizing data, who is eager to tackle this challenge with us and who identifies with our purpose. Sounds like the right fit for you or want to know more? Get in touch with Tina via tina@trueffles.com.
Typst is looking for Business Development
At Typst, we are creating a user-friendly markup language and web-first writing experience for typesetting homework, publications, and other documents in high quality. Through helpful UI and instant previews, our online editor empowers researchers and students to focus on their work instead of their tools. We designed Typst to be intuitive and flexible so that anyone can create their own layouts, but also to be composable so that users can easily apply styles shared by faculties or conferences. Martin Haug: martin@typst.app, Laurenz Mädje: laurenz@typst.app
wearex looking for a CTO / CBO
wearex helps innovative shoppers find circular, affordable and custom made fashion on our digitally powered upcycling platform. We are reshaping the rules of shopping to incorporate accountability and traceability in the life cycle extension of clothing. We act as the point of connection for shoppers and artists to engage in direct upcycling, a donation platform to collect old unwanted clothing, and as a marketplace for our artists to sell their creations. After launching our MVP via Instagram, we are looking for a CTO to help us with our marketplace and platform development. We already have a basic website but need dynamic support during our MVP phase to react quickly to new learnings as well as benefit from teamwork and platform development knowledge. Together we can use technology to reshape the future of retail. If interested, please contact: matea@wearex.net.
YoniCore searching for a Female Business/ Operations Developer
YoniCore is a Berlin-based FemTech startup, whose vision is to improve women's quality of life through innovative, and holistic treatments. We are developing a smart connected medical device, that is personalized for each woman's unique pelvic floor. YoniCore is offering immediate relief of pelvic floor dysfunctions, which are affecting 50% of women around the world. We are looking for a full-time Co-Founder to support us with business development and be part of our leadership. We are looking for an experienced woman/vagina owner with a passion for FemTech, women's health, or feminism. Your shared responsibilities are Business development and strategy, Fundraising, Market and user research, Communication and presentation, Operations. Contant Yair Kira hi@yonicore.com.