Join our Arabic Community & Learn how to start a career as a web developer or online marketing manager in Germany.
About this event
During this free online event you will:
Learn from the experience of a DCI student
Ask all your questions in Arabic
Get all the information you need to change your career and start in the digital industry. We help you get financed by Jobcentre and start a career in the digital field!
How to take part?
Register for free on this page.
Join the webinar using the link.
Check your inbox for a confirmation email including the webinar link. Don't forget about the spam folder ;)
Save the date in your calendar.
You will receive a reminder by email 1 hour before the webinar starts.
Our graduates.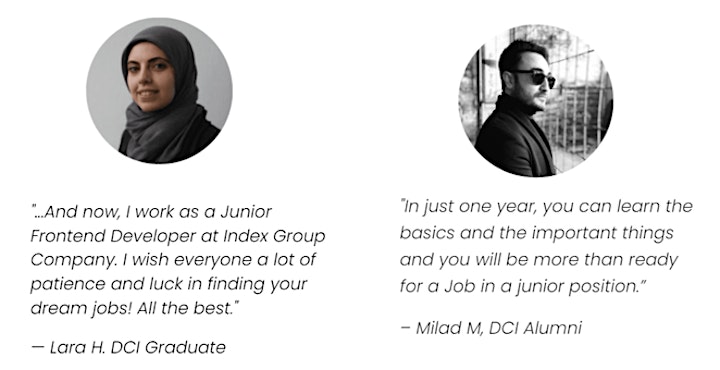 Questions?
Feel free to contact us:
Julia Meyer - Service Manager
Telephone: +49 30 56795008
Email: j.meyer@digitalcareerinstitute.org
(cei:5804947)
(ci:NRW-2021-10-28)
Organizer of Arabic Community Event - Start Your Career in Tech!
Our goal is to offer people from underrepresented groups or people without jobs a perspective in the digital industry. To this end, we regularly organize community events and webinars to educate people about the opportunities for a career change or reskilling in web development, online marketing, or AWS cloud computing. The courses presented are perfect for newcomers with no previous digital knowledge, in English or German, and can be financed via an education voucher (Bildungsgutschein) from the employment agency or job center.
Find more information about us here: https://digitalcareerinstitute.org/de/