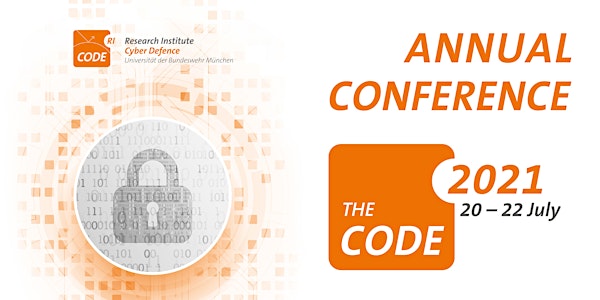 Annual Conference CODE 2021 Supply Chain Sovereignty: Reality or Illusion?
Annual Conference CODE 2021 – Supply Chain Sovereignty: Reality or Illusion?
Refund Policy
Refunds up to 1 day before event
About this event
This year's conference of the Research Institute CODE takes place under the topic Supply Chain Sovereignty: Reality or Illusion?
It takes place from 20 - 22 July, and again includes besides the main event, the famous Innovation Conference, nine interesting workshops, and the Science Track. An interactive exhibition frames the conference. The CODE 2021 will take place as a virtual conference.
Detailed information on the program can be found on our event website.
The participation fee is 200 € per person, incl. VAT. Speakers of the Innovation Conference pay a reduced fee of 130 €. Please note that the last check for the entitlement of a free ticket is carried out by us. In case of any doubts, we will contact you. Participation can be canceled until 19 July 2021. Eventbrite service fees will not be refunded.
Active members of the Bundeswehr or any EU military personnel, as well as representatives from German or EU agencies, and students are exempt from participation fee.
Participants who contribute actively to the conference (speech, panel discussion, workshop organizers) are also exempt from the fee.
We will verify your registration and send the logins to our event platform via mail. This will take place after the registration closing date on 15 July .
The Hashtag of our Annual Conference is #CODE2021. We are looking forward to your tweets and posts on the conference!