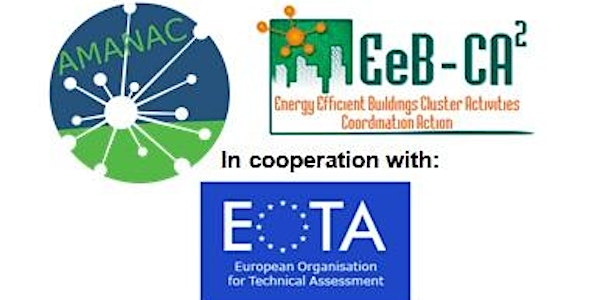 AMANAC Standardization Workshop and EeB CA2 Training: Introduction to European Technical Assessment
When and where
Location
Bip FOR RENT Rue Royale 2-4 Koningsstraat 1000 Brussels Belgium
Refund Policy
Contact the organiser to request a refund.
Description
AMANAC Standardization Workshop

About AMANAC
Amanac-CSA is a collaboration and coordination platform aiming to maximise the impact of participating projects in the field of advanced materials and nanotechnology. These projects target the development of (nano) materials, components and systems to improve energy efficiency in Europe's built environment.

Objectives of the workshop
The EC has funded multiple projects which have developed novel building materials for retrofitting as well as new constructions. Standardization, certification, and green labeling are important criteria for the commercialization of new building materials, and certain key hurdles and challenges are shared by all projects in the area of energy-efficient buildings.
A Standardization Workshop will be organised by the AMANAC-CSA to facilitate the discussion between key personnel from the various AMANAC projects and companies and institutes involved in standards and certifications. The main focus will be the perspective of end-users on the challenges of standardization and certification. The discussions will give insights into standards and requirements for buildings in Europe, and provide detailed information on certification, testing and CE marking for construction products. Various experts from industry will share their knowledge and be open for discussion in the frame of this workshop.
Main topics to be discussed
Key standardization stakeholders have been invited to present their view on the following topics:
Certification and testing of construction products

Acoustic standards and requirements for buildings in Europe

Thermal and humidity standards and requirements for buildings in Europe

Influence of standardization on the innovation process
Case studies
For more information and the full agenda please click here.
EOTA Workshop
EeB-CA2
The EeB-CA2 initiative is to provide the right set of instruments supporting technology-clustering and geo-clustering upon the whole set of EeB PPP EC-funded projects related to energy efficiency in the built environment, with the following primary ambition: to enhance and rationalize coordinated and broader dissemination, technology transfer and future exploitation activities of clustered projects, so as to help them better promoting and marketing their achievements and deliverables
Workshop: Introduction to European Technical Assessment (ETA)
Objectives of the workshop
EeB-CA2 offers support measures for technology transfer and better market uptake of results developed in EeB PPP EC-funded projects. In collaboration with the European Organisation for Technical Assessment
(EOTA) EeB-CA2 will provide an afternoon workshop which will allow participants to get a deeper understanding of the EOTA, its services and the requirements for a European Technical Assessment (ETA). It will help attendees to get first but profound insights into the ETA and the pathway to obtain a CE-mark for construction products.

ETA is a document providing information about the performance of a construction product, to be declared in relation to its essential characteristics. Ultimately, it provides manufacturers the way to CE-mark a product.
This afternoon session is open to coordinators and partners of EeB PPP projects and others interested, where strategic considerations for successful further development and market uptake of project results may include a CE-mark. Typically, such project results are stated with TRL 6-7.
After a detailed introduction by two EOTA representatives, there will be sufficient time to answer individual questions of the participants.

For more information and the full agenda please click here.
Please note:
- You do not have to print the ticket to show at the event.
- If you can not attend the workshop or training after you registered, or someone else will participate in your place, please contact daniela.meijer@ict.fraunhofer.de.