Dieses Event ist beendet.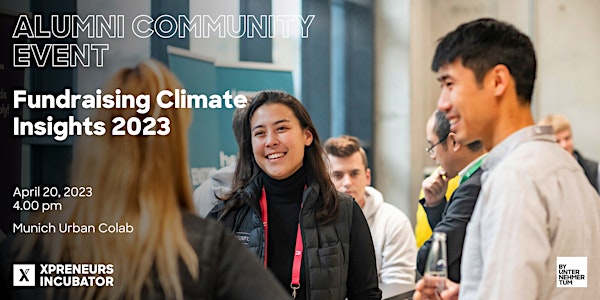 Alumni Community Event: Fundraising Climate Insights 2023
XPRENEURS Alumni & Batch #13 - Let's all get together and meet & mingle.
Datum und Uhrzeit
Do., 20. Apr. 2023 16:30 - 18:00 CEST
Veranstaltungsort
Munich Urban Colab Freddie-Mercury-Straße 5 80797 München Germany
Zu diesem Event
Dear Alumni & Start-ups from Batch #13,
Let's get together and meet and mingle.
AGENDA [LIVE AT MUNICH URBAN COLAB]
4.30 pm - Doors Open
4.45 pm - Welcome the Alumni community
5.00 pm - Panel Discussion "Fundraising Climate Insights 2023"
Jennifer Dussileck / Co-Founder & Managing Director, Finway
Tobias Pohl / Founder & CEO, Celus
Andreas Unseld / Partner, UVC
Julian von Eckartsberg / Managing Director Europe, BPI
5.30 pm - Q&A | Mingle with the current Batch & Investors
6.00 pm - Start XCONNECT with Investor & Alumni Focus
We're looking forward to meet you there!
Any questions? Please get in touch with us (contact@xpreneurs.io).
Best wishes,
The XPRENEURS Team
Privacy Note
We are very pleased about your interest in the Alumni Community Event: Fundraising Climate Insights 2023. In the course of your registration, we ask for some personal data, which we naturally protect. In addition, we use a number of tools for technical implementation, the functioning of which we would like to inform you about below.
Your personal data will always be processed in accordance with the General Data Protection Regulation and in compliance with the data protection provisions applicable to Unternehmertum GmbH.
By means of this data protection declaration, we would like to inform you about the type, scope and purpose of the personal data collected, used and processed by us and the tools used.
1. Controller
The controller within the meaning of the General Data Protection Regulation (GDPR) is:
UnternehmerTUM GmbH
Lichtenbergerstr.6
85748 Garching / Munich
Germany
E-mail: info@unternehmertum.de
Website: www.unternehmertum.de
2. Data protection officer
The data protection officer of the controller is:
Alexander Stolberg-Stolberg
SVF Lawyers
Oberanger 30
80331 Munich
Germany
Tel.: +49 (0) 89 210 25 120
E-mail: stolberg@unternehmertum.de
Website: www.svf-law.de
Any data subject may contact our data protection officer directly at any time with any questions or suggestions regarding data protection.
3. Purposes and legal bases of the processing
We need your contact details in order to process your registration for XPRENEURS XConnect. Your data will be processed on the basis of Art. 6 (1) (b) and (f) GDPR
4. Eventbrite
We will use the Eventbrite ticketing platform for registration of our events and screenings. You can find the terms and conditions of Eventbrite:
https://www.eventbrite.de/support/articles/de/Troubleshooting/datenschutzrichtlinie-von-eventbrite?lg=de
When registering with Eventbrite please read Eventbrite's T&Cs and privacy policy carefully.  
5. Pictures/photos
We would also like to point out that images, films and sound recordings will be made during the event. It is intended to use the recordings made during the event for LinkedIn posts and other marketing and PR purposes, among others. The image recordings will also be used by the following partners for the aforementioned purpose:
UnternehmerTUM GmbH
UnternehmerTUM Projekt GmbH
UnternehmerTUM Venture Capital Partners GmbH
UnternehmerTUM MakerSpace GmbH
Munich Urban Colab GmbH
UnternehmerTUM Initiative for Industrial Innovators GmbH & Co. KG
Technical University Munich
The legal basis for this is our legitimate interest pursuant to Art. 6 (1) f) GDPR.
6. Deletion / blocking of personal data
We process and store your personal data only for the period of time required to achieve the purpose of storage. If the purpose of storage ceases to apply, the personal data will be routinely blocked or deleted in accordance with the statutory provisions.
7. Your rights
You have the following rights:
Right of access according to Article 15 GDPR
Right of rectification under Article 16 of the GDPR
Right to erasure according to Article 17 GDPR
Right to restriction of processing under Article 18 of the GDPR
Right of objection under Article 21 of the GDPR and
Right to data portability under Article 20 of the GDPR.
The restrictions according to §§ 34 and 35 BDSG (= Germany Data Protection Act) apply to the right of information and the right of deletion. In addition, you have the right to lodge a complaint with a competent data protection supervisory authority (Article 77 GDPR in conjunction with § 19 BDSG).
You can revoke your consent to the processing of personal data at any time. Please note that the revocation is only effective for the future. Processing that took place before the revocation is not affected.
Further information on your personal data can be found here.