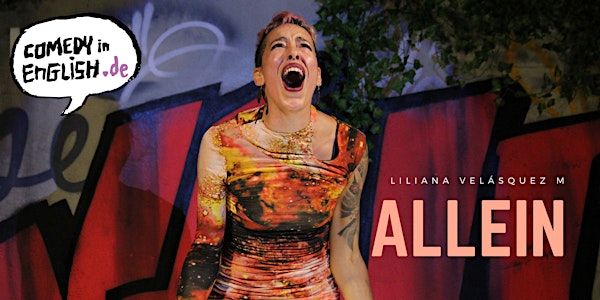 Allein
Allein is an edgy sexy funny solo show about a woman who lives life by her own rules! Join her adventures in this one-hour special.
When and where
Location
Bistro Kontext Welfenstraße 1b 65189 Wiesbaden Germany
Refund Policy
Contact the organizer to request a refund.
About this event
About this event
The year 2021 is almost over, and we will take these last few months by storm! Fearless, Funny & Fabulous, this show is not for the easily offended. If you like Spicy, sexy, and Feminist touches, be sure to have a safe word! This Latina misfit storyteller pushes the boundaries of sex, relationships, religion and never quite fitting in. Be you always! Sin pelos en la lengua!
🎭 STAND-UP COMEDY IN ENGLISH 🎭 (Mostly English)
Join me for one hour of one-of-a-kind moments in the life of a relatively single woman!
******* 2G rules apply! Please bring proof of complete vaccination or recovery.
***ADVANCE TICKETS ONLINE 15,00 EURO 20,00 EURO AT THE DOOR
******* Doors open at 17h00 food and vibes! Reservations and advance orders at info@kontext-wiesbaden.de and 0611-703 98 338
Anyone who tastes the vegan cuisine of Ethiopia and Eritrea for the first time will be surprised because the ingredients speak for themselves! Food is celebrated here and great importance is attached to original ingredients and spices! At our buffet, you will always find fresh delicacies such as lentil, vegetable stew, spinach, chickpea sauce, and much more. Everything is always freshly prepared and served with low-gluten side dishes, rice, or the traditional flatbread made from a dwarf millet mixture (injera).
******* Show starts at 20h00*******
Liliana Velásquez is a multitalented being. She has crossed borders between worlds her whole life, raised in the entitled North & volatile South America, moving back and forth from Colombia to the U.S.A. She is a LATINA incognito "just white enough" She absorbs and creates diverse cultures through and against the immigrant dream. The American dream taught her you can be anything, the Colombia struggle taught her to move to safer places, and Berlin has led her to LOVE herself! She continues to entertain others but mostly herself.
Liliana started doing comedy back in 2008 in New York City! She produced Hail to the V @ Dixon Place Theater and Lil'Chewy comedy @ The Producers Club in Times Square. Serendipitously she moved to Berlin to model for a photographer and found this city to become a new home! At the time, the Berlin stand-up scene had only one open mic and a very international feeling. She contributed to the growth of the comedy scene by producing many successful shows like Balls to the Wall, Pussy Powered Protest, Sex Gods & Hysteria, Suitcase Stability,… and produces the longest-running weekly open stage SUNDAY SLIPS! Every Sunday, no matter what! That includes a worldwide pandemic, never give up, never surrender. Liliana shares her loved aches and her transformation into an independent-thinking woman. She is proud to be queer and not perfect and enjoys waking up in the afternoon.
Liliana has toured in many European cities: Krakow, Warsaw, Budapest, Helsinki, German towns, Luxembourg, Brussels, other German cities, Amsterdam, Prague, Brno, Zurich, Edinburgh. Asian cities such as Hong Kong, Singapore, Malaysia, Vietnam, In South Africa: Capetown & Johannesburg
—————————————-
Social Media:
Website: https://www.freudianslipclub.com
Instagram: https://www.instagram.com/freudianslipclub
Facebook: https://www.facebook.com/freudianslipclub