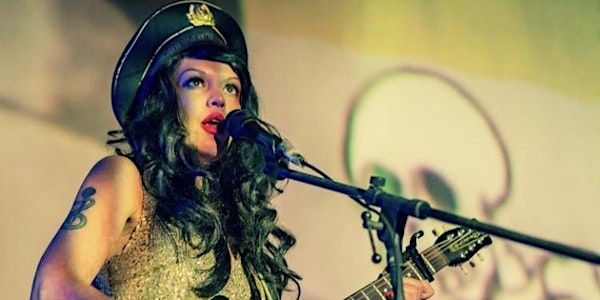 ALBUM RELEASE PARTY STONY SUGARSKULL & HOLZKOPFKINDER W SPECIAL GUESTS
Album Release Party of Stony Sugarskull "Princess" and Holzkopfkinder "Zucker" with special guests Franz Bargmann and Thee Lucifer Sams!
When and where
Location
Urban Spree Revaler Straße 99 10245 Berlin Germany
Refund Policy
Contact the organizer to request a refund.
About this event
Stony Sugarskull is the sonic project of Berlin/Los Angeles based, pioneering singer-songwriter, composer and multi-instrumentalist Dr (PhD) Monika Demmler. With her innovative style, her unique voice that calls to mind the music of Mazzy Star or Nico, coupled with her boundless creativity, she transcends borders by blending punk, shoe gaze, electronica and psych in a very unique and captivating way.
Her second album "Princess" was released on 18th November 2022 with a special show at the Victorian historical monument HM157 Los Angeles with Steve Grohne on bass, Daniel Beallo on drums and special guest Johnny Nasty Boots.
The most distinctive thing about Monika Demmler is her unique vocal style and transcendent delivery: a collage of dreamy, playful, innocent, ironic, clever, earnest, at times even spiritual psychedelia. Her artsy sound blends shades of the Velvet Underground, Sonic Youth, My Bloody Valentine, Marianne Faithful, Led Zeppelin and Mazzy Star into its own new best.
"Princess" was recorded analogue on tape with UK producer Kristian Bell (The Wytches) in Yaxley Town Hall (Peterborough/UK) and mastered by Luke Oldfield (Tilehouse Studios London) in 2021/2022. Drums/Bass: Kristian Bell, Vox/Guitar/Zither: Monika Demmler, Guitar: Franz Bargmann, Keys: Alex Tower.
"Stony Sugarskull are, on the evidence of this record, a force to be reckoned with. [...] Her Mazzy-starish vocals switching between English and German as smoothly as her music transcends genres. Shot through with a distinctly Berlin ennui [...] Lioness is a trip from start to finish." (Paul Moody, Classic Rock Mag)
linktr.ee/stonysugarskull
stonysugarskull.com
Gefördert durch die Initiative Musik mit Mitteln der Beauftragten der Bundesregierung für Kultur und Medien ("BKM").
Franz Bargmann
With hundreds of gigs in the last years, Franz Bargmann is one of the most promising kosmische guitarists in Germany. He's well-known for his spontaneous krautrock-guerilla-concerts with Camera from the early beginning. He has been touring with legendary krautrocker Michael Rother (Neu! / Harmonia / Kraftwerk) and Hans Lampe (La Düsseldorf) since 2014. He also collaborated with musicians such as Dieter Moebius, Throsten Quaeschning, Lutz "Lüül" Graf-Ulbrich, Colin Newman, and Thurston Moore.
franzbargmann.bandcamp.com
Holzkopfkinder is Monika Demmler's side project with German producer Le Leander to journey into electronic unknown places, releasing their first album "Zucker" on 15th December.
"Monika Demmler's hypnotic, disembodied vocals cut through the monochrome beats of 'Stoned Drugs' like a Bowie Knife, the perfect partner in crime to Leander's ghostly production, recalling Roni Size Djing in an underground Berlin S&M sex dungeon. Warhol would be proud" (Zani)
Gefördert durch die Initiative Musik mit Mitteln der Beauftragten der Bundesregierung für Kultur und Medien ("BKM").
linktr.ee/holzkopfkinder
Thee Lucifer Sams are a psychedelic rock'n'roll band from Liverpool, England, formed in 2018. They make instrumental, semi-improvised music that, due to its lack of words, is also universal in its appeal – bringing psych rock back to the most basic elements of music: primitive, hypnotic rhythms and a powerful sound. Their music is simple, but not simplistic – they create a rich musical patchwork that includes groovy, catchy basslines, swashes of tape echo feedback, audio loops, synthesizer and theremin sounds, Indian tampura drones, wah-wah guitar freakouts and cultural nods that only the most knowing members of the audience will get.
With the added trippy visuals that they always bring along to their shows, Thee Lucifer Sams are a truly psychedelic experience: the 'Sams don't play "songs"- once the band starts their set, they don't stop the music until it's over. Theirs is a relentless musical rollercoaster, always moving and evolving from one moment to another, taking you on a journey unlike perhaps any other band in the current "psych" scene (a term the band themselves hate).
Instagram.com/liverpoolpsychedelicsociety
Theelucifersams.wordpress.com