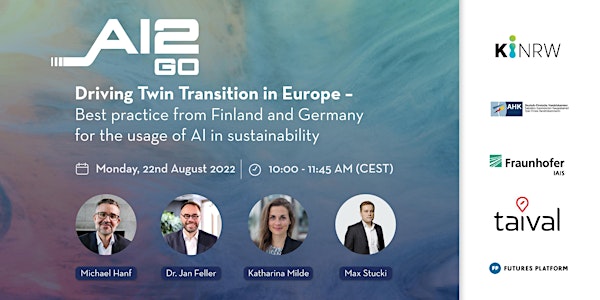 AI2GO: Driving Twin Transition in Europe
Best practice from Finland and Germany for the usage of AI in sustainability
About this event
After the Summer holidays we will talk with our international guests from TAIVAL, AHK FINNLAND, FUTURES PLATTFORM and FRAUNHOFER IAIS about best practices in the fields of AI and Digitalization with the aspiration of becoming or being sustainable.
Michael Hanf, Managing Director of Taival Germany, will briefly introduce us to Twin Transition and why it is crucial for digitalization and AI per se, followed by a project report on AI-driven recycling in plastic flow ecosystems. Handing over to Dr. Jan Feller, Managing Director of the German-FinishChambers of Commerce Abroad (AHK), who will present some of Finland's best practices for digitalization & sustainability as one of Europe's leading countries for both topics. Afterwards, Katharina Milde, Project Manager and Researcher for the Fraunhofer Institute (IAIS), will provide a brief overview of the aspects of resource intensity and greenhouse gas emissions due to digitalization and highlight potential leverage points for shaping a more sustainable digitalization. Max Stucki, FCA Manager for the Futures Platform, closes the first part of our event with a structured overview of how trends and developments can be used as a strategic tool. 
In the second half of this AI2GO session, we would like to engage in a brief discussion and talk with our speakers about the future of digitalization and sustainability and the role of AI technologies in this Twin Transition. We would also like to invite you to join our discussion by sending us your questions via the registration tool or participate interactively in the session itself.
We look forward to your participation.