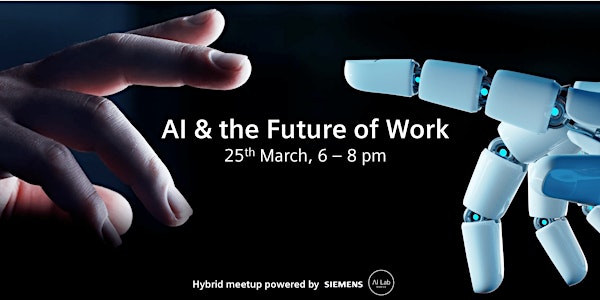 AI & the Future of Work - powered by Siemens AI Lab
The AI Lab is back with an exciting event: AI & the future of work!
About this event
Follow this link to get directly to the event: https://vimeo.com/showcase/ai-and-the-future-of-work
In the foreseeable future, AI is playing a significant role in changing the way most people work and what they work on. But what does this mean for companies and for the individual? What are current use cases? What are key messages from research? During the event, experts from various fields (AI, HR, politics & academia) will offer insights regarding these and other questions related to AI & the future of work. The inspirational pitches will give you a first overview about AI & the future of work as well as different perspectives and opinions. Subsequently, a moderated, open and controversial panel discussion will shed light on related risks and opportunities.
The speakers
Benno Blumoser, Head of the AI Lab, Siemens
Dr. Jochen Wallisch, Executive Vice President Human Resources, Siemens
Prof. Dr. Andreas Boes, Member of the Governing Board, and Dr. Tobias Kämpf, Associate Professor and Sociologist, Institute for Social Science Research (ISF) Munich
Dr. Anna Christmann, MB of the Bundestag, Bündnis 90/Die Grünen, spokesperson of the Study Commission "Artificial Intelligence – Social Responsibility and Economic, Social and Ecological Potential"
Dagmar Beyer, AI Expert and Application Field Owner Digital Companion, Siemens
Who should join
Everyone can participate in the event – Siemens employees as well as external enthusiasts who are interested in the topic of AI & the future of work. Since this is a topic that influences everyone, you shouldn't miss this extraordinary event! Hence: Save the date and share it with your network!
The format
We are planning a hybrid format with speakers participating at the AI Lab Viktualienmarkt, the audience joining via livestream and many interactive elements ensuring room for input and questions from the audience.