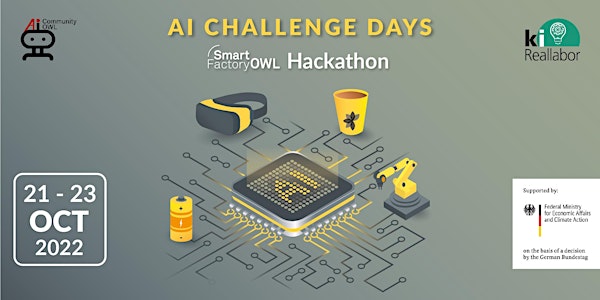 AI Challenge Days – the SmartFactoryOWL Hackathon
AI Challenge Days go into the next round! SmartFactoryOWL opens its doors for this hackathon.
When and where
Location
SmartFactoryOWL Campusallee 3 32657 Lemgo Germany
About this event
THIS IS WHAT YOU CAN EXPECT
Together, AICommunityOWL, SmartFactoryOWL and AI Living Lab bring together experts, enthusiasts, students, practitioners and industry to realize the potential of artificial intelligence.
For a few days you will have the opportunity to use real data from industrial processes to realize your own AI algorithms and find solutions for industry.
Everyone can participate, whether you are an AI professional or a rookie.
THIS IS WHAT YOU NEED
You need your own laptop/computer with a programming language of your choice. Prior knowledge of Python is recommended.
As sleeping facilities, SmartFactoryOWL and Fraunhofer IOSB-INA provide common rooms. Please bring all the utensils you need for sleeping yourself (air mattress/sleeping pad, pillow, blanket/sleeping bag).
The weekend you do not have to worry about your physical well-being. We will provide you with food and drinks.
THE CHALLENGE
SmartFactoryOWL is a living lab for Industry 4.0 and has a 2,000m² production and innovation area where demonstrators are available for research. The special feature: As part of the AI living lab, a manufacturing facility was developed that produces bio-based reusable cups from the company CUNA Products GmbH in SmartFactoryOWL - the CUNA production. It is the result of a cooperative of ten partners, consisting of start-ups and market leaders such as ARBURG and KUKA. The data for the challenge(s) are generated from the CUNA production.
The challenge is still a secret, but we can already reveal that you will be able to test your solutions live on a part of the production during the hackathon!
THE PRICE
The first place will receive prize money.
FREE PARTICIPATION
Participation is free of charge. We will contact you a few weeks in advance at the email address you provided and provide you with all relevant information about the hackathon. In this mail we will also ask you for a confirmation of participation. If you do not confirm your participation, your registration for the hackathon will be cancelled automatically.
This Hackathon is supported by:
digicolor Gesellschaft für Kunststoffmaschinentechnik mbH
CONTACT DETAILS
Any questions? Feel free to contact:
Cosmo.alison.schwabedissen@iosb-ina.fraunhofer.de
If you want to stay informed, follow us!
Twitter:
LinkedIn: