Dieses Event ist beendet.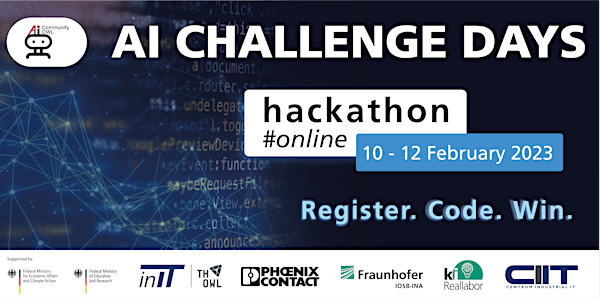 AI Challenge Days 2023
AI CHALLENGE DAYS – Online-Hackathon by AICommunityOWL
Datum und Uhrzeit
Fr., 10. Feb. 2023 08:00 - So., 12. Feb. 2023 05:00 PST
Zu diesem Event
Artificial intelligence is more than just a buzzword, it improves industrial processes and our way of living. We, as AICommunityOWL, bring together experts, enthusiasts, students, practitioners and industry to reap the potential of artificial intelligence.
THIS IS WHAT YOU CAN EXPECT:
You know Python, Google Colab or Kaggle? Or math is your hobby? Do you like data analysis? Or just want to have a look? – Welcome to the #AIChallengeDays, where you can work on a real industrial use case.
Everyone can participate, whether you are an AI professional or a rookie, alone or in a group! All you need is a laptop/computer with a programming language of your choice. Prior knowledge of Python is recommended.
THE CHALLENGE
Reducing humankinds need for resources like energy is important for a sustainable future. One way of helping this reduction to a carefully plan ahead by knowing future resource needs and reduce peak consumptions. In this hackathon, you work with real data from an industrial use case from a pcb production environment, and predict such resource consumptions.
THE PRICE
In addition to the glory, prize money awaits the first three places.
1st place: 1.000 Euro
2nd place: 400 Euro
3rd place: 200 Euro
FREE PARTICIPATION
Participation is free of charge. The necessary access data will be provided via e-mail in good time before the event.
CONTACT DETAILS
Any questions? Feel free to contact:
cosmo.alison.schwabedissen@iosb-ina.fraunhofer.de
If you want to stay informed, follow the community on Twitter or LinkedIn.
Twitter: @AICommunityOWL
LinkedIn: @AICommunityOWL
For more information visit aicommunityowl.de