Description
Agile Tour Vienna 2017
The Agile Tour Vienna is a non-profit event that aims at bringing together experts, practioners and everybody else who is interested in agile software development. The main conference language is German but we welcome talks in English as well and look forward to an exchange with international participants.
Agile Tour Bootcamp 2017
An additional Bootcamp for newcomers to Agile will also be on offer this year. The Bootcamp will be held in German at FH Technikum Wien on 24 November 2017 (2 pm - 7 pm) by Florian Eckkrammer, Christian Hassa, Ralph Miarka and Veronika Kotrba.
Content:
1. Agile - Eine Einführung
2. Einführung in Agile Requirements: User Stories, Backlogs, & Beyond
3. Agile Testing - Für die Qualität ist das gesamte Team zuständig!
4. Agile Leadership
Why we're doing late bird instead of early bird prices
To determine the acceptable price, we have decided to run a safe-to-fail experiment using a Late Bird pricing model for the Agile Tour Vienna 2017. Tickets will go on sale June 1st 2017 at a price that is way higher than needed to cover the costs of holding a larger conference. The price will decrease periodically over time to the same price we had in 2016: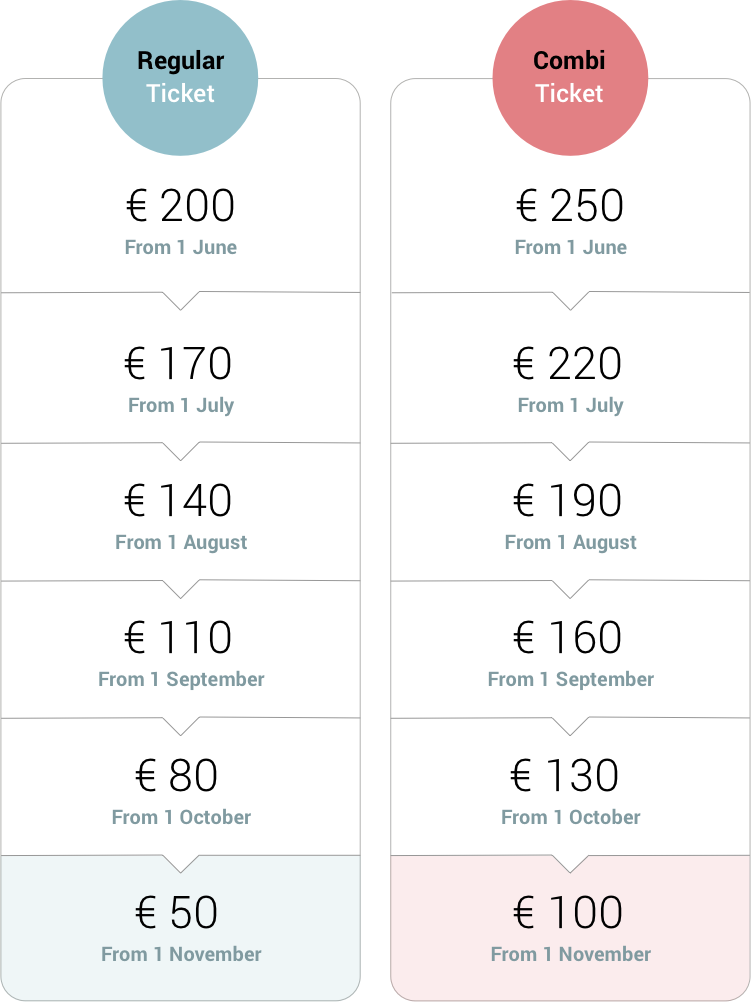 The Combi-Ticket is valid for the Agile Tour Bootcamp as well as for the Agile Tour Vienna 2017.
Read the detailed blogpost about this year´s Agile Tour Vienna.
Cancellation Policy:
This experiment will help us make the right decisions for the Agile Tour 2018, and determine whether we can (and want to) increase the number of participants. However the new pricing model also means we will need to change how we deal with unused tickets.
In the past, we had a waiting list and provided a full refund up to a few days before the tour, reselling unneeded tickets to people on the waiting list. This year we will outsource this mechanism to an established external service, Ticketswap, where attendees can offload unneeded tickets.
Photography:
Photographs will be taken at the venue, and may be published for the purpose of documenting the event. Participants of the event hereby consent to having their photograph taken during the course of the event, and for these images to be used and distributed for the purpose of covering the event publicly.