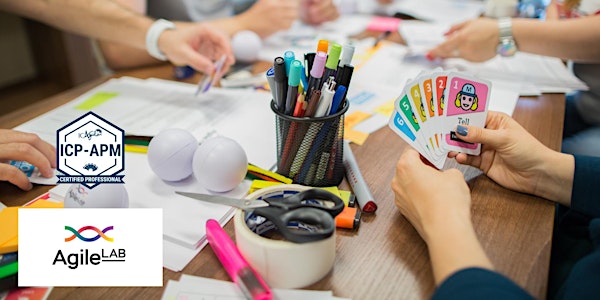 Agile Project And Delivery Management (ICP-APM) Online, English | AgileLAB
The certification focuses on value-driven software delivery, and key agile practices designed to emphasize customer value.
About this event
About
This certification focuses on core components of agile project management as distinct from traditional project management, and on equipping course participants with strategies and techniques for successful Lean and Agile project implementation. A servant leadership mindset and approach is critical to empowering agile teams to produce great results. Students will practice the role of agile project manager as a facilitator of agile practices towards achieving desired outcomes. This certification also takes a much more in-depth look at the fundamental agile concepts of adaptive planning, customer collaboration, and value-driven delivery in dynamic and sometimes highly constrained environments. In addition, the learning outcomes address agile approaches to standard project management processes such as metrics, reporting, and contract management.
Training helps to:
Learn to consistently and structurally approach software development in an organization
Start work on a new product using Agile management
Transform the work in existing projects
Training is useful for:
CTO, COO, heads of development;
Project office employees;
Heads of projects and team leaders;
Scrum masters and Agile coaches;
Pre-sales specialists, account managers;
Business analysts and other team members transitioning to work in the Agile way.
What you get as a participant:
15 hours of training: Three-day delivery (six or three hours in duration).
APM Certificate: Participants who actively work throughout the training receive an ICAgile Certified Professional – Agile Project and Delivery Management international certificate and a personal profile on ICAgile.com.
At the end of the training, each participant is invited to a closed group on Facebook, where they can ask the trainers any questions, as well as learn about exclusive offers.
Post-pack: A letter with additional materials, a list of articles and literature for self-study.
Access to Facilitation Tools: You will get access to facilitation tools and PDF files with the results of the exercises.
In the program:
Agile for people
Organizing a comfortable workflow to maximize the potential of all participants in the software development process:
Building an effective team
Creating a healthy team atmosphere
The role of the project head in Agile
Team participation in the planning and evaluation process
Team productivity, metrics, project health evaluation
Evaluation of individual work based on feedback and ways to combat competition within the team
Agile for the process
Managing software development from the Agile approach's point of view:
Comparing traditional project management to Agile
Project management review from the Agile perspective
Planning of iterations and releases
Requirements, risks, and quality from the Agile perspective
Rethinking classical limitations: time, cost, scope of work
Concepts of lead time, loss, and value of the project
Scope of work evaluation techniques
Agile for business
Organizing beneficial interaction between the contractor, the customer and the end-user:
Continuous feedback between teams and customers as a tool for working with risks
Work with third-party suppliers
Agile contracts
Trainer
This training will be conducted by Kiryl Baranoshnik.
Trainer and Agile Coach with many years of experience in Agile Transformation and also ICAgile accredited instructors for this training.