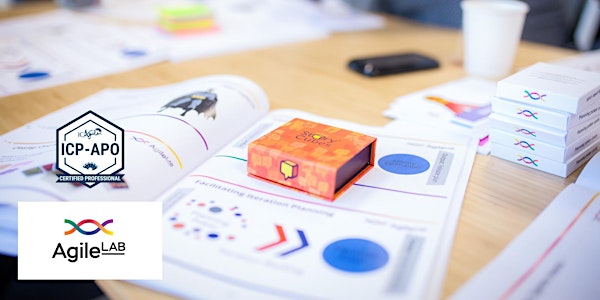 Agile Product Ownership (ICP-APO) Online, English | AgileLAB
The certification focuses on value-driven software delivery, and key agile practices designed to emphasize customer value.
About this event
About this Event
The certification focuses on value-driven software delivery, and key agile practices designed to emphasize customer value.
About
The certification focuses on value-driven software delivery, the accompanying mindset, and key agile practices designed to emphasize customer value. It also looks at creating organizational and team environments conducive to frequent and transparent collaboration between the business and development teams. The Learning Outcomes highlight specific techniques and practices such as lightweight requirements, prioritization methods, progressive elaboration, product/project roadmapping, story mapping, effective user stories, and acceptance criteria. Participants who complete this certification will gain an excellent foundation in value-based agile solutions delivery.
Training helps to:
understand that Critical Thinking, Systems Thinking, influence overpower, collaboration, and ability to advocate for the value are critical attributes of value managers;
experience hands-on exercises with lightweight requirements practices such as progressive elaboration, story mapping, and writing effective user stories;
learn how to facilitate stakeholder conversations and define, prioritize, deliver, and measure value across teams, programs, portfolios, and organizations;
discuss strategies for creating flexible organizational environments conducive to transparent collaboration and prioritization across portfolios and business units.
Training is useful for:
Relevant roles include Business Analysts, Product Owners, Product Managers, Business Subject Matter Experts, or anyone aspiring to these roles. Also, anyone with a curiosity about agile approaches to value-driven software delivery will benefit from this certification.
What you get as a participant:
15 hours of training: Three-day delivery (six or three hours in duration).
APO Certificate: Participants who actively work throughout the training receive the ICAgile Certified Professional – Agile Product Ownership (ICP-APO) personal certificate which is recognized worldwide and a personal profile on ICAgile.com.
At the end of the training, each participant is invited to a closed group on Facebook, where they can ask the trainers any questions, as well as learn about exclusive offers.
Post-pack: A letter with additional materials, a list of articles and literature for self-study.
In the program:
The Need for Value Management - What is Value Management; Levels of Value Management; Relating to the Agile Manifesto; Value Management in Various Agile Flavors.
Role Scope and Diversity - Role, Not Job Title; Adapting the Role to the Context; Bridge not Ferry; Keeper of Responsible Decisions; Big Picture View.
Thinking Skills - Critical Thinking; Systems Thinking; Be Comfortable with Ambiguity; Flexibility of Thinking.
Value Management Behaviors - Ask the Tough Questions; Show, Don't Tell; Collaboration & Cooperation; Flexibility in Communication; Influence, not Power; Give the Bad News Early and Often; Standing up for the Value.
Determining Value in the Initiative - Defining Value; Determining Planned Value; Defining Scope; Identifying Measurable Outcomes & Goals; Creating Delivery Roadmap.
Communicating Value - Articulate Value Proposition at the Initiative level; Holder of the Value Context.
Understanding Stakeholders - Stakeholder Analysis; Think Like a Customer; User Needs and Habits; Bridge Understanding Gaps.
Analyze To Determine Value - Amount of Context Needed; Type of Context Needed; Maintaining Value In the Initiative; Knowing the Constraints; Identifying Initiative Risks.
Exploring the Solution - Setting the Scene; Exploring Needs and Solutions; Communicating with Examples; Modeling to Understand; Defining Quality; Quality Tradeoffs.
Managing Artifacts - Gathering Artifacts; Managing Artifact Change; Long-Lived Artifacts.
Enabling Valuable Delivery - Defining Done at multiple levels; Progressive Elaboration; Understanding what is Doable; Assessing and Validating Delivered Value; Slicing and Chopping; Adapting based on feedback and knowing when to stop.
Trainer
This training will be conducted by Victoria Sheer.
Trainer and Enterprise Product Owner. Has product experience in energy, FMCG and chemical businesses. Currently work as an Enterprise Product Owner at Henkel HQ, specializing on marketing automation. Coaching and agile enthusiast.
Certified Enterprise Architect (TOGAF), Business Analyst (IREB), Product Owner (ICP-APO), Agile Coach and facilitator (ICP-ATC, ICP-ATF). Graduate of a Boston University Digital Product Management program.