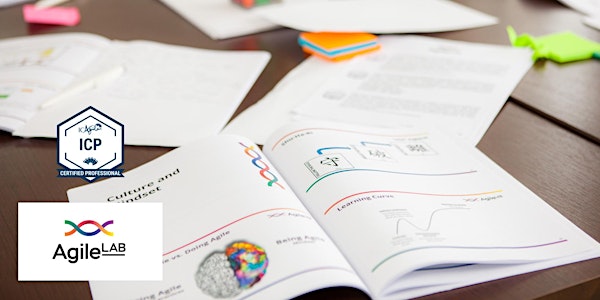 Agile Fundamentals with Scrum and Kanban (ICP) Online, English | AgileLAB
Three exciting half-day sessions for Team leaders, Scrum Masters, all roles, all industries, learning from one of the experts of the Agile.
Refund Policy
Refunds up to 30 days before event
About this event
About
In order to succeed with agile approaches, teams and organizations should focus first on "being agile" as a foundation for success in "doing agile." ICAgile's fundamentals learning outcomes delve into key concepts such as adaptive planning, value-driven development, team collaboration and frequent feedback for continuous improvement. They also cover the history of the agile movement, the Agile Manifesto, the Agile Principles, and some widely applied frameworks and practices. Course participants come away with a solid understanding of core concepts as they prepare to embark on their agile journey.
Training helps to:
Become acquainted with the Agile approach not as a set of practices, but as a way of thinking
Get an idea of the approach through real examples of Agile implementation
Systematize knowledge on the basic principles of Agile software development
Learn to apply the most popular methods of Agile software development: Kanban and Scrum
Learn to create an environment for successful team interaction
Implement various practices in your projects
Understand potential development paths in different areas of Agile
Gain knowledge and skills which allow you to consciously manage the process and adapt it to a specific project
Training is useful for:
Leaders and Managers. Heads of projects, departments, team leaders; Scrum Masters and Agile coaches.
Process Participants. Engineers, QAs, analysts, designers and other participants in the software development process.
What you get as a participant:
15 hours of training: Three-day delivery (each five hours in duration).
ICP Certificate: Participants who actively work throughout the training receive an ICAgile Certified Professional international certificate and a personal profile on ICAgile.com.
At the end of the training, each participant is invited to a closed group on Facebook, where they can ask the trainers any questions, as well as learn about exclusive offers.
Post-pack: A letter with additional materials, a list of articles and literature for self-study.
In the program:
History of Agile
Culture & Mindset
Creating Shared Understanding
Iterative and Incremental Development
Scrum Framework
Definition of Done
The Kanban Method
Work in Progress
Continuous Delivery
Customer and User Involvement
Product Backlog
Agile Estimation Techniques
Agile Planning and Status Tracking
Process Adaptation
Trainer
Nastassia Krupiankova
Nastassia Krupiankova is a highly qualified and skilled Agile Coach and Scrum Master.
She has more than 11 years of experience in software development in various positions. Her main responsibility is coaching teams, Product Owners and Scrum Masters in the adoption and implementation of Agile practices.
Nastassia is ICAgile Certified Professional in Program and Portfolio Management, Agile Project Management and Agile Team Facilitation. She is also certified as Professional Scrum Master, Professional Scrum Product Owner(Scrum.org) and SAFe 4.0 Agilist.
As a member of various agile communities, she continuously extends her knowledge and skills.