Agile Fundamentals w/ICAgile Certified Professional Certification (English)
Eventinformationen
Veranstaltungsort
STARTPLATZ
Im Mediapark 5
50670 Köln
Germany
Rückerstattungsrichtlinien
Rückerstattungsrichtlinien
Rückerstattungen bis zu 7 Tage vor dem Event
Wer von meinen Freunden geht hin?
Beschreibung
Description
A team of independent Agile hands-on coaches AgileLAB invites to Agile Fundamentals with Scrum and Kanban training. The training program is accredited by International Consortium for Agile (ICAgile). The course is designed for those who are little acquainted with the principles of agile development, or wish to structure their knowledge. At the end of the training, the participants receive a personal certificate ICAgile Certified Professional (ICP), which is accepted worldwide.
What the International Consortium for Agile (ICAgile) does:
develops Agile Learning roadmap, develops learning objectives to outline path for agility;

provides the accreditation for the training providers;

provides the accreditation of new or existing courses to support education in Agile.
Target audience for Agile Fundamentals with Scrum and Kanban:
Executives and Leaders, Managers

Program and Project Managers, Team Leads

Agile coaches and Scrum Masters

Developers, Testers, PM, Analysts, Designers and other members of research and development
What you obtain:
international certificate ICAgile Certified Professional;

an individual profile on the portal of the International Consortium on flexible methodologies ICAgile.com.
Learning objectives:
history of Agile;

Agile mindset;

creating a single context for participants in the development process; iterative and incremental delivery;

basics of creating and managing Agile processes in product development;

Scrum and Kanban as the most popular Agile approaches at team levels;

roles, principles, tools and artifacts in Scrum and Kanban;

Scrum and Kanban in practice (games and simulations);

adaptation and implementation of the Agile process;

estimations in Agile;

planning in Agile;

continuous improvement process;

continuous integration and continuous delivery.
The training will help:
get to know about the Agile-approach not as a set of methods, but as a way of thinking;

get an idea of the approach through real examples of the Agile implementation;

systematize knowledge on the basic principles of Agile Software Development;

learn to apply the most popular methods of Agile Software Development: Kanban and Scrum;

learn to create an environment for successful interaction between people in the team;

adapt different methods to your own projects;

understand possible ways of development in different areas of Agile;

obtain knowledge and skills that allow you to consciously manage the process and adapt it to a specific project.
What is included in the training costs:
two-day training

lunches and coffee-breaks

certificate and membership in ICAgile
This training is held in English and German language with English course material. The head coach Mr. Timofey Yevgrashyn will hold the training in English language. The second coach Mrs. Nastassia Krupiankova will hold the training in mainly in English language and partly in German language.
Trainers
Timofey Yevgrashyn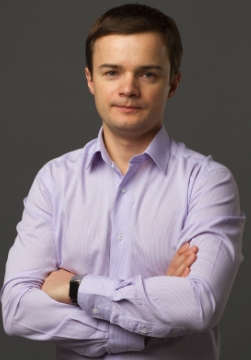 Timofey Yevgrashyn is the Delivery Manager at the product IT company in Berlin.
The management consultant on Agile/Lean approaches and practices, one of the first certified Scaled Agile Framework Process consultants in Ukraine. He has been in IT for 20 years, fourteen out of which he has been a project manager. Since 2007 he has been in Agile training and methods implementation.
He has a profound and successful experience in consulting and crisis situations management within software development teams as well as an extensive business processes optimization background.
Timofey is the author of Scrum Card Game - a simple and realistic Scrum simulation (http://scrumcardgame.com).
He regularly speaks at various international conferences. He also leads an active social activity aiming to popularize Agile project management, arranging specialized events, workshops, training courses and programs on Agile management and self-development.
Nastassia Krupiankova
Nastassia Krupiankova is highly qualified and skilled Agile Coach and Scrum Master.
She has more than 11 years of experience in software development on various positions. Her main responsibility is coaching teams, Product Owners and Scrum Masters in adoption and implementation of Agile practices.
Nastassia is ICAgile Certified Professional in Program and Portfolio Management, Agile Project Management and Agile Team Facilitation. She is also certified as Professional Scrum Master (Scrum.org) and SAFe 4.0 Agilist.
As a member of various agile communities, she continuously extends her knowledge and skills.
This training program ist offered by:
Genioworks Consulting & IT-Services UG (haftungsbeschränkt)
Karlheinz-Stockhausen-Straße 30 , 50171 Kerpen
Datum und Uhrzeit
Veranstaltungsort
STARTPLATZ
Im Mediapark 5
50670 Köln
Germany
Rückerstattungsrichtlinien
Rückerstattungen bis zu 7 Tage vor dem Event