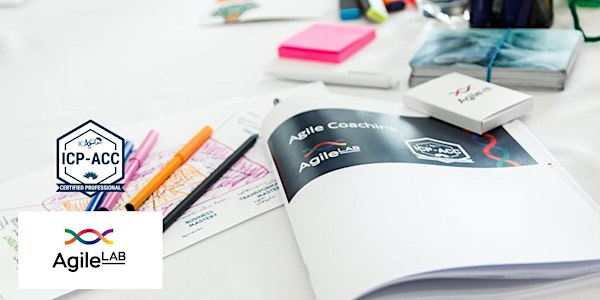 Agile Coach Certification (ICP-ACC) Online, English | AgileLAB
Immersive and Hands-On Agile Coaching Course
Refund Policy
Refunds up to 7 days before event
About this event
Agile Coach Certification (ICP-ACC)
This certification introduces participants to foundational team coaching skills and team development concepts for starting and growing teams while focusing on teams and organizations as human systems. A key part of this certification focuses on developing an understanding of the professional coaching skillset and the value of honing these skills to serve individuals on an agile team.
Training is useful for:
Agile Coaches or aspiring coaches with a passion for servant leadership and a desire to learn and practice facilitation, professional coaching, mentoring, and teaching in service of Agile teams. Other relevant roles include ScrumMasters, Iteration Managers and Agile Project Managers.
Although it is not a formal prerequisite, we have found that this certification is best pursued after Agile Team Facilitation (ICP-ATF).
Agile Coaching (ICP-ACC) helps to:
Better understand the problems and needs of the business;
Learn to plan and conduct big events at the company level;
Detect potential pitfalls of the transformation process and learn how to avoid them;
Learn the basics of coaching and its key tools;
Use coaching tools to find a new use for common Agile practices.
As an outcome of this course you will get :
In the program:
Basics of Agile Coaching
The basic concepts of coaching, as well as the differences between Agile- coaching and classical coaching:
The Agile Coach Mindset
Role and functions of an Agile-coach
How coaching relates to various Agile practices?
Strengthening of cooperation in the team
Supporting Self-organizing team
Coaching tools and techniques
Understanding the Coach's Tools in the context of an Agile team:
working with different team practices
working with large and heterogeneous groups
introduction to the coaching tools and methods
Agile Coach Practices
Supporting a company in achieving a positive result as the main object of the Agile coach and methods for achieving it:
Coach as Facilitator
Agile transformation launch
Work with top management in the organization
Coach as Mentor
Coach as Teacher
Trainers
This training will be conducted by Gabriel Opoku.
Trainer and Agile Coaches with many years of experience in Agile Transformation and also ICAgile accredited instructors for this training.