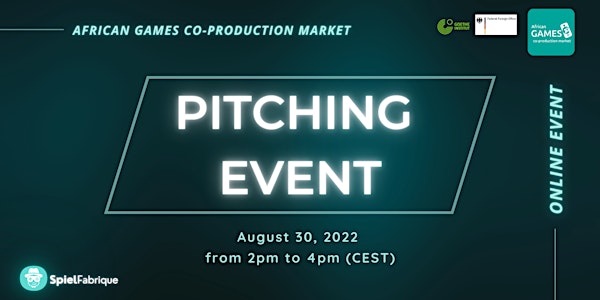 African Games co-production Market - Online Pitching Event
Join us for our final pitching event! African and European teams will pitch their coproduction partnerships to produce African video games
About this event
The 2022 African Games Co-production Market (ACGM) of SpielFabrique is going to an end. The aim is to encourage Europe/Africa co-production for African games and to develop collaborations between studios from both continents.
6 African indie video games have been selected for this mentorship program and have found their European Indie Studios interested in becoming their co-producers.
They are ready to pitch their projects and are waiting for you to come!
We're glad to announce that GamesMarket is our official partner for this event. Pascal Wagner will be our speaker and will be dedicated to the moderation for this event!
GamesMarkt is the leading German specialist magazine of the games industry and the official media partner of Gamescom. Pascal Wagner is editor at GamesMarkt, linguist and Goethe Institute alumnus.
On the agenda :
- Review of the African Games Co-production market and results
- Co-production pitches from African and European studios
This event is a unique opportunity to:
- get more contacts with the African video games industry,
- know more about our mentorship program and the results
- learn about new projects based on co-production
The African Games Co-production Market (AGCM) is a yearly mentoring program for African studios. The goal is to support African video games studios in:
- improving their business skills,
- refining their video games prototypes,
- accessing an international network of experts and game devs,
- finding a co-producer in Europe for their games.
We're looking forward to seeing you!
If you have any question, suggestion or remark, feel free to reach us at : Melissa@spielfabrique.eu.