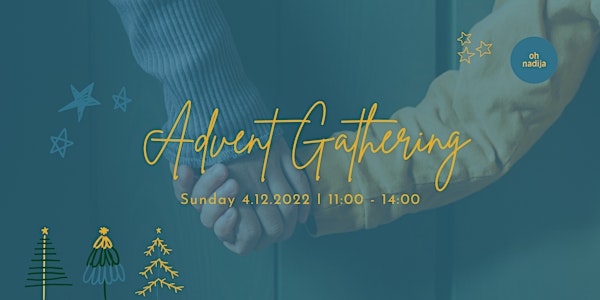 Advent Gathering
Advent Gathering // Bring your favorite Christmas or winter dish // female- and children-only event
When and where
Location
celebrate company GmbH Trappentreustraße 1- 3 Entrance at Landsbergerstr. 93 80339 München Germany
About this event
English translation below
Як жіноча спільнота Мюнхена, ми відкриваємо свої серця та двері для жінок і дітей з України. Ми бажаємо, щоб ви почувались у нашому місті гостинно та безпечно.
У цю особливу пору року ми хотіли б зустрітись з вами у затишній передріздвяний атмосфері. Запрошуємо вас провести час разом, познайомитись і поділитись різдвяними сімейними традиціями. Як святкують Різдво в Мюнхені? Як його святкують у різних куточках України? Яка страва асоціюється з Різдвом та/або зимовими святами? Які пісні дарують нам особливий різдвяний настрій?
Приєднуйтесь до нашого Адвент Заходу у неділю 4 грудня об 11.00 за адресою Landsbergerstr. 93, 80339 München, Germany. Принесіть свою улюблену різдвяну чи зимову страву – разом ми створимо та будемо насолоджуватись нашим чудовим різдвяним столом. Ми подбаємо про напої. В програмі: простір для спілкування, несподіваний спеціальний гість, чудова програма для дітей.
Ми хочемо створити затишний простір для жінок та дітей з України. Будь ласка, майте на увазі, що цей захід буде проводиться лише для жінок і дітей. Дякуємо за повагу та розуміння.
Важливо: Будь ласка, замовляйте квитки лише для дорослих, дітям квиток не потрібен.
Ваша команда О Надія
------------------------------------------------
About this event
As a female community from Munich, we open our doors and hearts to women and children from Ukraine. We wish that you feel welcome and safe in our city.
In this special time of the year, we'd love to celebrate a cozy Advent gathering together with you. Let's spend some beautiful hours together, exchange and learn from each other: How is Christmas celebrated in Munich? How is it celebrated in different parts of Ukraine? What delicious food do each of us associate with Christmas and/or winter season? Which special songs give us the X-Mas feelings?
Join our oh nadija Advent Gathering on Sunday, 4th December 2022. Bring your favorite Christmas or winter dish – together we will create and enjoy a wonderful buffet full of Bavarian and Ukrainian specialties. Beverages will be provided. There will be room for networking, a surprise special guest joining us and, of course, a great activity program for the children.
We want to create a safe space for women and children fleeing from Ukraine. Please be aware that for now, this is a female- and children-only gathering. Thank you for respecting our request.
Important: Please only order tickets for you as adults - children do not need their own ticket.
Your oh nadija team