Dieses Event ist beendet.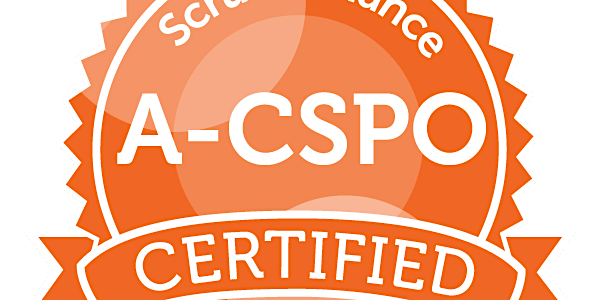 Advanced Certified Scrum Product Owner | A-CSM | ScrumAlliance |1:1|EN
Veranstaltungsort
Online-Event
Rückerstattungsrichtlinie
Improve your Product Owner knowledge and skills and become a PRODUCT CHAMPION with in intense mentoring program! Get the A-CSPO certificate!
Zu diesem Event
Individual or Group Coaching for the Advanced Product Owner: drive the change actively in your multi team setting and focus on product, customer value and stakeholders!
Use this program to be mentored while you learn with the Scrum Alliance Learning Objectives toward Advanced Product Ownership and apply your insights immediately in your work environment.
About this mentoring program "A-CSPO"
This coaching program leads you from the Product Owner Certificate CSPO to the Scrum Alliance Certificate "Advanced – Certified Product Owner" A-CSPO (additional requirements apply, see here)  and is about continuing your development as an Agile Product Owner. It is a multi-week mentoring program for your learning journey along the Scrum Alliance defined Learning Objectives for A-CSPO.
This mentoring program is based around…
● learning assignments that you integrate into your daily work and apply directly at your job as a Product Owner
● your learning reflection and documentation of your progress toward the learning objectives
● 1 pre-call and 10 group or one-on-one online mentoring sessions facilitated by an experienced Scrum Alliance Certified Team and Enterprese Coach (CTC/CEC) and Path-to-CSP-Educator: here we check and discuss the learning objective and the questions you have along your journey. Mentoring sessions take place either in alignment with you or on predefined dates.
Check with me for detailed information: contact-me@moccasoft.com
During your A-CSPO learning journey you will discover these topics:
● Importance of Product Ownership and Product Owner Core Competencies
● Advanced Purpose and Strategy
● One-team and Multi-Team
● Focus on Customers and Users
● Advanced Product Assumption Validation and Product Discovery
● Advanced Techniques for Working with the Product Backlog
Topics that had been worked on in previous coaching modules, will be deepened further.
By finishing this program you will improve your ability to…
● Facilitate better and more fruitful conversations between Scrum Team members, customers, stakeholders, and executives
● Respond confidently when explaining your product vision and purpose
● Use product discovery workshops with customers and users to generate new product backlog items
● Decide and structure your product backlog to address value, risks, assumptions, and possible options
● Clearly visualize and communicate values and priorities reflected in the product backlog
● Work in a Scaled Scrum and Agile environment beyond a single team setup
Take your next step on the Product Owner-Journey!
Who should attend
Product Owner, who want to go to the next level,
Program Managers, Project Managers, who want to transform and take on the role as Product Owner, 
ScrumMaster, who want to learn more from the Product Owner perspective about Agility, Scrum, Facilitation, Coaching, and how it interacts for the development team, the customer value, and the organization
Agile Coaches, who know it all and dare to challenge themselves and fill in those loopholes in the puzzle and demonstrate their knowledge through the A-CSPO certificate.
Agile Manager/Leader and Agile Consultants, who want to proof their knowledge and skills, and distinguish themselves from others at the market
The mentoring format
The program takes place in individual or group sessions, depending on how you book it. Coaching language is English or German. Material is in English.
Make sure you get the next Coaching spot and make your booking now!
Dates will be set in alignment with coach and coachee, or be predefined in the group mentoring program.